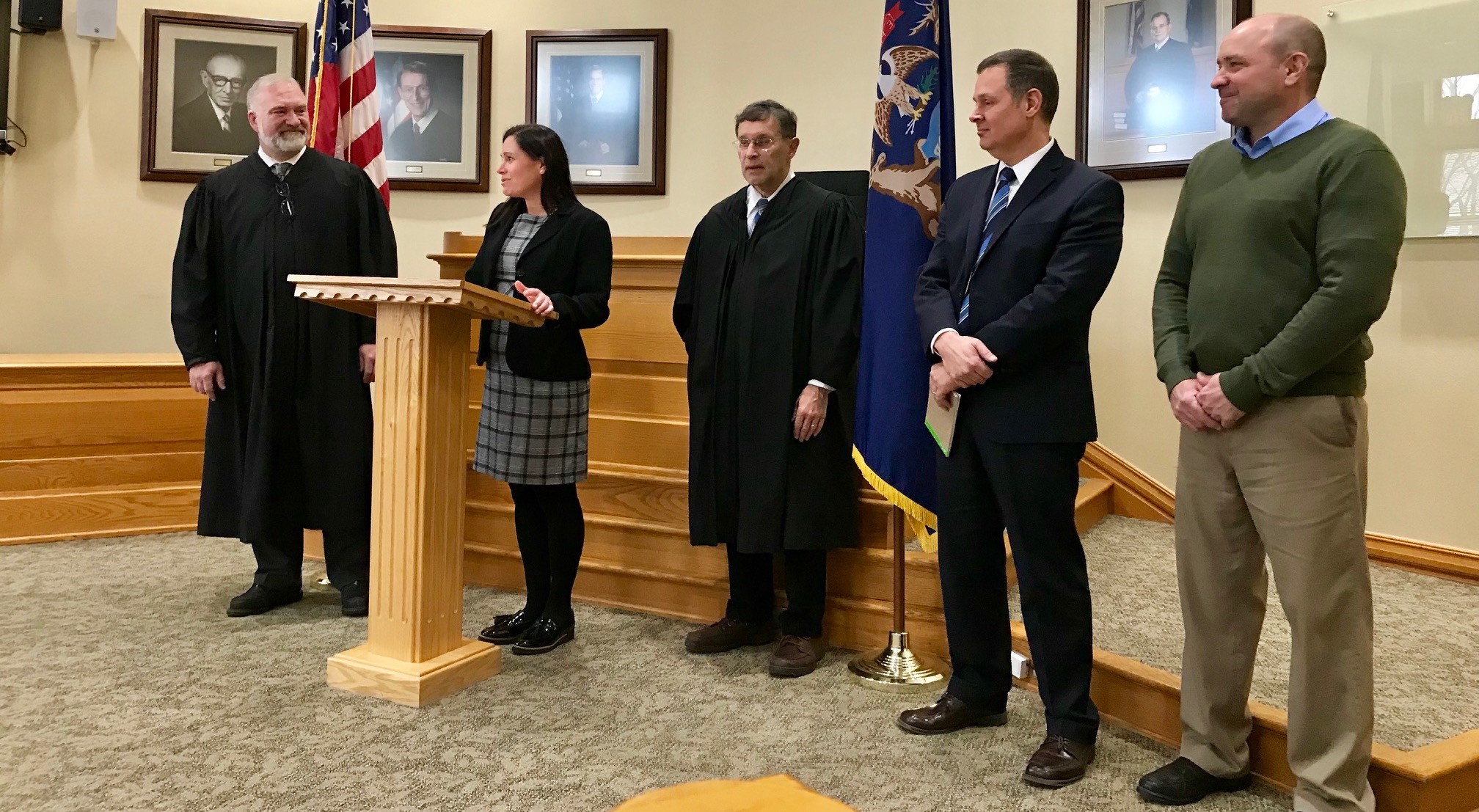 GT County Names New Prosecutor
By Beth Milligan | Dec. 7, 2018
Grand Traverse County named a new prosecuting attorney Thursday. Noelle Moeggenberg, who has served in the prosecuting attorney's office since 1998 – most recently as chief assistant prosecuting attorney – will succeed Bob Cooney, who left after being elected to serve on the bench on the 86th District Court in November. Plus – in other Grand Traverse County news, county commissioners have approved a deal that will allow the Grand Traverse Sheriff's Office to purchase the gun range at the former Pugsley Correctional Facility in Kingsley to use for law enforcement training.
New Prosecuting Attorney
Noelle Moeggenberg will be sworn in as Grand Traverse County's next prosecutor in January – with previous Prosecutor Bob Cooney and Judges Kevin Elsenheimer and Thomas Power all calling her their top choice for the spot.
The appointment was announced at a press conference Thursday morning (pictured) at the Grand Traverse Historic Courthouse. While the county's prosecuting attorney is usually an elected position, Cooney's election to the 86th District Court this fall created a mid-term vacancy. Such vacancies are filled by judicial appointment until the next election. Elsenheimer and Power oversaw the appointment process, reviewing applications and interviewing applicants before selecting Moeggenberg, who will serve the rest of Cooney's term through 2020.
Elsenheimer declined to reveal how many candidates applied for the opening, but said the county received a "significant amount of interest" in the position. "But it was very clear that there was one candidate that stood above and beyond, really from the moment we began evaluations, and that was Noelle," he told The Ticker. "She had the right experience, the right temperament. She's someone that Judge Power and I see every day here in court. She's really one of the best trial attorneys in northern Michigan, and we were very, very confident in her."
Power echoed Elsenheimer's remarks. "She's an experienced trial lawyer and a very effective one, but more important than that is she's fair and she has judgment," he said. "I cannot emphasize to you enough the importance of fairness in a prosecutor…there is tremendous discretion in that job."
For Cooney, who noted he worked side by side with Moeggenberg for 20 years and called her an "outstanding colleague," the announcement was a proud moment. "I was confident that the circuit judges would appoint her as the best choice," he said. "She has exceptional qualifications for this job…she's got the integrity and the judgment, and she's just a good, decent person."
Moeggenberg – who lives with her husband and daughter in Union Township and also serves on the Traverse Bay Children's Advocacy Center board of directors – told The Ticker she "absolutely" plans to seek election in 2020 when her appointed term is up. "I am humbled and honored to accept the position. I understand the tremendous responsibility that it holds…it's not a responsibility I take lightly," she said at the press conference. "I will do my best each and every day to make sure that justice is served for the people of Grand Traverse County."
Pugsley Gun Range
Grand Traverse County commissioners approved a deal Wednesday that will allow the county Sheriff's Office to acquire approximately 20 acres of the 179-acre former Pugley Correctional Facility for continued use as a law enforcement gun range – a purchase that will only cost the county $1.
Grand Traverse County is one of several partners working on a multi-entity deal to redevelop the Pugsley property, which has been overseen by the Michigan Land Bank Authority since the prison closed in 2016, eliminating approximately 230 local jobs. North Bay Capital is the lead investor in the project, pursing plans to build a large-scale manufacturing facility and potential future housing on the site. Fife Lake Township is also a partner, as the project would fall under the township's zoning and jurisdiction; the redevelopment also offers an option for Fife Lake to establish its first public water supply system by connecting to Pugsley's supply wells, pipes, and pumphouse.
The county commission was the first of the four partners to approve the agreement to carve out land – already used by Sheriff's Office deputies for training – for continued use as a long-term gun range. The other partners are expected to review the deal over the next week, with approval anticipated. Because of potential lead contamination in the gun range's soil from spent cartridges, an environmental assessment will be conducted before the sale to Grand Traverse County is complete, according to Deputy Administrator Chris Forsyth. He added the county may be required by the state to conduct occasional remediation on the property or have an environmental due care plan to combat future contamination.
The Pugsley gun range will not be open to the public, according to Forsyth. "This has been strictly law enforcement (use), and it will continue to be strictly law enforcement," he said. County commissioners expressed enthusiasm over the possibility of bringing new life to the abandoned Pugsley property. "The fact that we get the property back on the tax roll at least is a benefit back to our community," said Commissioner Sonny Wheelock.
Commissioner Bob Johnson agreed. "There's a wonderful development that's going to go in there, and they're basically wanting to be good stewards of that property," he said. "It's a good first step to getting more jobs out there."
Assessment Identifies Top Regional Health Priorities
Read More >>
Schooner Madeline Hosting Free Sails 
Read More >>
Looking Back On Apollo 11 From Traverse City's Space Scene
Read More >>
Commissioners Object To Mandated Sexual Harassment Training
Read More >>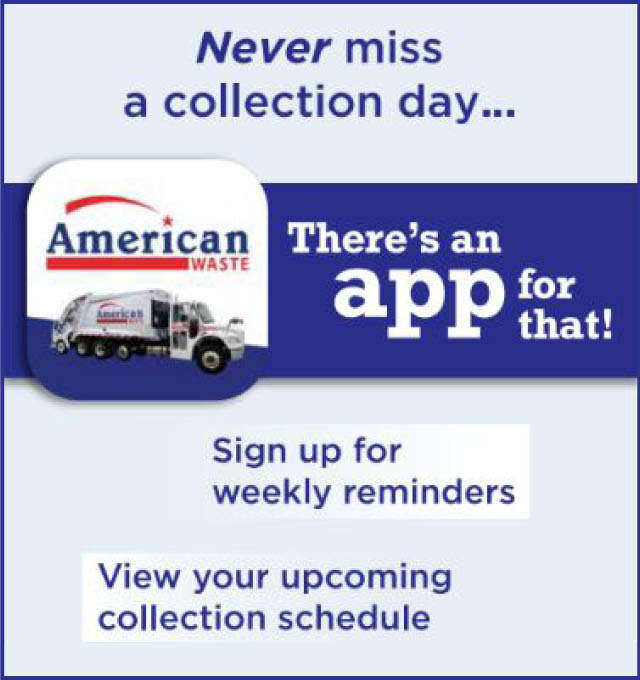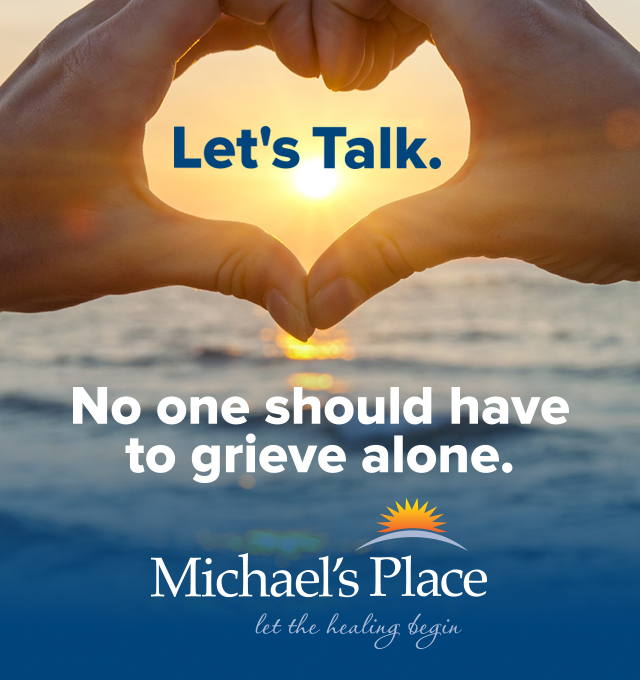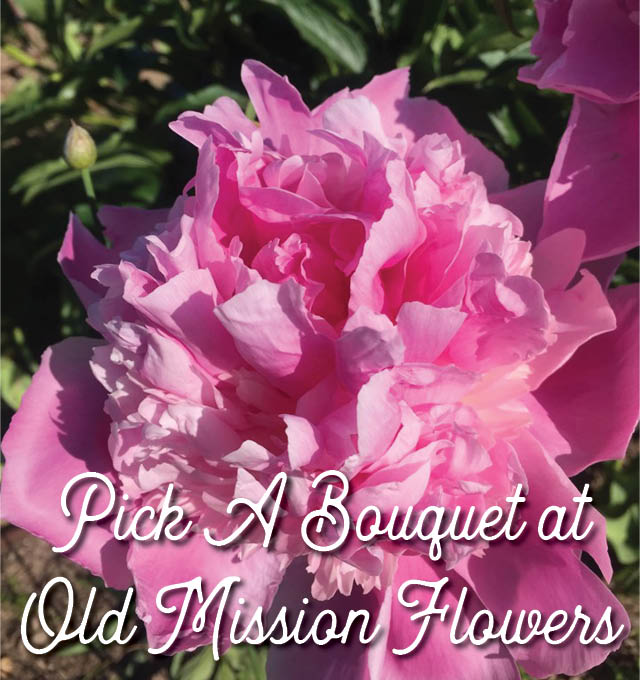 Mental Health Services To Expand At TC West, Kingsley Middle School
Read More >>
Norte Youth Leadership Council Readying For Long Ride
Read More >>
Red Kettles Coming Out
Read More >>
Two Injured In M-22 Crash
Read More >>
County Looks To Update Sexual Harassment Policy For Officials
Read More >>
New Sidewalk Construction On Kinross, Grant Streets Starting This Week
Read More >>
What Zillow Says About Traverse City Real Estate
Read More >>
Commissioners Reject Changes To Marina Parking
Read More >>
Cadillac: Pro-Wrestling Hotbed Of The North
Read More >>
GT Pavilions Receives $50K Grant From Blue Cross
Read More >>