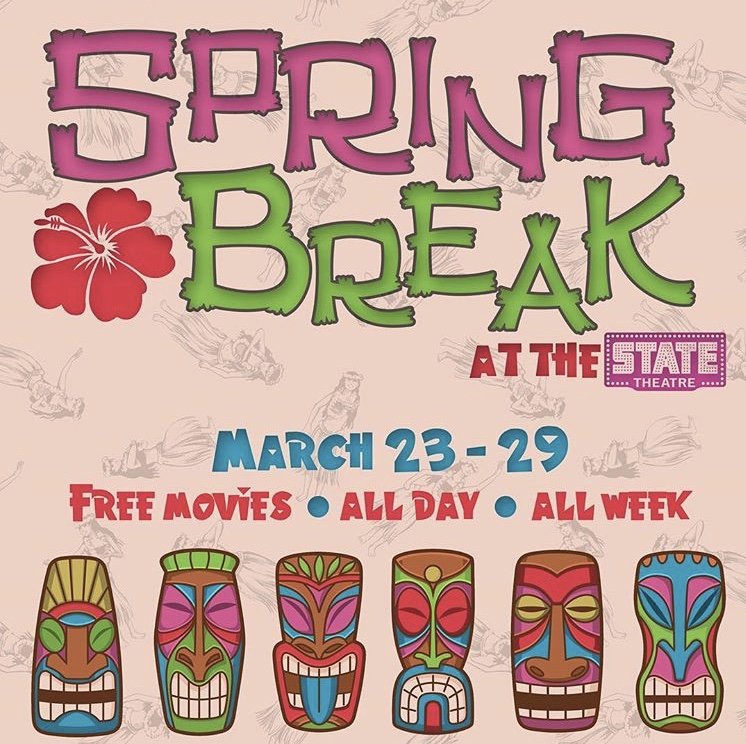 State Theatre Announces Lineup Of Free Spring Break Movies
By Beth Milligan | March 10, 2018
The State Theatre has announced its lineup of free films that will play March 23-29 as part of the theater's annual Spring Break at the State event.
The theater will show 36 free movies during the seven-day event, including children's matinees every morning at 10am. Free tickets for screenings can be picked up in person at the State Theatre, reserved over the phone at 231-947-3446, or ordered online starting Friday, March 16 at noon. There is a limit of four tickets per screening per person. Seating will be available on a first-come, first-served basis. Standby lines will form for sold-out movies.
The 2018 Spring Break at the State schedule is as follows:
FRIDAY, MARCH 23 - DREAMERS DAY!
Babe (G) 10:00 am
La La Land (PG-13) 12:15 pm
Breathe (PG-13) 3:15 pm
Pitch Perfect 3 (PG-13) 6:15 pm
The Disaster Artist (R) 8:45 pm
The Room (R) 11:15 pm
SATURDAY, MARCH 24 - OSCAR PEOPLE'S CHOICE SATURDAY!
Despicable Me 3 (PG) 10:00 am
Wonder (PG) 12:30 pm
Wonder Woman (PG-13) 3:15 pm
Thor: Ragnarok (PG-13) 6:30 pm
It (R) 9:30 pm
SUNDAY, MARCH 25 - OSCAR ACADEMY'S CHOICE SUNDAY!
Coco (PG) 10:00 am
Molly's Game (R) 12:30 pm
Dunkirk (PG-13) 3:45 pm
Get Out (R) 6:30 pm
War for the Planet of the Apes (PG-13) 9:00 pm
MONDAY, MARCH 26 - FIND YOUR PEOPLE MONDAY!
The Boss Baby (PG) 10:00 am
Mamma Mia! (PG-13) 12:30 pm
Home Again (PG-13) 3:15 pm
Guardians of the Galaxy Vol 2 (PG-13) 6:00 pm
Girls Trip (R) 9:15 pm
TUESDAY, MARCH 27 - SCHOOL'S IN TUESDAY!
Captain Underpants: The First Epic Movie (PG) 10:00 am
Mathematics: Hidden Figures (PG) 12:15 pm
English: Murder on the Orient Express (PG-13) 3:15 pm
Cultural Studies: The Big Sick (R) 6:00 pm
Driver's Ed: Baby Driver (R) 9:00 pm
WEDNESDAY, MARCH 28 - SCHOOL'S OUT WEDNESDAY!
Mary Poppins (G) 10:00 am
Back to the Future (PG) 1:00 pm
Wonder (PG) 3:45 pm
Lady Bird (R) 6:30 pm
Spider-Man: Homecoming (PG-13) 9:00 pm
THURSDAY, MARCH 29 - ADVENTURE THURSDAY!
The LEGO Batman Movie (PG) 10:00 am
The Mountain Between Us (PG-13) 12:30 pm
Raiders of the Lost Ark (PG) 3:15 pm
Jumanji: Welcome to the Jungle (PG-13) 6:00 pm
Kong: Skull Island (PG-13) 9:00 pm
FRIDAY, MARCH 30 - BONUS MATINEE!
Star Wars: The Force Awakens (PG-13) 10:00 am
Airport To Dedicate Street For Chuck Judson
Read More >>
City Names Next Commissioner
Read More >>
Drug-Free Coalition To Hold Grand Traverse Youth Summit
Read More >>
A War In The Waters Of Lake Michigan
Read More >>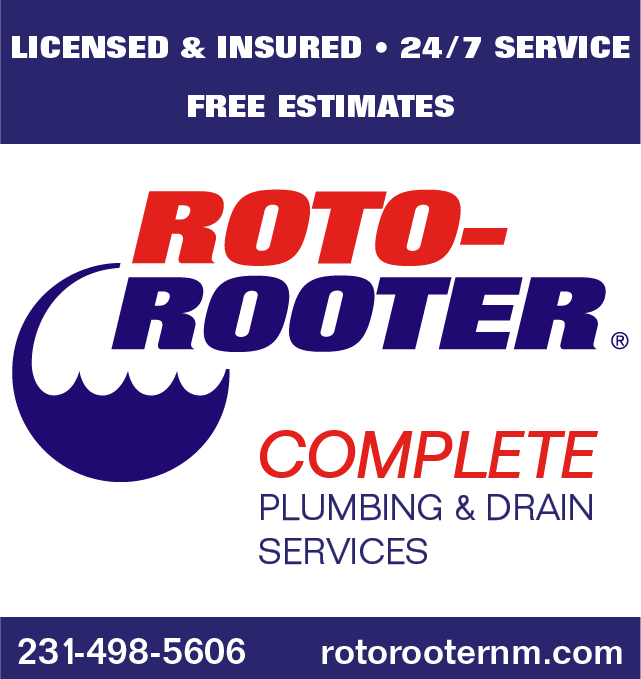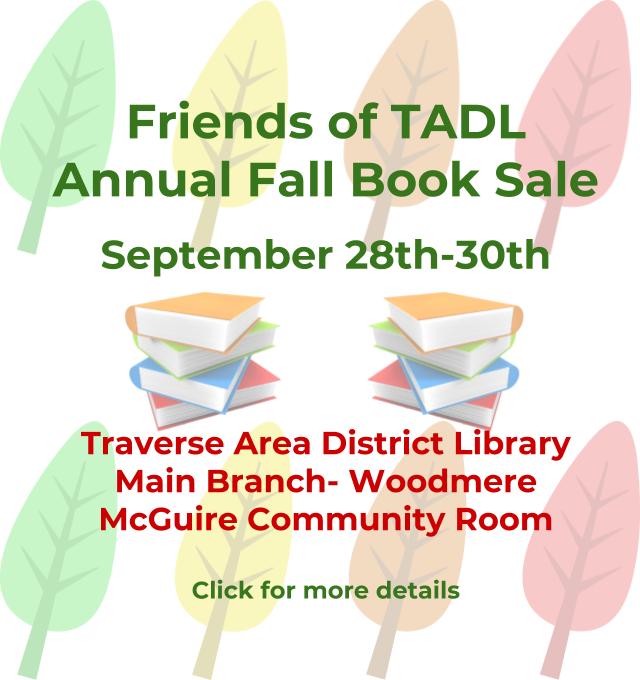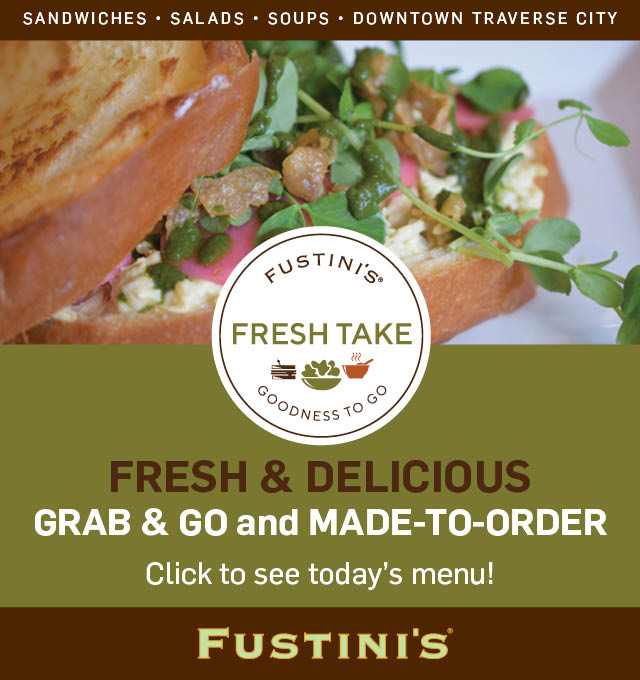 Famed Architect To Talk Tusen Takk, Home Of Future Leelanau Artist Residency Program
Read More >>
TCAPS Names Zac Stevenson New TC Central Athletic Director
Read More >>
Cellphones, iPads, and Facebook: Is Tech Friend Or Foe In Schools?
Read More >>
211 Service Now Online In Traverse City
Read More >>
Save The Date: October Recess
Read More >>
Better Transportation For Leelanau County
Read More >>
Voter Registration Events Planned For Tuesday
Read More >>
Senior Advisor Of Campaign To End AIDS In Africa Speaks At Event Tonight
Read More >>
City Approves Issuing $7.8 Million In Bonds
Read More >>
DDA To Talk Property Purchase, Riverwalk, Valet Service
Read More >>