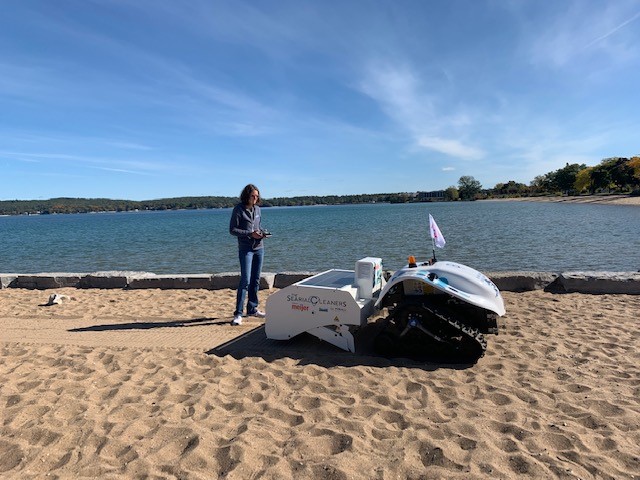 Beach Cleanup Goes High-Tech
By Beth Milligan | Oct. 15, 2022
Visitors to area beaches might see an unusual sight next summer: A large remote-controlled electric robot, slowly crawling down the beach collecting plastic waste and other trash. The robot is called BeBot, and The Watershed Center Grand Traverse Bay is one of two organizations in Michigan who will have one – as well as a PixieDrone, a floating waste collector robot – as part of an effort to combat Great Lakes pollution and educate the public about the dangers of plastics in the lakes.
The Watershed Center and Grand Valley State University are receiving the robots on loan from the Council of the Great Lakes Region Foundation thanks to a $1 million donation from Meijer as part of the Great Lakes Plastic Cleanup project. The BeBot – operated with a joystick, with a front end originally designed to detect mines – can maneuver easily on different types of terrain and is outfitted with a sifter that separates and collects trash from the sand. The PixieDrone functions similarly in the water, collecting floating waste in all forms: organic, plastic, glass, metal, paper, fabric, and rubber.
The robots have been used in Canada, but the two Michigan test sites – in addition to two other Midwest locations – marks the first time they're being deployed stateside in the Great Lakes. "This is new equipment," says Watershed Center Executive Director Christine Crissman. "We're trying it out to see how well it works and what it does and how we can improve the next versions of them. It's a learning process to see how efficient the machines are and what they can collect. We'll also see how much they help us educate folks."
Education will be a key benefit provided by BeBot and PixieDrone, Crissman says. The robots are attention-grabbing: In the handful of times Watershed Center staff have tested them out publicly, passersby have frequently stopped and asked what the machines are and what they do. That gives Watershed Center the ideal opening to talk about beach pollution and how it makes its way into the Great Lakes, Crissman says – in particular microplastics, which are produced when larger pieces of plastic break down and are carried into the lakes, smothering habitat and getting ingested by wildlife.
"That's the biggest outcome I see from a Watershed Center perspective (of using the robots), is the education and outreach that's going to come," Crissman says. "Because of how cool it is and the fact it's a robot you drive around, it brings people in. You can have conversations. The machines themselves can't solve the plastic problem, but the outreach they can do can help curb plastic pollution." Part of the Watershed Center's work over the winter will be creating educational materials staff can hand out when the robots are in use publicly next summer, Crissman says.
Watershed Center plans to deploy the robots at numerous marinas and beaches next year, from Traverse City to Greilickville to Elk Rapids to Suttons Bay. "I think we want to find a bunch of different scenarios for deploying," says Crissman. "I'd love to go out after the city goes out with their rakers, because they use a different type of machine, and see if (the robots) are picking up anything they're missing. We'd like to get to some communities that can't do beach cleanups as often, and to some lake associations with smaller beaches. We want to see the usefulness of it in different areas and see if there are areas (of heavier pollution) where we should concentrate on being more active."
The sizable machines can collect significant trash loads before reaching capacity, though at a typical cleaning staff might empty the robots multiple times to clear a major stretch of beach or water. That will provide another educational opportunity, Crissman says: showing the public how much – and what kind of – trash is being collected at local beaches and marinas. "It'll pick up anything that is a dime size or bigger: rocks, twigs, cigarette butts, goose poop, pieces of plastic," she says. "The intent is that we could go and cover a specific stretch of beach, going back and forth methodically, then lay out a tarp and sort out the debris, categorizing it into major types of debris."
Technology – be it beach-cleaning robots or high-tech watershed-monitoring systems – are becoming increasingly important in the environmental fight, Crissman says. "Kids Creek is a good example of this," she says. "It's been on the impaired water list for years. We've spent millions and millions restoring pieces of it, but we're still seeing the same issue, that it just lacks that insect community. We have to show what could be causing that and that it's an issue that needs to be tackled." Watershed Center was able to recently install monitoring systems that collect live data from Kids Creek, showing in real time – as one example – the minute a water main break on US-31 starts impacting the watershed and how it changes various levels in the creek. "All of that data is the only reason we'll get funding to do anything about it," Crissman says.
Even more technological advances could be coming to the region. "We've been monitoring water quality for almost 30 years, so one of the things that's exciting about these new technologies and new partnerships is that we know the history (of what needs to be solved)," Crissman says. "For example, there's a phosphorus sink in the bay. We've always wondered why it's there. We haven't been able to solve it. But that technology is just around the corner; it could easily be here in the next five years. The issues we're dealing with today are much more complex, they're watershed-wide systems. That kind of technology is going to be game-changing for some of those larger complex issues affecting the watershed."
Comment
A Cut Above: Five Decades (And Counting) Behind the Chair
Read More >>
NMC Eyes Student Housing, More 'Vibrant' Main Campus As Part Of In-Progress Facilities Master Plan
Read More >>
Senior Living Facility, Housing Zoning on East Bay Agenda
Read More >>
Morsels Owner Arraigned
Read More >>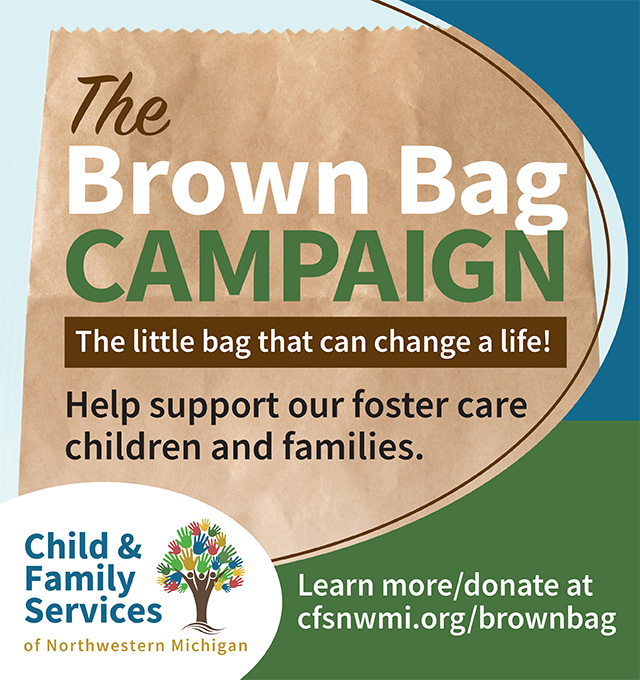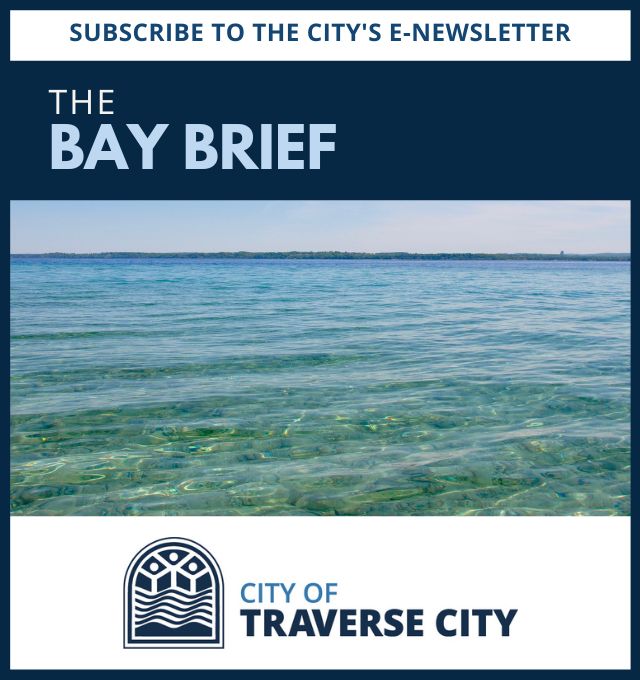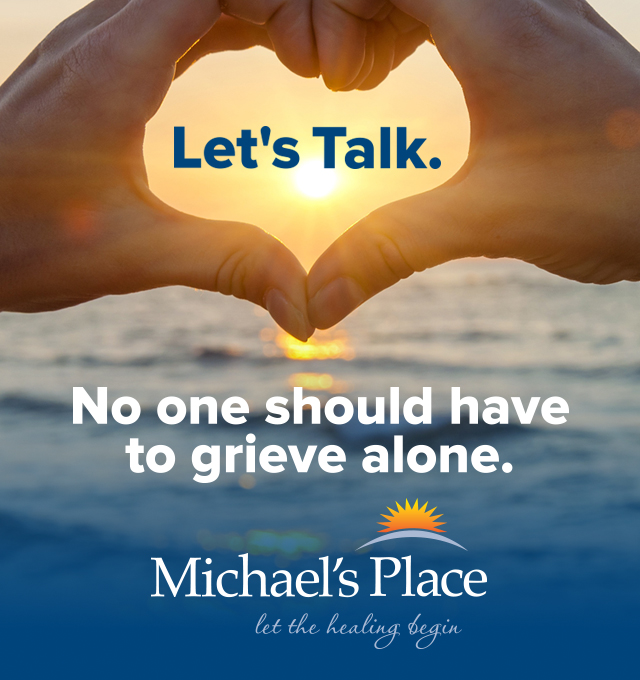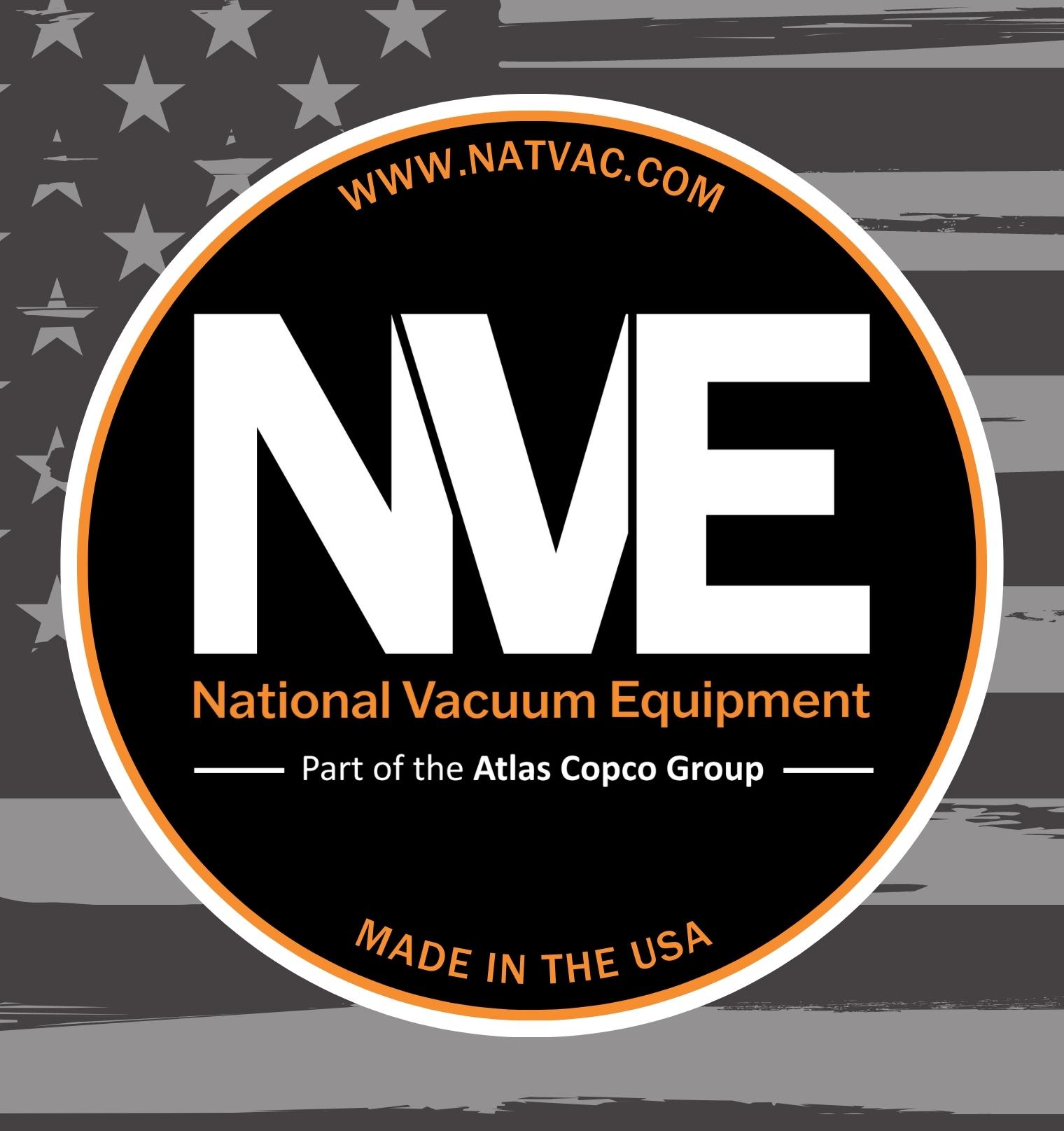 Join Us for a Holiday Recess at Delamar!
Read More >>
Changes Brewing at Downtown Food & Beverage Spots
Read More >>
Man Arrested with Open Container, Loaded Guns on Front Street
Read More >>
TC Man Arrested for Credit Card Fraud
Read More >>
Road Commission Approves Roundabout Construction at Potter/Garfield/Hoch; Work to Start in Spring
Read More >>
Hickory Hills Becomes First Homologated Course in Lower Peninsula
Read More >>
Walking, Biking Take the Spotlight as Communities Focus on Nonmotorized Plans
Read More >>
TC Comedy Fest Announces Rory Scovel, More Headliners
Read More >>
Why TCAPS Is Investing Millions Of Dollars In New High School STEM Facilities
Read More >>
Celebrating Local Artists & Artisans
Read More >>