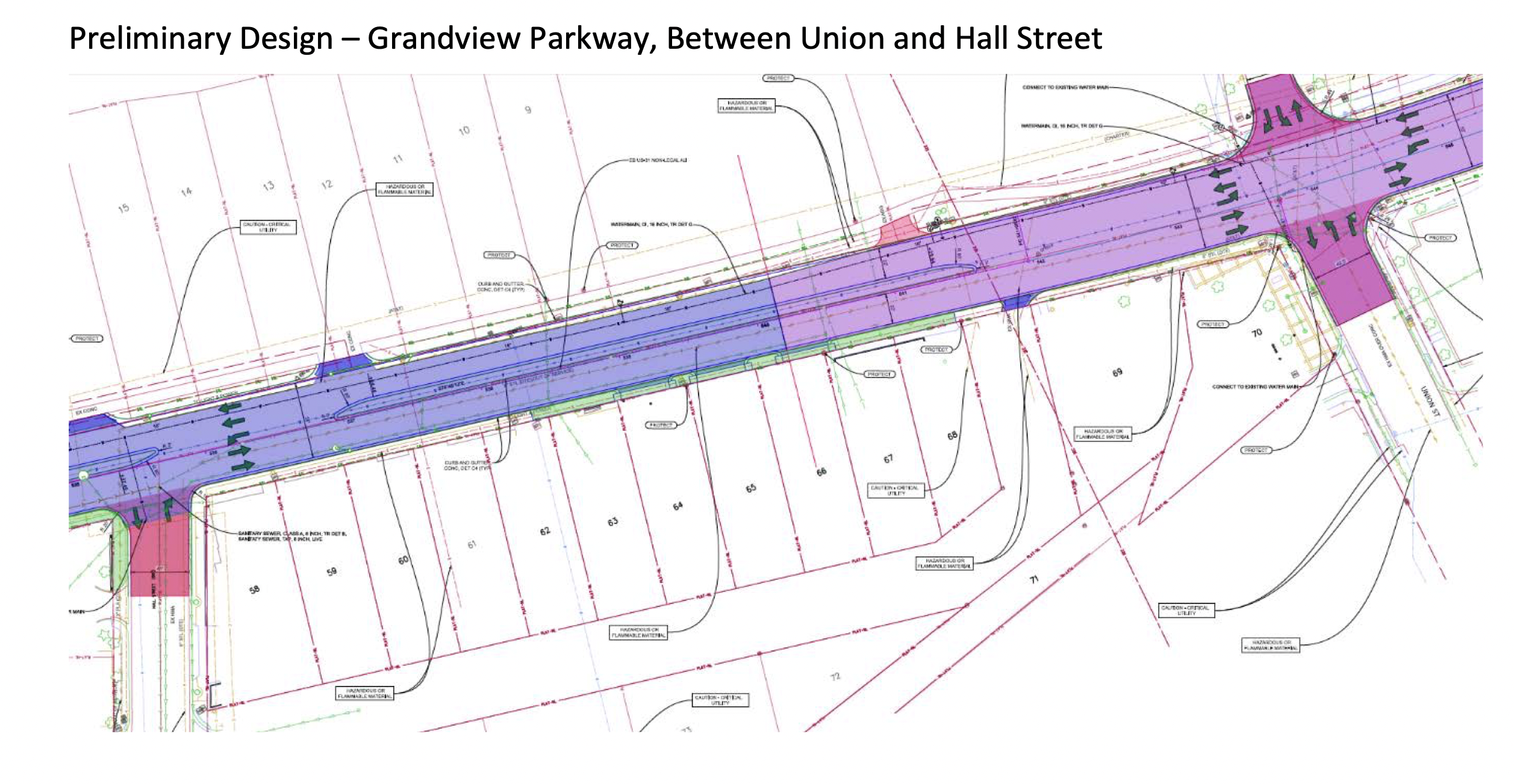 Design Details Emerge For East Front, Grandview Parkway Reconstructions; TART Trail Expansion Proposed
By Beth Milligan | Nov. 18, 2021
Residents and local leaders will soon have the opportunity to view and weigh in on preliminary design plans for the reconstruction of East Front Street and Grandview Parkway, major east-west corridor projects slated to take place back-to-back in 2022 and 2023. The East Front project could bring wider sidewalks, raised intersections, new midblock crossings, the conversion of part of Wellington Street into a pedestrian plaza in the summer, improved river access, and experimentation with two-way traffic to parts of downtown. Meanwhile, the Grandview Parkway project could see the redesign of key intersections like Front/Parkway/Railroad, as well as a major expansion of the TART Trail from Garfield Avenue to Division Street.
Consulting firm Progressive AE, which is guiding the East Front Street redesign process, will present a preferred design concept to the public at three community workshops tonight (Thursday) and Friday. The first session will take place tonight from 6pm-7:30pm in the Minerva's Boardroom at the Park Place Hotel, while the second session will take place Friday from 12pm-1:30pm at the Governmental Center. A third virtual session will be held Friday on Zoom from 1:30pm-2:30pm (link here, meeting ID: 849 3866 4914, passcode: 747010). Progressive AE will also give a presentation to Traverse City Downtown Development Authority (DDA) board members at their 8:30am Friday meeting.
According to Christopher Zull, infrastructure practice leader for Progressive AE, the firm took feedback from multiple public input sessions, business owner interviews, and an online survey that generated almost 400 responses to narrow down three design concepts for East Front Street to one preferred concept. That concept, intended to guide engineering plans for reconstructing East Front between Grandview Parkway and Park Street, is a "pedestrian-focused design" with improved sidewalks and crossings, flexible parking spaces (which could be converted to other uses on a seasonal or event basis), and the "inclusion of a dedicated bicycle facility in the downtown network," according to Progessive AE. Concept drawings and "suggested gateway treatment options" to celebrate the entrance into downtown on East Front Street will be shared at the public workshops, Zull says.
According to DDA CEO Jean Derenzy, pedestrian and cycling improvements and enhanced access to the Boardman River – such as at Wellington Plaza – have been highlighted as priorities in the redesign. Additionally, the concept could allow for the conversion of a section of Wellington Street between East Front and the alley behind The Little Fleet into a seasonal pedestrian plaza. That would allow for more tables and service areas for The Little Fleet, The Cooks' House, and other neighborhood businesses each summer, according to Derenzy.
Progressive AE also conducted traffic studies to determine whether changing some sections of downtown from one-way to two-way streets would help improve the overall traffic flow. Derenzy says the 100 and 200 blocks of Front Street will remain one-way, but that the DDA is looking at "how State Street and Boardman Avenue could maybe be two-way." Progessive AE, which will provide pros and cons and cost estimates for each two-way conversion option, is recommending using a pilot period to test out new configurations, "likely to be conducted in 2022-23 to test an alternative traffic circulation pattern under snowy conditions." Derenzy points out that if Boardman Avenue were converted to two-way traffic, it would allow vehicles to go straight from East Front Street to the light at Eighth Street – including popular stops like the courthouse and Governmental Center – without having to utilize surrounding residential streets. "We recognize the need to try and protect the neighborhoods," she says.
Derenzy says the goal is to take feedback from this week's workshops and another check-in with business and property owners to finalize the design – with an attached cost estimate – that can be approved by the DDA board and city commission in December or January. The DDA is working against the clock: Derenzy says the city wants to get East Front Street done in 2022 before the Michigan Department of Transportation (MDOT) begins reconstructing the 2.2-mile stretch of Grandview Parkway between Garfield Avenue and Division Street in 2023. The ultimate price tag for the East Front reconstruction and the availability of contractors will be the key deciding factors in whether the project moves forward next year, Derenzy says. "If we don't move in 2022, we can't move in 2023, so we'd have to do it in 2024 or 2025," she says.
Because of the overlap of the East Front and Grandview Parkway projects – not just in timing but in design, as with the key gateway intersection of Front/Grandview/Railroad – DDA and city staff have been working closely with MDOT on the state's reconstruction plans. Derenzy says the parties are now meeting on a weekly basis; Progressive AE and MDOT staff are expected to give a presentation to DDA board members Friday about the design progress for Grandview Parkway. Public workshops to share MDOT's preliminary design plans with residents are also slated for the coming weeks. The reconstruction will not only include new underground infrastructure along a large section of the corridor, but the potential redesign of parts of the road and its intersections (such as adding a southbound left turn lane from Grandview onto Hall Street, as shown in the pictured preliminary design). Derenzy says DDA talks with MDOT have focused on "providing a gateway into downtown, more clearly defined entrance opportunities to downtown, and an accessible way for pedestrians to cross the Parkway and access both the downtown and the waterfront/TART Trail."
Those discussions led the parties to explore the possibility of widening and expanding the TART Trail as part of Grandview's reconstruction. The trail is a "critical pedestrian/non-motorized connection to and through downtown, supporting over one million users each year," Derenzy wrote in a memo to DDA board members. "Typically, trails with this type of volume are much wider. The existing trail in some areas along Grandview Parkway is as narrow as six feet. While the trail width is serviceable, it is hardly ideal."
DDA board members will consider approving contributing $9,000 toward a $27,000 contract Friday with Progessive AE – with the city and TART Trails each also contributing $9,000 – for engineering plans to expand the TART Trail from Garfield to Division. While it'd be up to local partners and not MDOT to pay for expanding the trail, doing so while Grandview Parkway is already under construction could offer "significant cost savings," Derenzy says. The proposed expansion could include a "safer and more pedestrian-friendly intersection at East Front Street" and a "16-foot-wide trail facility that could comfortably accommodate both cyclists and pedestrians with separated uses along the entire study area," according to a memo from Derenzy.
Derenzy says MDOT has expressed a willingness to accommodate an expanded TART Trail within the reconstruction design plans for Grandview Parkway. "We told MDOT about this piece and they're looking forward to seeing the design," she says. "The trail system is outside of MDOT, but we need to know how it will connect and be part of that. Minimally, we want to keep what we have, but we'd love to improve it." She says paying for engineering plans now to see if a trail expansion is possible as part of the project is a worthwhile investment, given the "importance of the Grandview Parkway project work and the understanding that work on Grandview Parkway will likely not occur again within the next 30 years."
Comment
Fall On The Farm: What Local Farmers Are Harvesting & Growing This Season
Read More >>
Employee Pay, Complete Streets, Rooftop Spaces On City Agenda
Read More >>
Are State Education Policies Working Against Rural School Districts Like TCAPS?
Read More >>
A Better Winter: Advocates For Local Homeless Population Get Ready For Winter Operations
Read More >>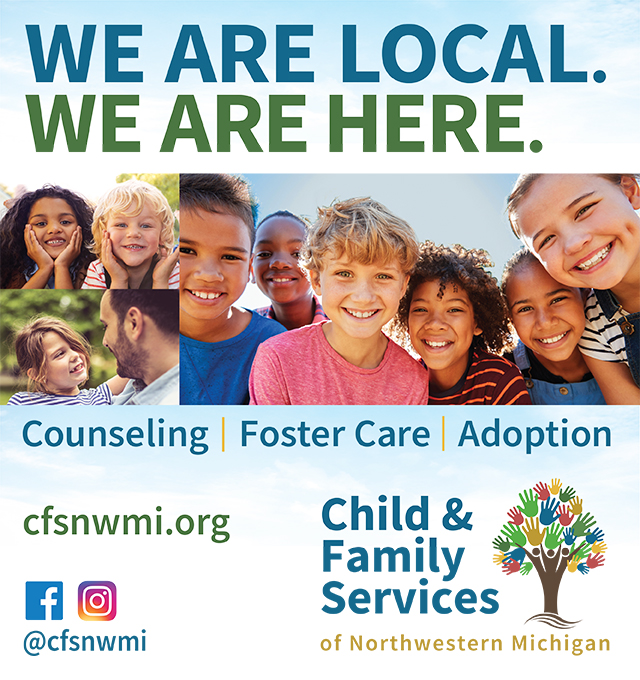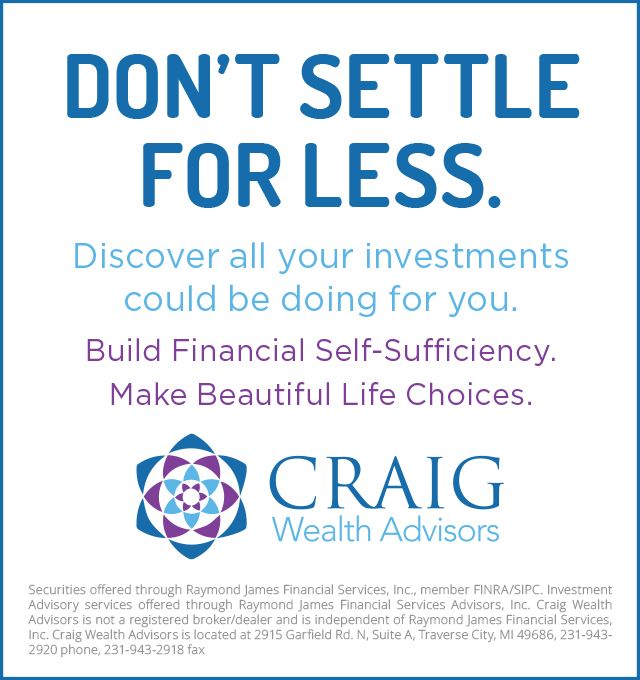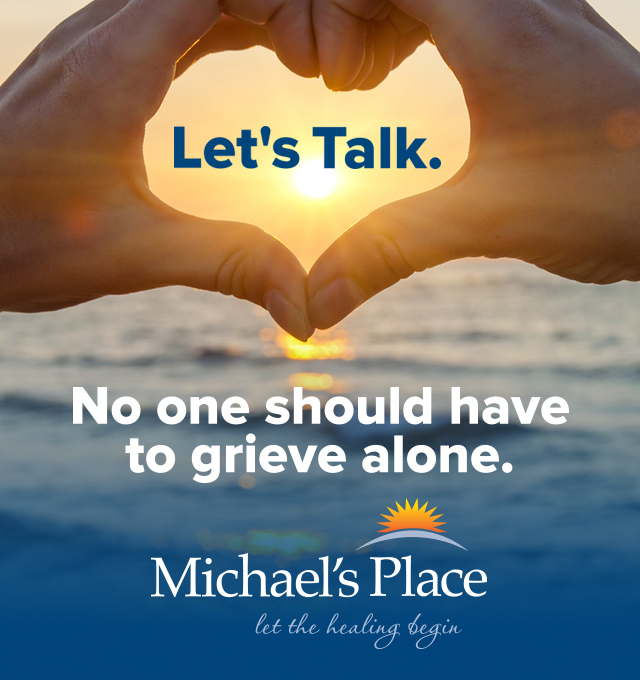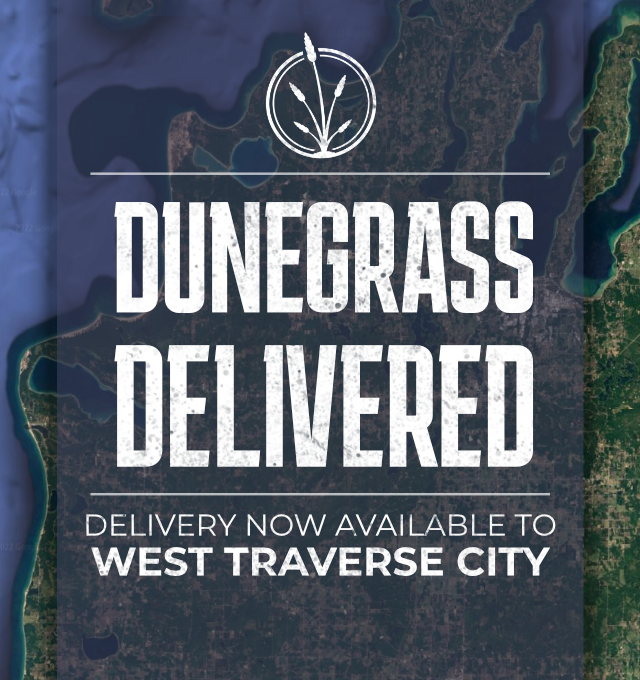 M-22/M-72 Roundabout, Waterfront TART Trail, Pedestrian Crossings Emerge In Road Redesign
Read More >>
Three Nonprofits Win Impact100 Traverse City Grants
Read More >>
313-Unit Development Proposed For Hammond Road
Read More >>
Rotary To Close GO-REC, Withdraws PUD Application
Read More >>
Senior Center, Madison/Jefferson Reconstruction, Governmental Center Parking On City Agenda
Read More >>
Night Closures On East Front Street This Week
Read More >>
Downtown TC Launching New Comedy Festival In February
Read More >>
Garfield Township Residents Weigh In
Read More >>
How Do You Get Millennials To Move To Traverse City?
Read More >>
Over 600 Housing Units On Deck In City - But Variety Is Lacking
Read More >>