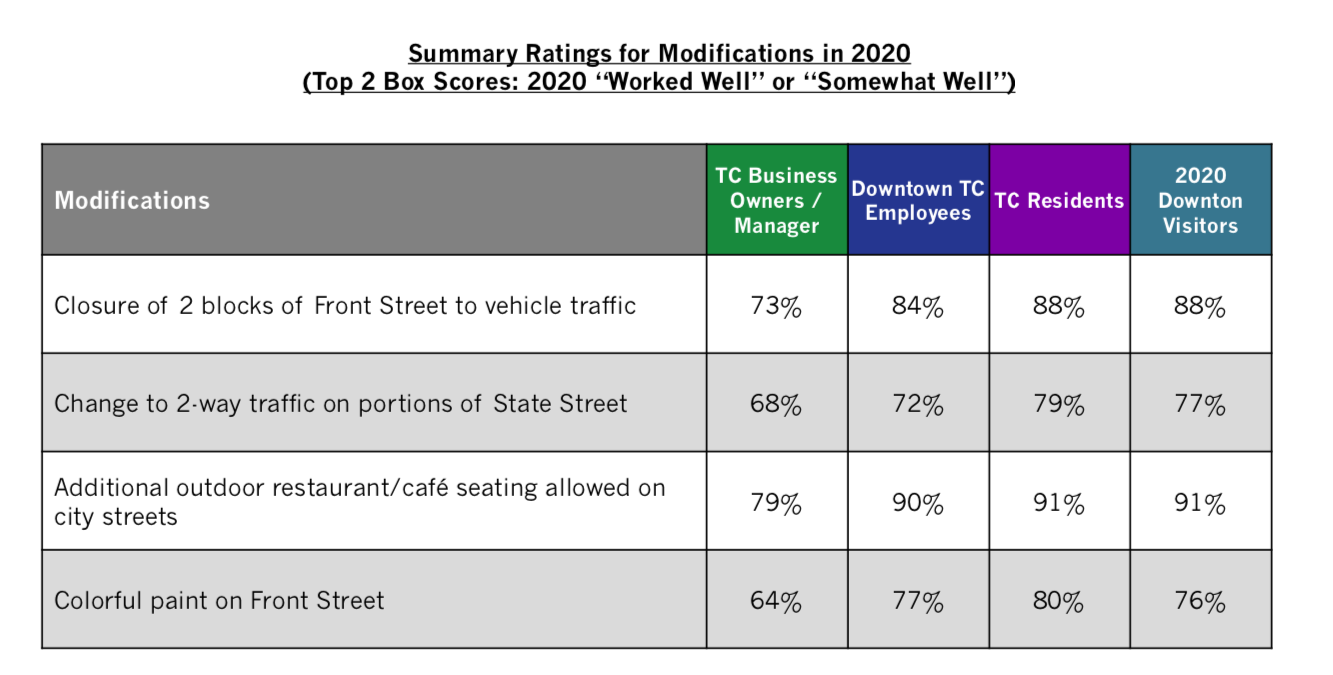 Downtown TC Leaders Talk Survey Results, Modified Holiday Plans
By Beth Milligan | Nov. 21, 2020
A survey of nearly 1,500 residents, visitors, and downtown Traverse City business owners shows significant support for changes made downtown this year to weather the pandemic, including closing two blocks of Front Street, converting State Street to a two-way street, adding more outdoor café seating, and painting Front Street. Traverse City Downtown Development Authority (DDA) board members discussed the results of the survey Friday – including key takeaways and what those might mean for the future of downtown – and also heard updates from staff on revised plans for multiple downtown holiday events this season.
2020 Survey Results
A professional survey administered by local consulting firm Avenue ISR solicited feedback from 1,472 unique respondents on changes made to downtown Traverse City in 2020 – with the majority supporting pivots made to Front Street and other areas, with the exception of a subset of business owners who felt the changes hurt sales and limited access for elderly and disabled customers.
Woody Smith of Avenue ISR presented the survey results to DDA board members Friday, noting that 73 percent of downtown business owners/managers and 84 percent of downtown employees felt that closing Front Street this summer either "worked well" or "somewhat well." Eighty-eight percent of both city residents and visitors to downtown responded the same way. A majority of respondents in all categories said changing State Street to a two-way street, adding more restaurant/café seating, and using colorful paint on Front Street also either "worked well" or "somewhat well." Downtown owners and employees reported seeing fewer locals but more first-time visitors this summer, and praised having open space for pedestrians, social distancing opportunities, and overall health and safety precautions as the top attributes they saw in place downtown.
Smith said that while a "key takeaway" from the survey was that the majority of respondents in all categories supported changes made by the DDA, results also showed that "it's not as if the decisions were clearly a benefit for all businesses 100 percent." In particular, businesses on some downtown side streets "felt they were left out" out of the Front Street closure, and some retail stores felt the changes primarily benefited restaurants and not retail. Business owners were particularly unhappy with the modified Street Sale – normally a large one-day outdoor event that this year was changed to a weeklong indoor event – and some cited frustrations with overall parking and traffic flow, including challenges for elderly and disabled customers reaching their locations.
Smith said that if downtown could recreate some of the 2020 adaptations in the future while addressing traffic and parking issues, the DDA could potentially have a best-of-both-worlds solution. "If it were possible to take the best that came about (with this experiment)...without creating the negative impacts, that would be ideal," he said. DDA CEO Jean Derenzy said it was unlikely the DDA would completely shut down Front Street again, but that the organization was looking at permanently converting State Street to two-way traffic and finding ways to help visitors better spread out downtown – the aspect survey respondents said they enjoyed most about the 2020 overhaul.
"How do we have sidewalk cafes not just on the sidewalk? Can we have bigger sidewalks? Can we have additional bumpouts?" Derenzy said, adding the DDA could also look at whether Front Street needs two lanes of traffic or could scale down to one, offering room for expanded sidewalks. While Derenzy said the DDA was preparing plans "A, B, and C" for 2021 in response to possible pandemic scenarios, she said the ideal was that in 2021 a vaccine would be available and businesses would be coming back full-time, with many remote employees returning to work downtown. "Just doing the same thing we did this year I don't think is the answer, but building on it," she told board members.
Downtown Holiday Event Changes
Holiday celebrations will look very different in downtown Traverse City this year, staff reported to DDA board members Friday – but the DDA is still encouraging shopping at local merchants and working to host socially distanced holiday events.
The downtown holiday season kicked off Friday night with a televised tree-lighting ceremony at the site of the annual city Christmas tree at the Cass and Front intersection. This year's tree is a 35-foot, 5,300-pound blue spruce harvested from Keystone Road. While past years have traditionally seen downtown streets closed to accommodate large crowds and an in-person visit from Santa, streets remained open this year for the event and residents were encouraged to watch the ceremony from home and not attend in person.
The next downtown event will be the holiday shopping weekend encompassing Black Friday, Small Business Saturday, Cyber Monday, and Giving Tuesday from November 27-December 1. DDA staff made the decision to cancel Ladies' Night and Men's Night this year due to the large crowds typically attracted by the shopping events, but are encouraging supporting downtown shops with curbside and online ordering, in addition to in-person shopping (note: capacity limits are in place for in-person shopping, and mask-wearing is required). Special deals offered by merchants for the holiday shopping weekend will be listed online by Thanksgiving Day. At a press conference this week, Governor Gretchen Whitmer urged Michigan residents to shop locally this holiday season, noting the precarious state many small businesses are in during the pandemic. Just a 10 percent shift in retail spending from online/out-of-state vendors to local stores would infuse $1.2 billion into the state economy, Whitmer said.
While Santa will not be available for visiting hours in his downtown house this year, the DDA is partnering with the Traverse City Firefighters to provide special Santa visits to every city neighborhood, staffed announced at Friday's DDA meeting. During the first two weeks of December, Santa will be chauffeured to different neighborhoods on Tuesday and Thursday afternoons on an antique fire engine, with "Firefighter Elves" collecting letters to Santa that families can hand over as the truck comes through. Santa will visit Kids Creek, Slabtown, and Central neighborhoods December 1 from 3pm-5pm; Old Town and SoFo neighborhoods December 3 from 3pm-5pm; Traverse Heights, Boardman, and Oak Park neighborhoods December 8 from 3pm-5pm; and Old Mission Peninsula and Civic Center area neighborhoods December 10 from 3pm-5pm. Route maps and times for each neighborhood will be available on the downtown website starting November 27.
Finally, the annual downtown Light Parade will be replaced this year with a new Strolling Light Parade on December 12 from 5pm-9pm. Twelve different locations in downtown Traverse City will host light displays themed after the 12 Days of Christmas decorated by a dozen local nonprofits. Residents are invited to go on a self-guided, socially distanced tour of the outdoor displays and vote for their favorite installations. Each vote costs $1, with monies raised split between the nonprofit vote-receivers and the Downtown Relief Fund, which is helping offset rent and other expenses for downtown merchants this winter. The December 11-13 weekend will also host Walking in a Winter Wonderland, a window-decorating contest among downtown Traverse City businesses.
Comment
Roundabouts Are Here To Stay, With More On The Horizon
Read More >>
Fundraising, Planning Work Begins On Civic Center Projects
Read More >>
Michigan Relaxes Mask Requirements Following CDC Changes
Read More >>
2021 Scale Up North Awards Winners Announced
Read More >>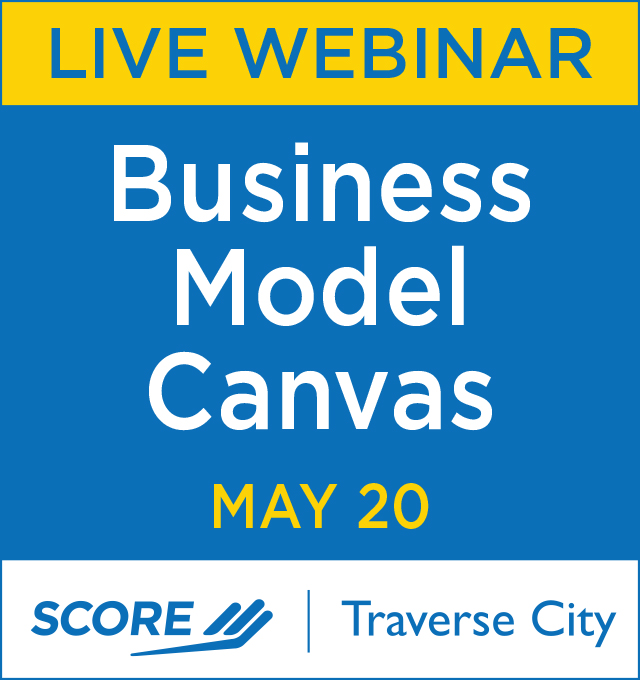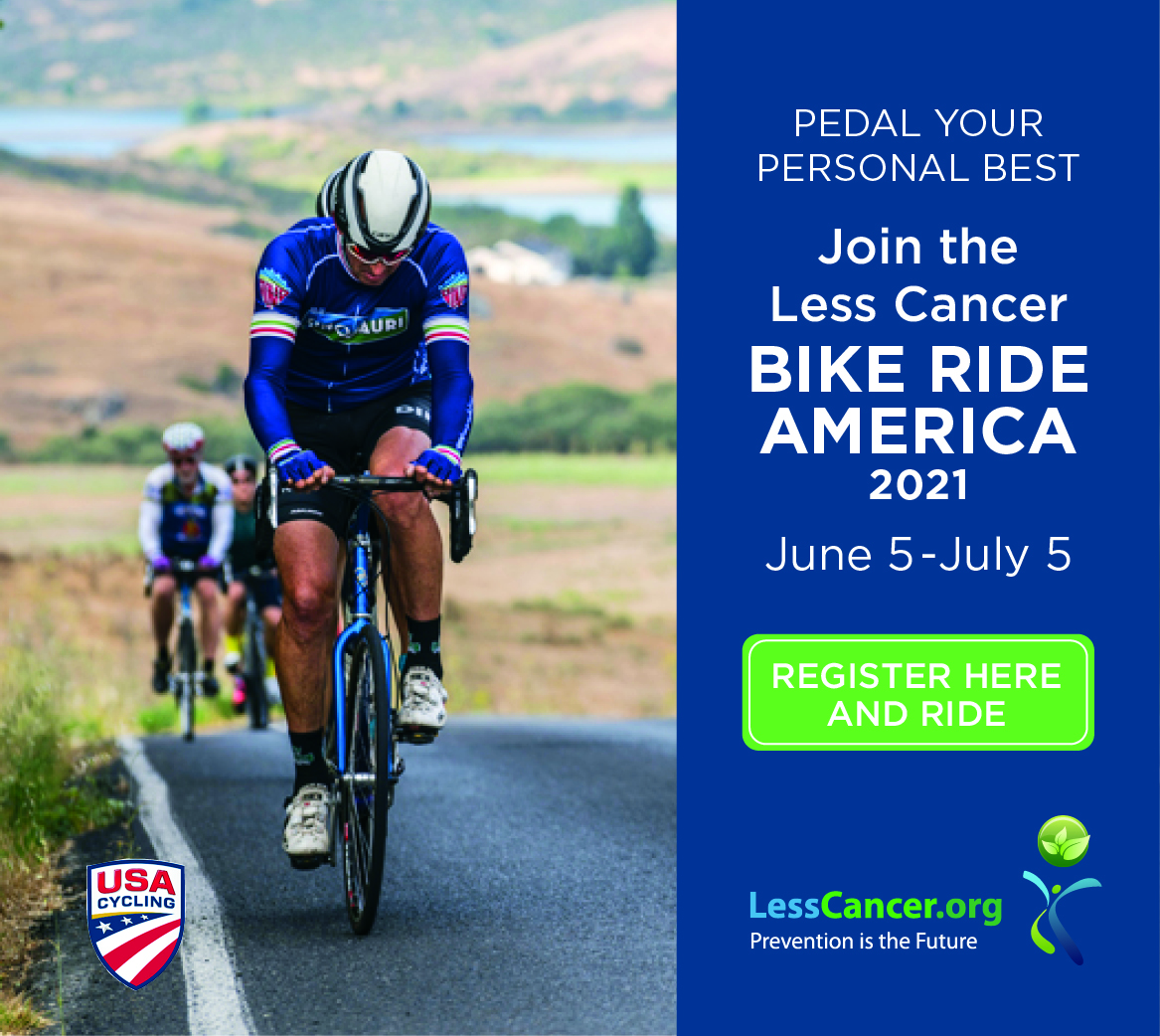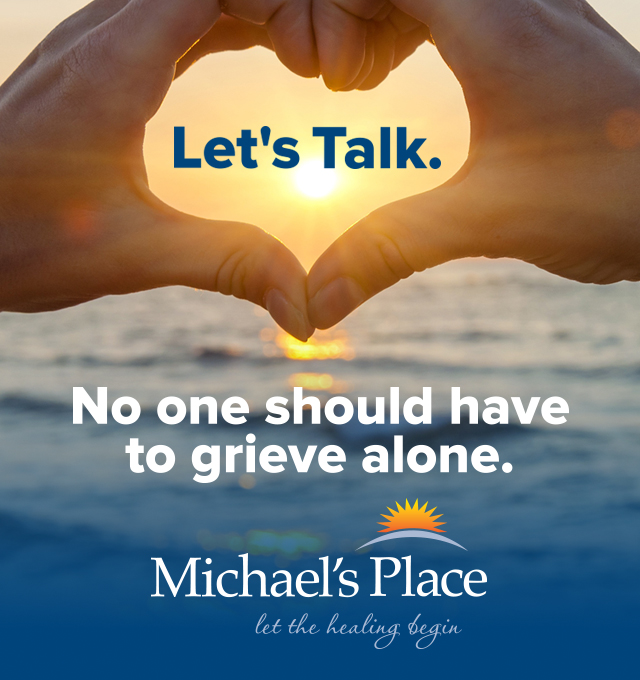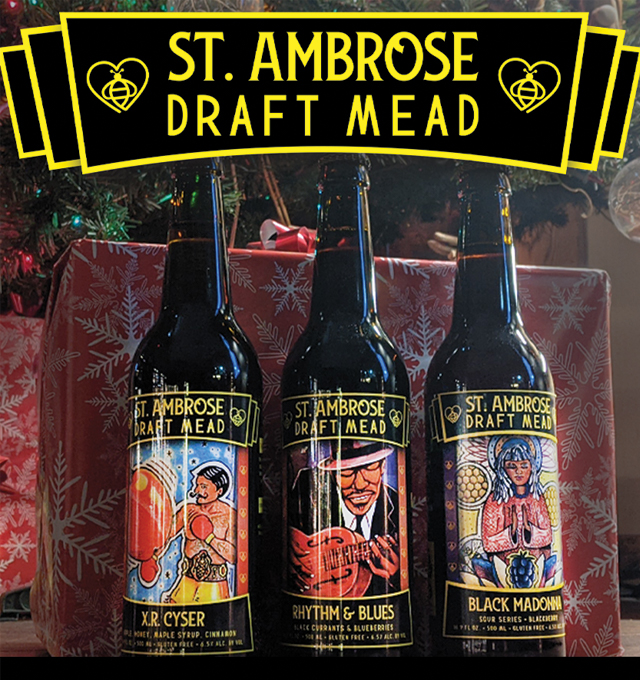 Garfield Planning Commissioners Approve Chick-fil-A, Preliminary BATA/Housing Development Plans
Read More >>
Frankfort's Garden Theater Hires New Director
Read More >>
Kingsley Rocks Business Expo Planned For Saturday
Read More >>
Nominate Now For 2021 40Under40
Read More >>
Events Return To Old Mission, Plus Township Approves Seven Hills Development & Parks Contract
Read More >>
National Writers Series Announces Summer 2021 Lineup
Read More >>
Organizers Eye Return Of Summer, Fall Events
Read More >>
TCLP Set To Install 15 New EV Charging Stations In Traverse City
Read More >>
Michigan Hits First Reopening Milestone; Leelanau, GT County Lead State In Vaccinations
Read More >>
NMC Maritime Cadets Head To Sea
Read More >>