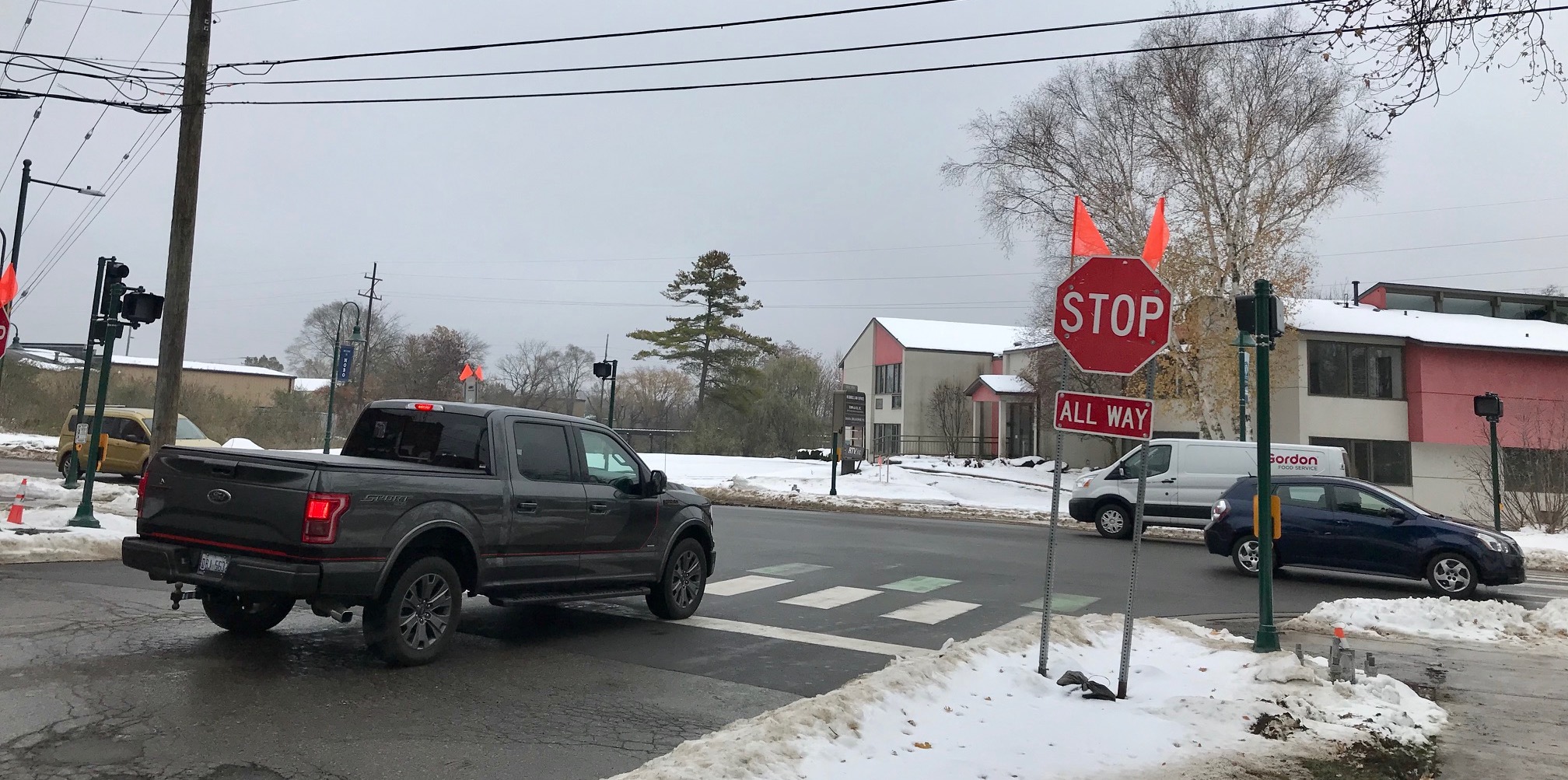 Eighth Street Signal Installation Delayed Until At Least Christmas
By Beth Milligan | Nov. 19, 2019
The planned installation this month of a traffic signal at the intersection of Eighth Street and Boardman Avenue will likely be delayed until at least Christmas.
The signal is the last major component needed to complete the Eighth Street reconstruction project. The Eighth and Boardman intersection is currently functioning as a three-way stop until the signal equipment - which was back-ordered - can be delivered. City staff initially estimated the signal would be installed by mid-November, but have now pushed back that timeline by a month or more.
"The traffic signal equipment ship date is December 13, so we are hopeful to have the signal completed by Christmas," says City Engineer Tim Lodge. "However, the ship date has been not reliable as of yet."
Residents have also inquired whether the city will plow Eighth Street's new sidewalks and cycle tracks through the winter. According to City Street Superintendent Mark Jones, the city's "intent is to keep the path open as wide as possible, but depending on the winter, we may have to use some of this area for snow storage."
TCAPS Recall Hits Legal Snag
Read More >>
Public Input Sought On Airport Becoming Authority
Read More >>
Garland Street Closed Friday, Monday
Read More >>
Traffic Signal Work At M-72/Elk Lake To Start Monday, Continue Through May
Read More >>
Median Coming To US-31; Aim Is To Prevent Accidents, Help Pedestrians
Read More >>
Roundabout Coming To Blair Townhall Road, Six More To Follow Across GT County
Read More >>
TADL Offering Fine Forgiveness In December
Read More >>
Traffic Projects On Deck: Pedestrian Crossings, Front/Madison, Parking Rate Study
Read More >>
When Will Pot Sales Begin In TC?
Read More >>
Damaged Toyota Sought By Police
Read More >>
Join Us For A Special Recess Of Giving Tonight!
Read More >>
Munson, Nurses Association Reach Settlement Over Nurses' Rights To Talk About Work Conditions
Read More >>
Welcome To The Golden Age Of Shipwreck Hunting
Read More >>
Inman Recall Effort Goes To Court
Read More >>