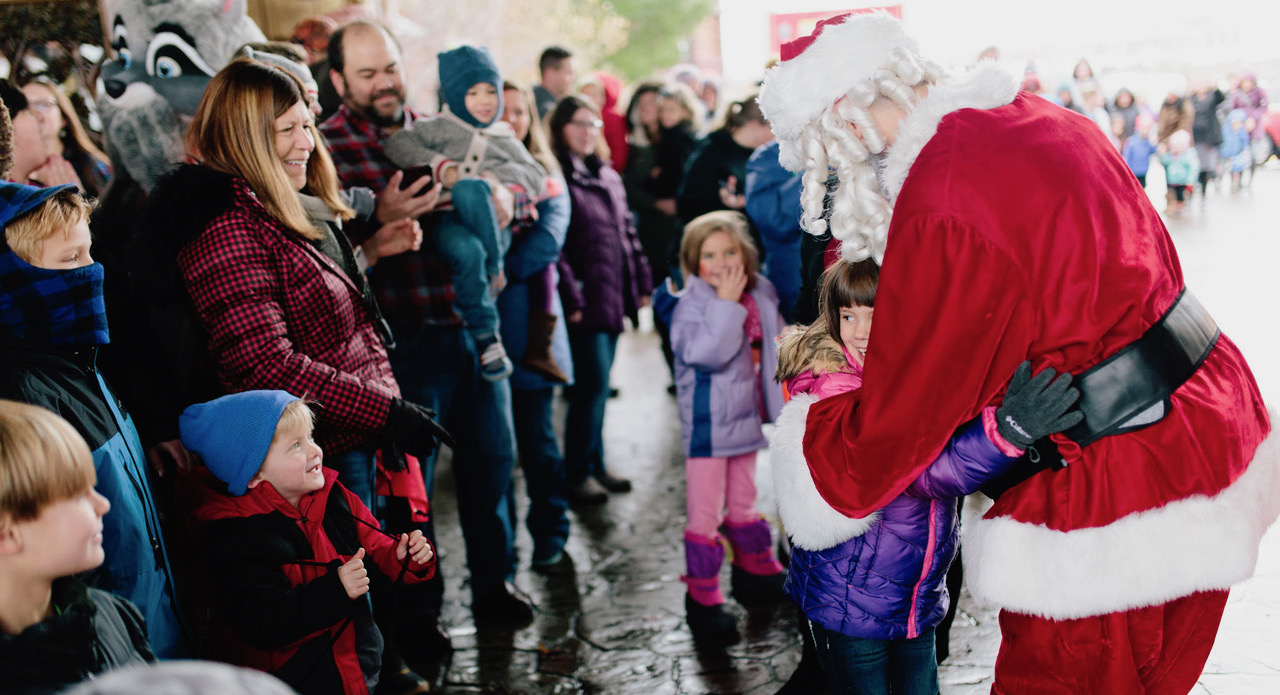 Holiday Kickoff: Downtown Light Parade, Toys For Tots & Turkey Trot
By Beth Milligan | Nov. 23, 2019
Early winter weather has cooperated to set the scene for the official kickoff of holiday activities in Traverse City, beginning with the Santa-led tree lighting ceremony and Light Parade in downtown TC and Toys For Tots kickoff at Great Wolf Lodge today (Saturday) and continuing with the annual Turkey Trot and holiday shopping events later this week and beyond.
Downtown TC Activities
The Downtown Traverse City Association's third annual Light Parade could be its largest one yet, with projected mild temperatures likely to attract crowds upward of 9,000 to downtown Traverse City tonight.
Festivities will begin at 5:30pm with holiday music, a short performance by men's choir Solaria, and a community sing-a-long of carols in front of the downtown Christmas tree at the intersection of Cass and Front streets. Each year, the city's Parks and Recreation Department culls a donated tree from a local property owner; this year's 30-foot Blue Spruce was provided by the Revett family in Cedar Lake and installed free courtesy of Elmer's. At 6pm, Santa will take the stage to officially light the Christmas tree, after which crowds will be asked to move off the street to the sidewalks for the start of the Light Parade.
The Light Parade, now in its third year, will feature 29 parade entrees outfitted with twinkling lights, including two dance troupes with over 200 dancers, three drum lines, stilt walkers, 100-plus families riding on bikes with Norte, the huskies from Pets that Pull, decorated vehicles from BATA, Traverse City Light & Power, DTE Energy, Munson Medical Center, and the Traverse City Fire Department, and multiple floats from nonprofits including Crooked Tree Arts Center, Cherryland Humane Society, Paperworks Studio of Traverse City, Boots for Kids, Leelanau Montessori Public School Academy, Traverse Bay Area Intermediate School District, and more. Santa, who has traditionally appeared in the parade on a fire truck, will instead ride on his own custom float this year to allow parade attendees from both sides of the street to see him in full view.
The Light Parade will run along East Front Street from Franklin to Union streets. The streets will be closed at 3pm for set-up; chairs can be put out on sidewalks starting at 3:30pm, except for in the metal barricaded areas surrounding the Christmas tree. A wheelchair-accessible viewing area will be available at Park and Front streets. The Little Fleet is also hosting a free viewing party for the parade. BATA's Bayline will offer free shuttle service into downtown, and parking will be available on surrounding streets and at the Hardy Parking Garage, which is accessible from State Street. Immediately following the Light Parade, Santa will be available to visit with at Cherry Republic. Santa's official visiting hours for the season in his house – located at the City Centre Plaza on the corner of State and Cass streets – will kick off Friday, November 29 from 5pm to 8pm.
Tonight's activities launch a busy slate of DTCA holiday activities in the coming weeks. Events continue next weekend with holiday shopping sales offered by downtown merchants for Black Friday, Small Business Saturday, and Cyber Monday. On Sunday, December 2, the DTCA will host a free Downtown Cocoa Crawl offering a "friendly competition of cocoa" between downtown merchants, with attendees voting for their favorite hot cocoa. Downtown businesses will also participate in a "Walking in a Window Wonderland" window display contest December 6-8, a family-friendly event that allows attendees to vote for their favorite displays and participate in a scavenger hunt to win a $250 downtown gift card. Downtown's holiday schedule culminates with Ladies' Shopping Night on December 12 and Men's Shopping Night on December 19, both of which will offer shopping specials, refreshments, appetizers, door prizes, free gift-wrapping, and activities at participating stores from 5pm to 9pm.
The early pre-Thanksgiving start to holiday festivities was intentional on the DTCA's part, particularly when the Light Parade began in 2017, according to Marketing and Communications Director Colleen Paveglio. The first year of the Light Parade – which drew 9,000 people in 40-degree temperatures – was held on a Friday, creating massive traffic conflicts with 5,000-plus downtown employees trying to leave work at the same time revelers arrived. That prompted the DTCA to move the event to a Saturday. Parade participants overwhelmingly rejected Thanksgiving weekend as a viable Saturday date, indicating their desire to spend time with family. The Saturday following Thanksgiving weekend could be as late as December 7 some years – "too late," says Paveglio, particularly when residents' focus turns to Christmas the day after Thanksgiving and each shopping day is critical for merchants. That led the DTCA to settle on the Saturday before Thanksgiving. While last year's temperatures plunged into the twenties, lowering attendance to 7,000, tonight's weather promises to be cooperative – another perk of an earlier date. "A lot of factors came into play (with starting earlier), and that included the weather," says Paveglio.
Toys For Tots
The NW Michigan Marine Toys For Tots will kick off its 2019 Christmas toy collection drive today from 12pm to 2pm at Great Wolf Lodge. Santa will arrive at 12:15pm on a U.S. Coast Guard helicopter and spend time visiting with children and taking their toy requests. The party is free and open to the public and includes children's activities, refreshments, police and fire-fighting displays, and Christmas carols with a choir. Those who bring toy donations will receive Great Wolf Lodge water park passes, while supplies last.
Over 20,000 toys are expected to be needed by Toys For Tots to help more than 6,000 children in northern Michigan. Leelanau Christian Neighbors (LCN) is coordinating with Toys For Tots to cover Leelanau County: Those needing assistance can register on November 25 and December 2 and 9 at the LCN office at 7322 East Duck Lake Road in Lake Leelanau. A form of ID is required for all family members. Toy distribution will take place at the Lake Leelanau VFW Hall on December 18. The Ticker and Traverse Connect are also partnering to host a special combined Recess of Giving and Business After Hours to benefit Toys For Tots on Wednesday, December 4 from 5pm to 7pm at Fox Grand Traverse. Admission is $10 or a new unwrapped toy and includes appetizers, drinks, and entry into door prize drawings, with all proceeds benefiting Toys For Tots. The event is sponsored by Caliber Home Loans - Northern Michigan.
Turkey Trot
Those looking to fight holiday calorie overload can get a healthy head start on Thanksgiving morning at the 12th Annual Traverse City Turkey Trot, starting at 9am in downtown Traverse City. The race, which kicks off at St. Francis High School and loops throughout downtown neighborhoods, will offer 5K run/walk and 5-mile flier options. Registration for adults is $35 (prices increase after Tuesday) and $20 for those 18 and under. Children under the age of three in a stroller are free, as are dogs. All paid entrees will receive a commemorative long-sleeve t-shirt. The event takes place regardless of weather. Canned goods and donations will be collected on-site at the race for the Father Fred Foundation, as well as on Wednesday from 3:30-6:30pm during packet pick-up at the St. Francis High School gymnasium.
Pictured: 2018 Toys For Tots Kickoff at Great Wolf Lodge. Photo credit: Allen-Kent Photography.
Comment
Dangerous Legal Drug? Or Nature's Answer To Opioid Addiction?
Read More >>
There's A New Ticker In Town
Read More >>
DDA Talks Cruise Ships, Scooters, District Boundaries, River Clean-Up
Read More >>
For Kristin Rice, Space Is The Place x2
Read More >>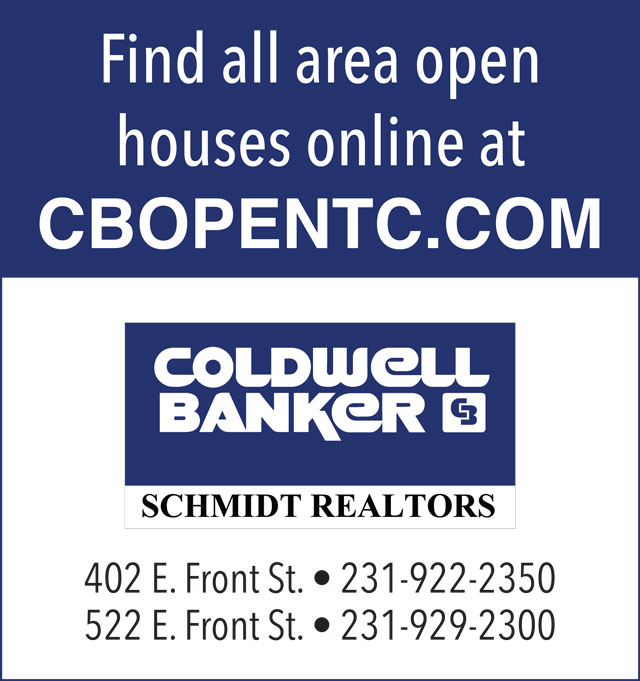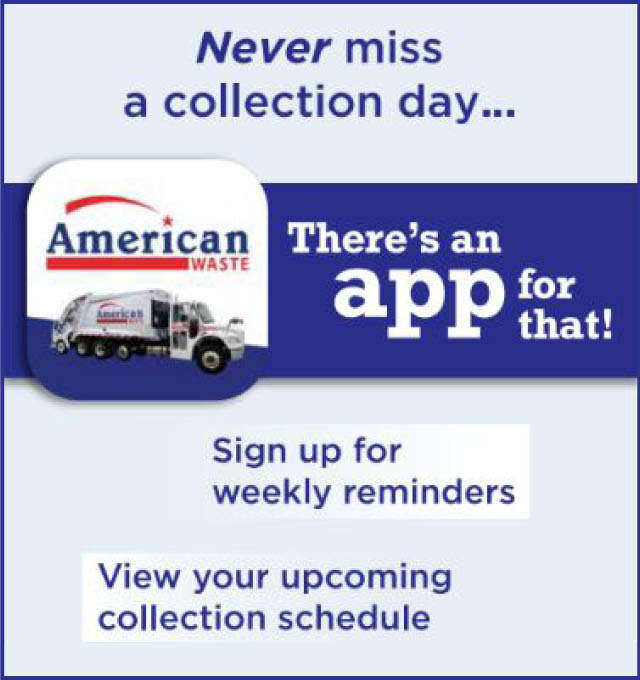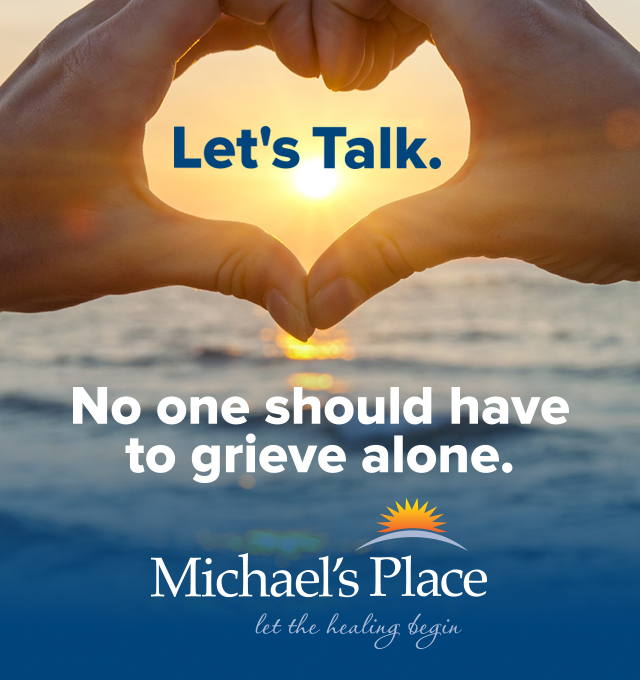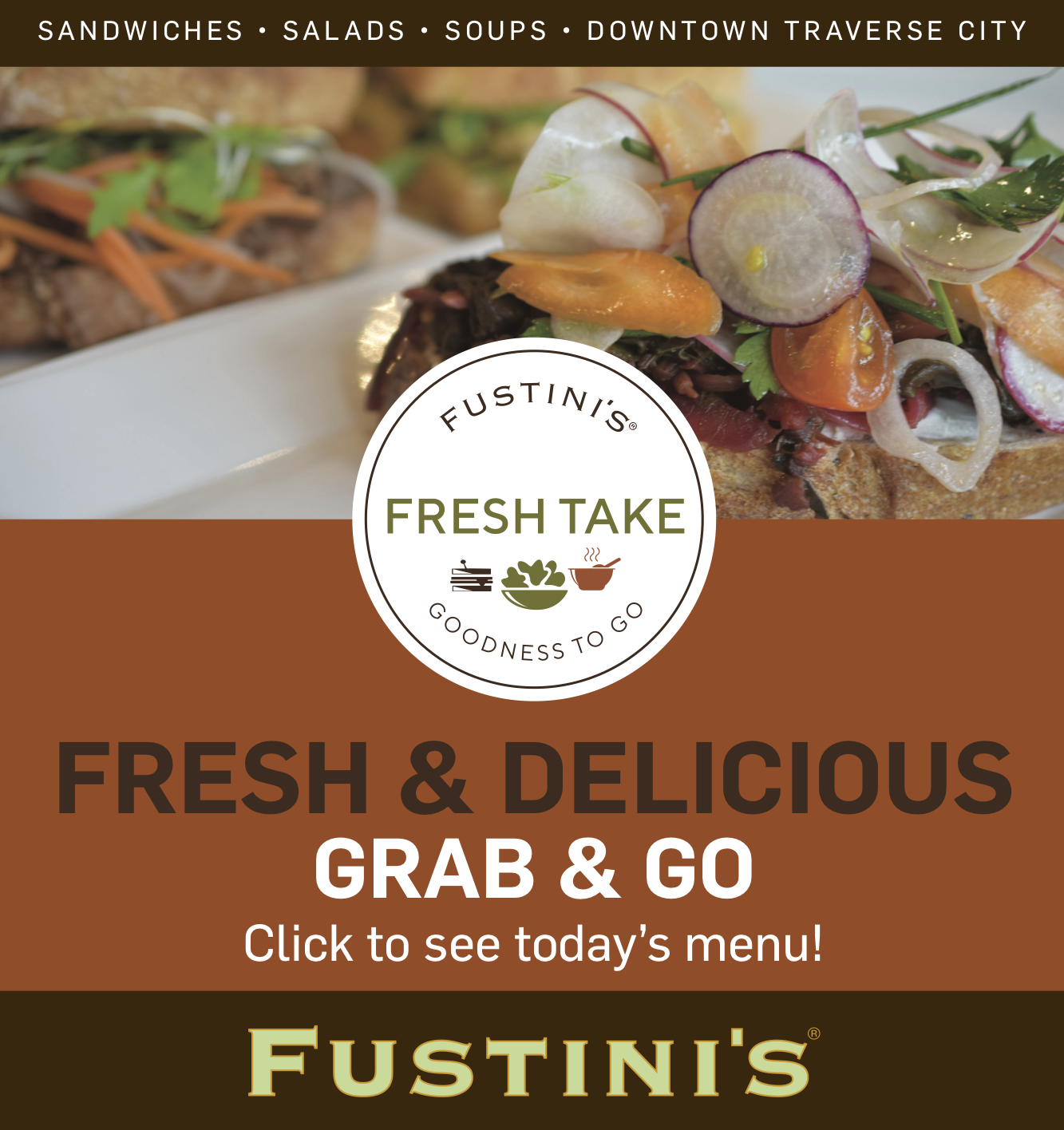 Space: The Next Frontier For Pugsley?
Read More >>
New Publication Provides Access To Local Demographic Data
Read More >>
Woman Arrested For Drunk Driving After Getting Stuck In Snowbank
Read More >>
Local Child Care Study Outlines Shortcomings
Read More >>
Save The Date: March Recess At State Street Market
Read More >>
Car Crashes Into Empire Township House
Read More >>
Hunting For WWII Aircraft, U-Boat In Grand Traverse Bay
Read More >>
Palmer Woods Expansion, M-204 Bridge Project Coming To Leelanau
Read More >>
Couple Arrested For Assaulting Teen
Read More >>
New Combined Job Fair To Debut
Read More >>