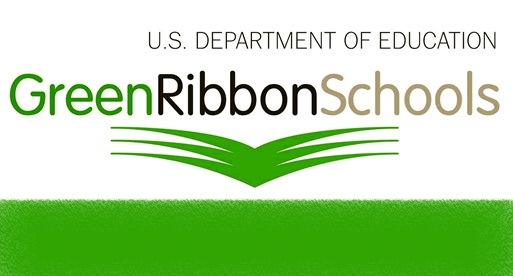 Interlochen Recognized As Green Ribbon School By U.S. Dept of Education
By Beth Milligan | May 23, 2019
Interlochen Arts Academy has been named a Green Ribbon School by the U.S. Department of Education - the only school in Michigan to earn that designation.
The Green Ribbon Schools program recognizes schools, districts, and institutions of higher education that reduce environmental impact and cost, improve the health and wellness of schools, students, and staff, and provide effective environmental and sustainability education. A total of 35 schools, 14 districts, and four post-secondary institutions are being honored for their efforts to address those three pillars of the program.
"We had to complete an extensive application process and an intensive review that delved deeply into the three pillars," says Emily Umbarger, an academic and college counselor at Interlochen Arts Academy, as well as the Sustainability Coordinator and Instructor of Agricultural Sciences. "We are the only school in the state of Michigan to receive this award this year. Once this award is earned, the institution is recognized as a lifetime recipient."
Umbarger says "several distinguishing factors" impacted Interlochen's recognition in the program, including the school's compost building and a dishwashing room in Stone Cafeteria that has reduced campus water consumption by 600,000 gallons of water. "Other factors included our focus on health and wellness plans and incentives, student activities and fitness and active opportunities, staff support for bio-screening and health initiatives, and our educational programming, which demonstrates incredible opportunities for students to engage in sustainability within their curriculum," Umbarger says.
The honorees were named from a pool of candidates nominated by 28 states. The selectees include 25 public schools – among them, three magnet schools and two charter schools – as well as 10 nonpublic schools. Thirty-six percent of the 2019 honorees serve a disadvantaged student body.
TCAPS Recall Hits Legal Snag
Read More >>
Public Input Sought On Airport Becoming Authority
Read More >>
Garland Street Closed Friday, Monday
Read More >>
Traffic Signal Work At M-72/Elk Lake To Start Monday, Continue Through May
Read More >>
Median Coming To US-31; Aim Is To Prevent Accidents, Help Pedestrians
Read More >>
Roundabout Coming To Blair Townhall Road, Six More To Follow Across GT County
Read More >>
TADL Offering Fine Forgiveness In December
Read More >>
Traffic Projects On Deck: Pedestrian Crossings, Front/Madison, Parking Rate Study
Read More >>
When Will Pot Sales Begin In TC?
Read More >>
Damaged Toyota Sought By Police
Read More >>
Join Us For A Special Recess Of Giving Tonight!
Read More >>
Munson, Nurses Association Reach Settlement Over Nurses' Rights To Talk About Work Conditions
Read More >>
Welcome To The Golden Age Of Shipwreck Hunting
Read More >>
Inman Recall Effort Goes To Court
Read More >>