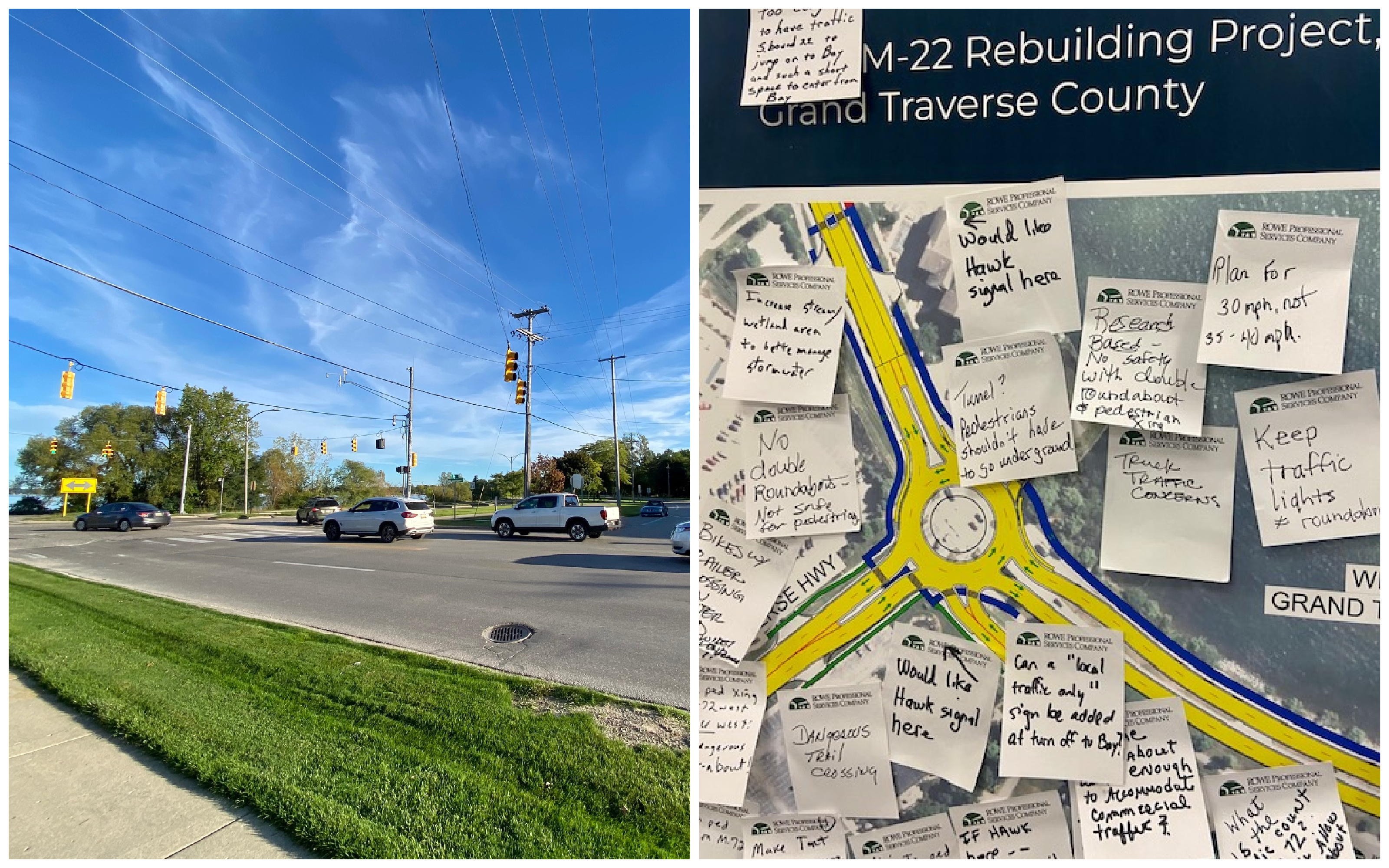 M-22/M-72 Roundabout, Waterfront TART Trail, Pedestrian Crossings Emerge In Road Redesign
By Beth Milligan | Sept. 30, 2022
A roundabout at the Grandview Parkway/M-72/M-22/Bay Street intersection, a new waterfront TART Trail along the north side of the highway, and several upgraded pedestrian crossings at "high visibility" locations are among the top design priorities emerging for the planned $13 million reconstruction of M-72/Grandview Parkway and M-22/Bay Shore Drive between Division Street and Cherry Bend Road in 2025. Michigan Department of Transportation (MDOT) officials held a public open house Thursday to review the latest design, which was shaped by resident feedback over the summer.
MDOT will be tackling the 2.2-mile reconstruction project after completing the first phase of work – the reconstruction of Grandview Parkway/East Front Street been Garfield Avenue and Division Street – in 2024. That project is estimated to cost $19 million. Work in 2025 between Division and Cherry Bend will include rebuilding (removing the concrete and composite pavements and restoring the surface condition/ride quality to good condition), addressing drainage issues (including curbs and gutters, storm sewers, culverts, and outlets), and replacing sidewalks and nonmotorized paths. The project will also include upgrading ramps to ADA standards, redesigning the M-72/M-22/Bay Street intersection, and upgrading the traffic signal at Cherry Bend Road. (Though not part of this project, another future phase of work is planned to extend improvements from Cherry Bend Road up to Lakeview Hills Road).
MDOT held an initial open house in June to present a wide array of design possibilities for the corridor. Those included a multi-lane roundabout at M-22/M-72, either with or without Bay Street access, or redesigning the intersection so that Bay Street was right-in, right-out only and the "pre-signal" near Bay Street was removed. Other design concepts include relocating the TART Trail to the north side of the highway, having Elmwood Avenue be right-in, right-out only at Grandview Parkway, adding HAWK signals and pedestrian medians throughout the corridor, and extending the trail and sidewalk system down to Cherry Bend Road.
After residents had a chance to weigh in on those concepts this summer both online and at the open house, project representative Cheryl Gregory said Tuesday that MDOT heard clearly – especially from Slabtown Neighborhood – that residents didn't want Bay Street access eliminated. Accordingly, MDOT's new design calls for installing a two-lane roundabout at the M-72/M-22/Bay Street intersection, which maintains northbound access to M-22 from Bay Street. Traffic lights and left turns are eliminated at the intersection; cars coming off Bay Street will be able to turn right and enter the roundabout, then either make a sharp right to head east on Grandview Parkway or continue on through the roundabout to go up either M-22 or M-72. Cars can similarly enter Bay Street off the roundabout via a right turn (pictured, right).
The new design calls for shifting Grandview Parkway six to eight feet away from Grand Traverse Bay toward Bay Street, creating enough room to install a 12-foot-wide TART Trail along the waterfront from Division to just past M-72. That trail will have a minimum five-foot buffer between trail users and vehicles, with many cyclists and pedestrians expressing discomfort over how close they are to highway traffic today. Due to space constraints, the trail narrows to 10 feet after the M-72 intersection but continues uninterrupted along the waterfront up to Cherry Bend Road. Existing trails/sidewalks along Bay Street and the west side of M-22 are planned to remain in place.
A pedestrian crossing – possibly with a HAWK signal, like the one by Hotel Indigo – is proposed north of the M-72/M-22 intersection to allow waterfront trail users to cross over to the Leelanau Trail (and vice versa). Elmwood Avenue – no longer targeted to be right-in, right-out only – would also have its pedestrian crossing upgraded. Additional pedestrian crossings could be installed at "high visibility" locations like Grelickville Harbor, Discovery Pier, and Carter Road, according to safety audit recommendations provided by a third-party firm.
Gregory said the goal of the reconstruction project is to "improve all modes of transportation for all users." MDOT officials acknowledged the thorniest outstanding design issue is configuring the pedestrian/cyclist crossings at the M-72/M-22 roundabout, which are still being closely analyzed. "We're going to vet the options for making this crossing safe," Gregory said, citing pedestrian islands and marked crossings as possible options. "It's got to be safe for all users, and we have to make sure it's ADA-accessible."
Gregory said the latest design draft allows for future connections to the Leelanau Trail, such as at Brewery Creek, East Grandview Road, and Cherry Bend Road. "There's future work going on, and this project will help lay the groundwork…to help connect to the Leelanau Trail further north," she said. Gregory added that MDOT is also coordinating with BATA on future bus stops in the corridor. "They don't have a bus stop right now out in this corridor, and they would like to put one there," she said. "We'll work with them to make sure we design that safely into this."
MDOT's next step will be to take public feedback received Tuesday and use it to continue refining the design, creating a preliminary plan by next summer. That preliminary plan will then be further tweaked to create a final design by early/mid 2024, with the state planning to put the project out to bid in fall 2024 and start construction in spring 2025. Unlike the first Grandview Parkway project, the stretch between Division and Cherry Bend offers "no good detour options," according to MDOT Project Engineer Lucas Porath. MDOT will likely therefore keep one lane of traffic open while work is underway. There will be multiple opportunities for the public to provide additional input as the corridor design is revised and finalized, according to Porath. MDOT has also launched a website that will offer project updates, maps, design plans, summaries of public comment, FAQs, and more leading up to construction.
Comment
Michigan State Police To Reopen Traverse City Post
Read More >>
Save The Date: Recess of Giving December 7!
Read More >>
Townships Use Moratoriums To Address Hot-Button Issues
Read More >>
Great Lakes Incubator Farm Receives Nearly $700K Grant
Read More >>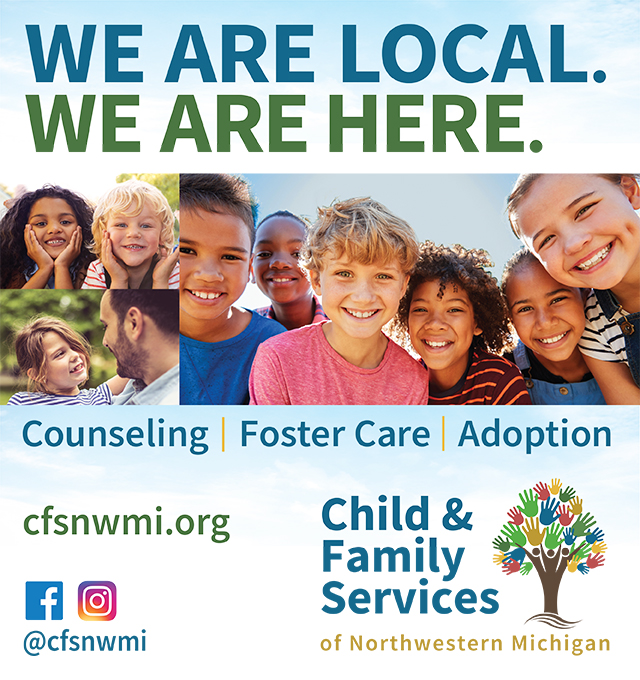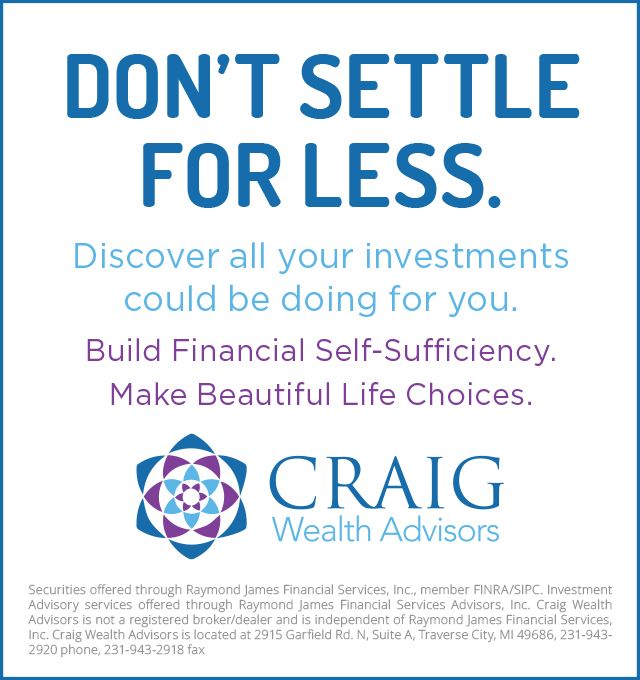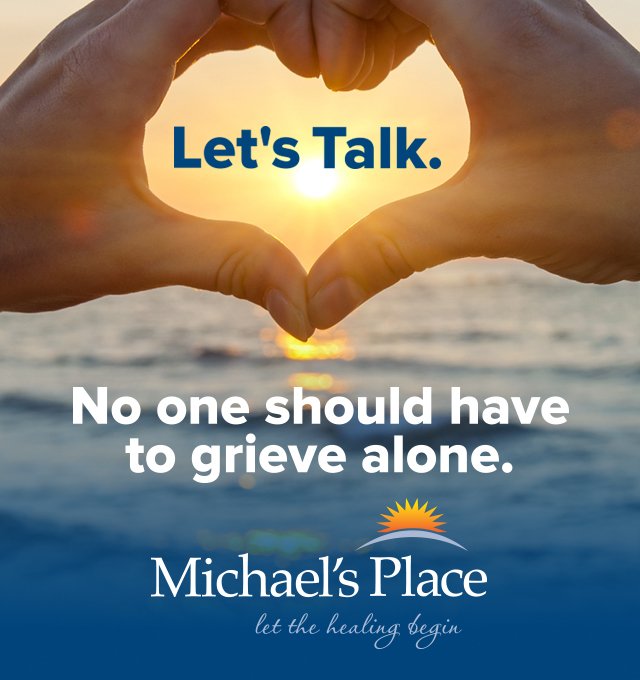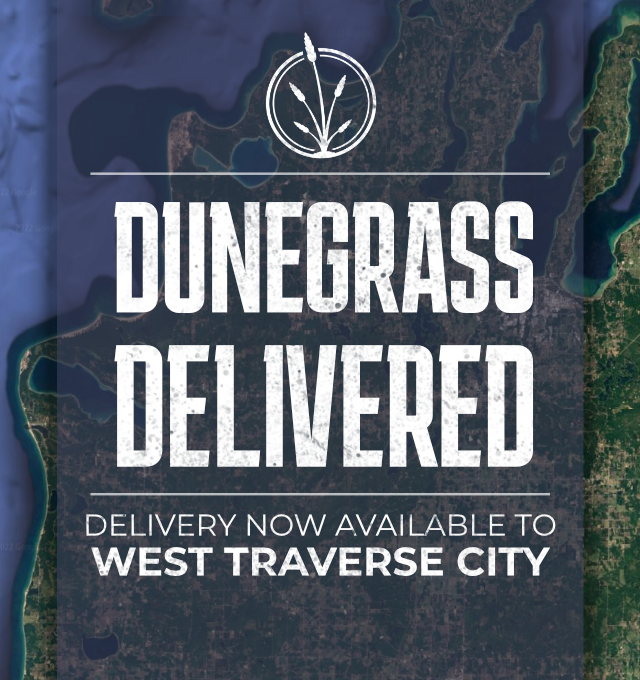 Last Call For City Commission Applicants
Read More >>
Spotlight On Northern Michigan Artisans, Makers & Crafters
Read More >>
Curling Center On Track For January Opening; More Additions Planned At Kmart Property
Read More >>
Snow, Freeze, Thaw, Melt: How Local Ski Resorts Navigate Big Weather Fluctuations
Read More >>
Turkeys, Tonics, And Tales Of Thanksgivings Past In Traverse City
Read More >>
Is Thanksgiving Eve Really The Busiest Bar Night Of The Year?
Read More >>
How NMC's Newest Degree Could Help Shape Water Cleanup Projects In Michigan And Beyond
Read More >>
Downtown Light Parade Rescheduled For Tuesday
Read More >>
It's The Ticker and TCBN's Only Sale Of The Year: 40-65 Percent Off
Read More >>
Road Project Updates: Hartman-Hammond Bridge, Bluff Road, Veterans/Cedar Run/Voice Resurfacing
Read More >>