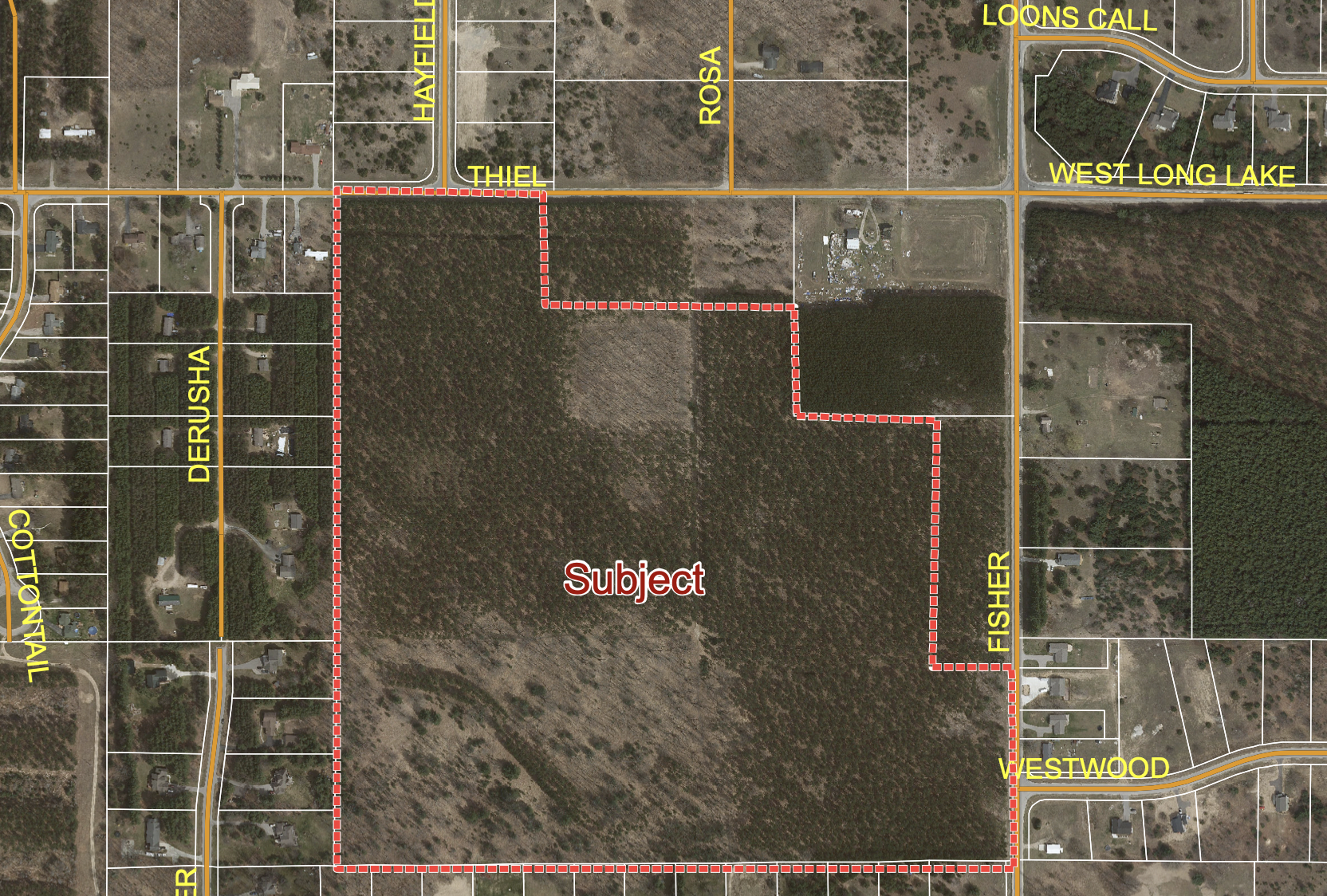 New 49-Home Subdivision, Self-Storage Facility Planned For Long Lake Township
By Beth Milligan | July 26, 2022
Long Lake Township planning commissioners will hold a public hearing tonight (Tuesday) at 6pm at Long Lake Township Hall regarding a proposed 49-home subdivision called The Grove along Thiel and Fisher roads and a 44-unit self-storage facility on Denali Road off M-72 – both of which are recommended for approval by staff with conditions.
An initial application from developer Peter Faber appeared before planning commissioners in May to build a conventional 50-lot subdivision on land at Thiel and Fisher roads, with plans at that time notably lacking significant open space in the neighborhood. The 70-acre vacant parcel (pictured) was part of a larger tract of land previously managed under the Commercial Forestry program, which provides lower taxes to property owners in exchange for actively managing a tree lot. The public can also access and hunt on Commercial Forestry land. However, property owners can withdraw from the program any time – with the parent tract recently withdrawn from the program and divided into five lots along Fisher Road and five lots along Thiel Road, leaving another 70 acres still available for development.
Several neighbors told planning commissioners they bought their homes because real estate listings described the site now targeted for a new subdivision as "conservancy" property that could never be developed. "When the parcel behind us went up for sale, we discovered the parcel was actually in a forestry program and the development rights had not in fact been taken away as we were told," resident Adam Beers wrote to the board. "In speaking with my neighbors, they all were under the impression from their realtors that property was land conservancy as well and could never be developed. The proposed development devalues our home because the homes in Fishers Run have been marketed for the last 20-plus years as butting up against land conservancy property and now we will have homes directly in our backyard." Beers acknowledged it was neither Long Lake Township's nor Faber's fault that neighbors had been misinformed, but said The Grove would "drastically change the feel of our neighborhood" and "greatly reduce our privacy and the natural beauty of this spot."
Planning commissioners in May also raised concerns about project plans, encouraging Faber to "seek more information about the value – both ecologically and to the greater neighborhood – of the woodlots on the property" and determine whether the vacant property acts as an important wildlife corridor. The board also recommended that Faber seek a planned unit development (PUD), or a zoning plan tailored to a specific site, for The Grove instead of going the traditional subdivision route to allow more design flexibility to address neighbor concerns. Faber is returning tonight with a PUD application that attempts to incorporate feedback shared by residents and planning commissioners.
The new plan calls for a 49-lot subdivision – with each lot at least 35,000 square feet – with 17 acres of open space and a proposed 40-foot buffer along the southern and western boundaries of the lots. Those buffers and open space will protect a large, sensitive section of hardwoods in the southwestern section of the property, which a recent third-party assessment determined "provides habitat for a significant population of mammals and birds." In a memo to planning commissioners, Township Planner Leslie Sickterman noted that Faber's application must include community benefits, and that the preservation of the hardwoods and the residential buffers fall into that category. Sickterman also said Faber is providing more open space than is required under the PUD – 24 percent compared to a required 15 percent minimum – and will require the planting of two deciduous trees on each lot.
Faber is also taking steps to address traffic concerns raised about the subdivision, according to Sickterman. "The proposed private road serving this subdivision will also serve as an important component of a secondary road network," she wrote. "The proposed road will provide a connection to Wheelock Farms to the north, and Westwoods and Westwinds to the east. This will provide another means of accessing West Long Lake Road from the west as well. The applicant has submitted a traffic analysis that indicates that the impact on Thiel and Fisher Roads during peak hours resulting from this development will be small."
In response to worries about current congestion and backups at Westwood Elementary School, Faber has agreed to allow pedestrian access through The Grove for students from the north to more safely access the school. "This will not negate the additional traffic that will be present in the area, but the proposed road connections offer the best solution to add to the road network of this area and will disperse the impact on both Thiel and Fisher Roads," Sickterman said.
Neighbors Matthew and Sara Satkowiak, who live on Fishers Run and expressed concerns about The Grove in May, wrote planning commissioners that the updated PUD offers "great solutions to the concerns expressed by Long Lake Township residents that will maintain the natural beauty and privacy of the surrounding neighborhoods." Another neighbor, Mandi Young, wrote that she appreciated Faber's efforts to revise his plans but still had concerns about traffic and the subdivision's impact on Long Lake's rural character. "Accepting this proposal will set precedence for future development in Long Lake Township," she warned. Sickterman is recommending approval of the PUD with several conditions, including engineering review and approval of road and stormwater plans, confirmation of lot setbacks and widths, and the inclusion of language in condominium documents enshrining the wildlife buffer, required tree plantings, and availability of trails, open space, and roads for use by non-residents.
Township planning commissioners will also consider a proposal tonight by applicant True Blue & Associates and property owners Larry and Nancy Bordine to build a self-storage facility on Denali Drive off M-72. The vacant site is proposed to house three warehouse storage buildings containing up to 44 total "deluxe storage units" that are 25 feet wide and ranging between 30 and 60 feet long, according to the application. "No parking lot, attendant office, water, septic, fencing, or gates are proposed to be included on the site," wrote Sickterman. "Individual unit sizes will vary between 750 and 1250 square feet. Overhead doors for each unit will be either 12 or 14 feet in height."
Sickterman is recommending approval of the self-storage development with several conditions attached, including: confirmation of proposed building heights, requirements that no outdoor storage of items or indoor storage of any hazardous materials will be allowed, no washing or repair of vehicles will be permitted on-site, regular inspections and trash removal will occur on the property, lighting and signage will meet township requirements, and the development will be built out in one phase.
Comment
TSO To Launch Summer Concert Series In New Civic Square Downtown
Read More >>
New Nonprofit Aims To Help Homebuyers Bridge The Gap Between Mortgage Approvals And House Prices
Read More >>
Do It Yourself: Why A Top Traverse City Chef Is Learning To Fix Ovens And Stoves
Read More >>
Sports: The Final Frontier For Northern Michigan Tourism?
Read More >>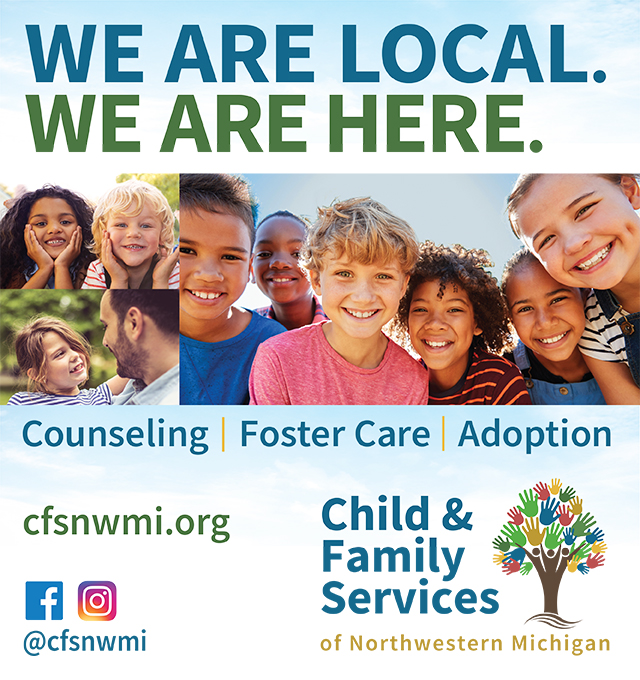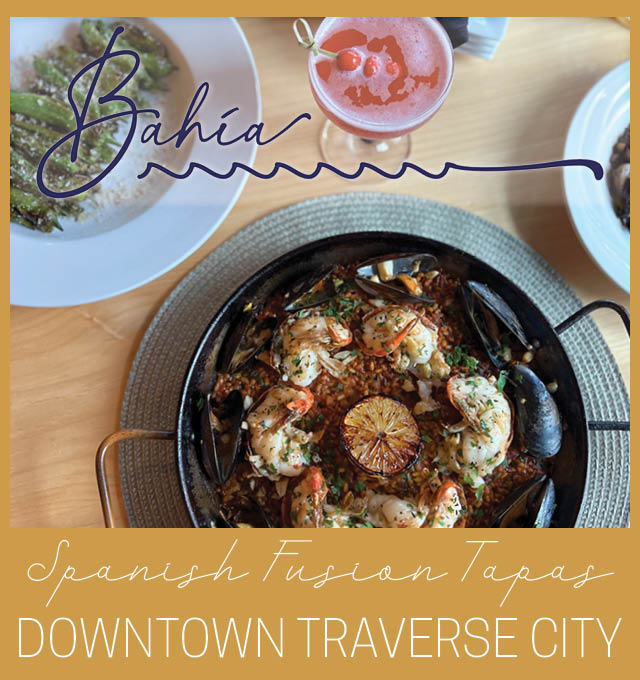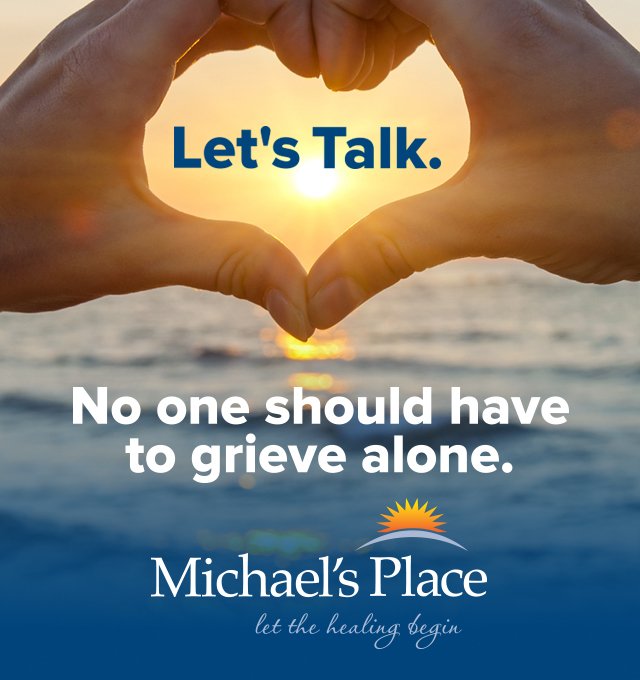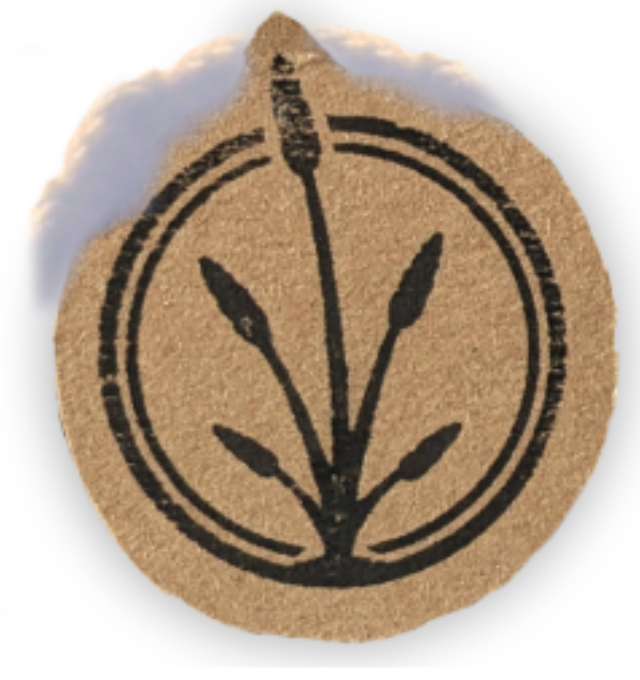 Parallel 45 Theatre Cancels 2023 Summer Season
Read More >>
Breakwater Seeks PILOT From City For Workforce Housing
Read More >>
Two Garfield Township Residents Arrested In Drug Bust
Read More >>
Join Us For Recess Tonight At The Parlor & Win a $300 Downtown Gift Card!
Read More >>
Local Runner Wins Gatorade Player Of The Year Award
Read More >>
Michigan Brewers Guild Honors Traverse City Craft Beer Pioneer
Read More >>
County & City To Consider Consolidating Services at LaFranier, Boardman Campuses
Read More >>
Cinderella To Feature Costumes From Ukraine
Read More >>
Chicago To Perform At Cherry Festival
Read More >>
Agave, White On Rice, China Wok Closing; More Restaurant, Retail News
Read More >>