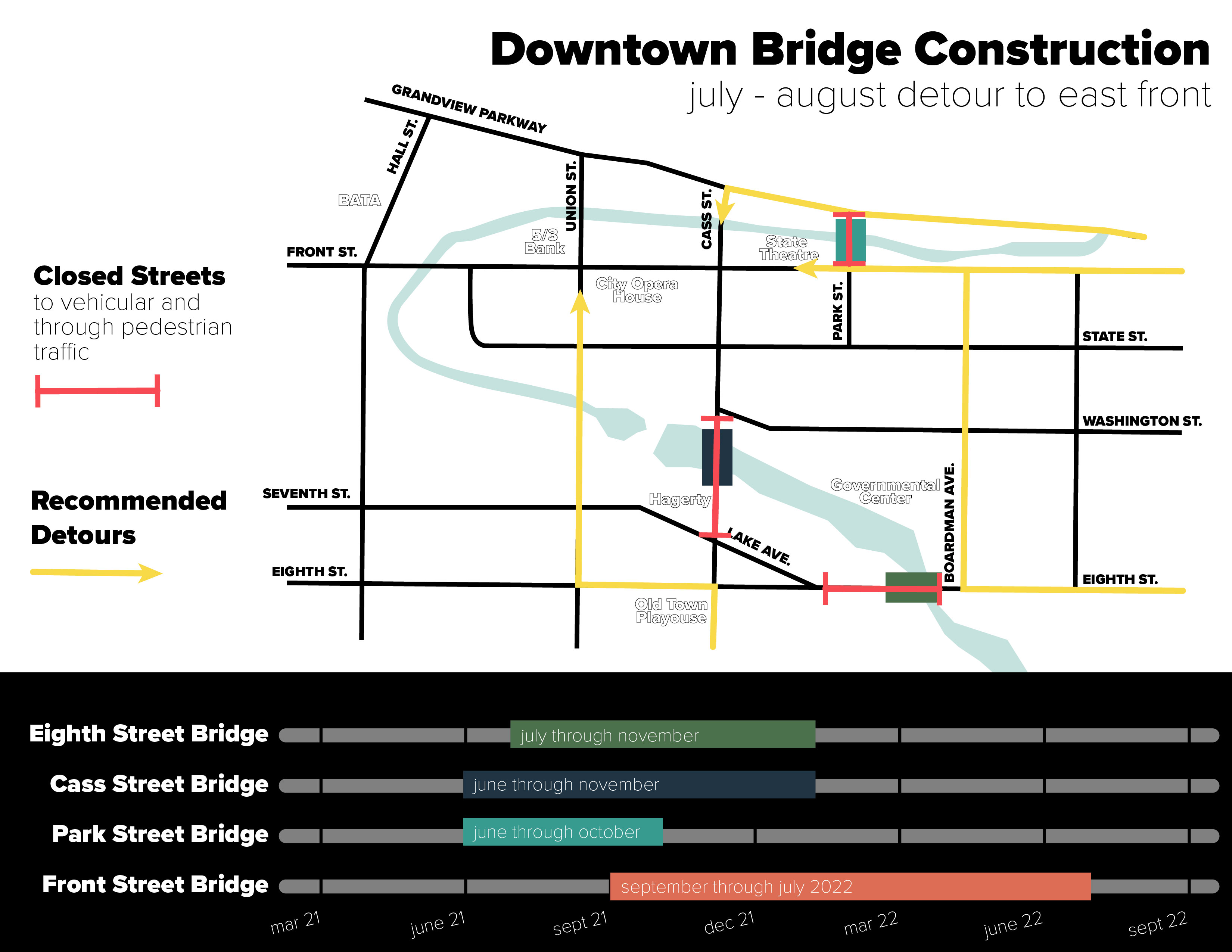 Park Street Bridge Closure Starts This Week; Cass, Eighth Street Bridges To Follow
By Beth Milligan | June 1, 2021
The City of Traverse City and Anlaan Corporation will be replacing the bridge deck and painting the steel beams of the Park Street bridge in downtown Traverse City starting Tuesday, June 1. The project is expected to be finished by November 13.
Work will include removal of the existing bridge deck, sidewalk and railings, painting the existing steel beams, constructing a new bridge deck, sidewalk and railings, and bridge approach street work. The sidewalk width will be increased over the bridge from its current width of six feet, four-and-a-half inches to nine-and-a-half feet. Pedestrian-scale lighting and traditional streetscaping will be included in the project.
The Park Street bridge will be closed to all traffic including pedestrians for the duration of the project. Detours will be provided utilizing Grandview Parkway, Union Street, and the one-way pair of Front Street and State Street. Pedestrians will be directed to use the tunnel beneath Grandview Parkway at Cass Street. The Boardman River will be closed to traffic during weekdays and open on the weekends. During painting, access may be limited or the river closed on weekends, as there may not be enough vertical clearance to the scaffold system used for painting, depending on water levels.
Two more downtown bridge projects are set to follow this summer. They include:
South Cass Street Bridge: The South Cass Street Bridge construction is anticipated to begin on June 14. The project will include bridge removal and replacement. Amenities include a decorative pedestrian railing and traditional streetscape. An effort to maintain the historic character of the original bridge through the rehabilitation to remove the wood sidewalk and railing will be made. The project is anticipated to be completed in November.
East Eighth Street Bridge: The East Eighth Street Bridge construction is anticipated to begin on July 26. The project will include the replacement of the bridge deck and extension of a watermain transmission line. Additional amenities include the extension of the cycle track to connect with the existing bike lanes, increased width of the sidewalk, decorative railings, and an aesthetic double arch fascia. The sidewalk under the bridge will be elevated and lighting will be installed. The project is anticipated to be completed in November.
The city has released a map (pictured) showing the construction areas and recommended detour routes once work is underway on all three bridges this summer.
Comment
Over 600 Housing Units On Deck In City - But Variety Is Lacking
Read More >>
Senior Center, Madison/Jefferson Reconstruction, Governmental Center Parking On City Agenda
Read More >>
Night Closures On East Front Street This Week
Read More >>
How Do You Get Millennials To Move To Traverse City?
Read More >>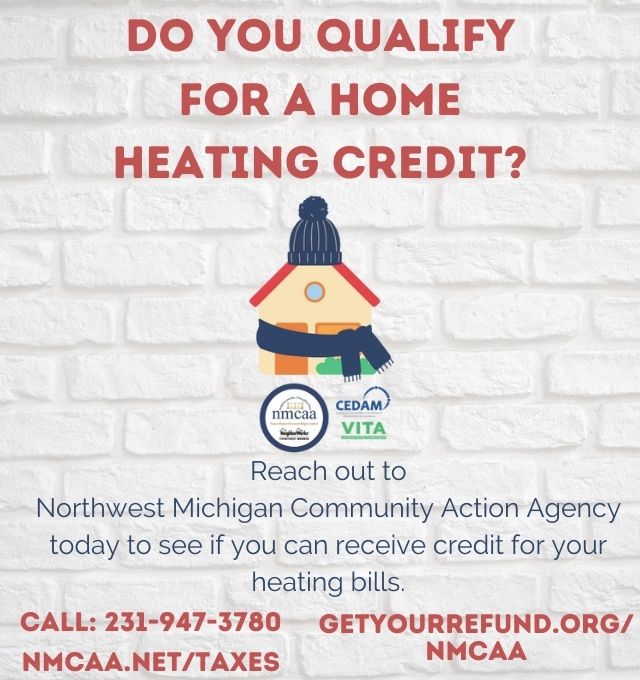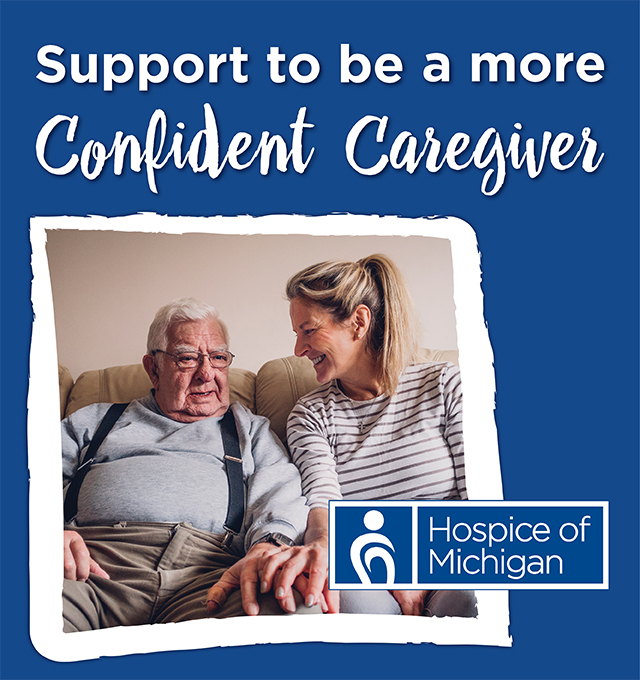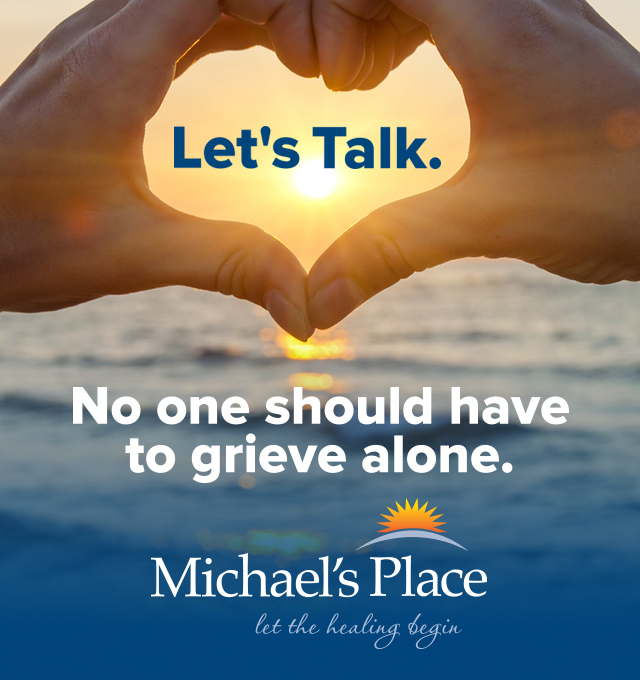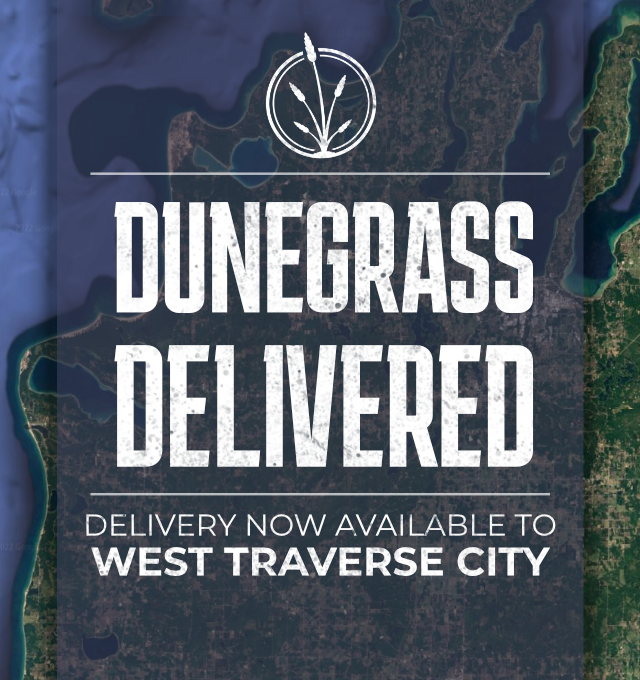 Code Green, Code Yellow, Code Red: Local Employers Share Status Reports On Hiring For Critical Jobs
Read More >>
A New Chapter In The (Cook)book: NMC Reimagines The Great Lakes Culinary Institute
Read More >>
Save The Date: Recess At North Bar TC On October 5
Read More >>
Sichuan Restaurant Coming To TC, Playa Bowls Opening Saturday, More Restaurant/Retail News
Read More >>
Grandview Parkway, Sixth Street Closures This Week
Read More >>
Food Insecurity Threatens More And More Northern Michigan Families
Read More >>
County Commissioners To Talk Mental Health Authority, Campus Consolidation, Drain Funding
Read More >>
City Commissioners Approve Splash Pad Improvements, Property Purchase, Spruce/Sixth Stop
Read More >>
53-Unit Apartment Complex Planned For East Front Street
Read More >>
Region Lands $900k In State Arts Grants
Read More >>