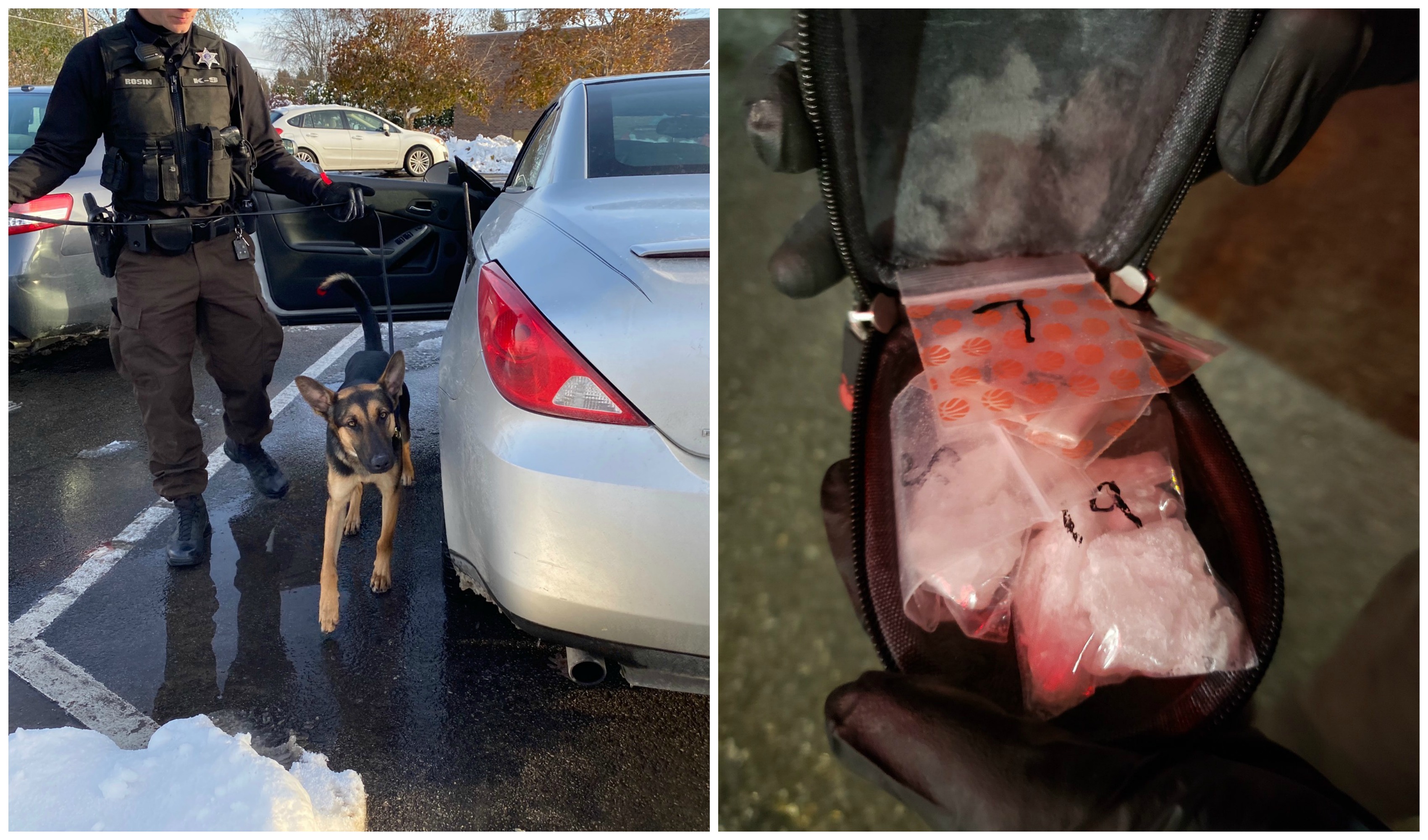 Traffic Stop Nets Meth Bust, Multiple Arrests
Nov. 11, 2019
Acting on information received through tips, the Grand Traverse Sheriffs Office Interdiction Team netted several arrests following a traffic stop near Chums Corner over the weekend. The vehicle was suspected to be involved in the distribution of methamphetamine; the two occupants of the vehicle both had outstanding arrest warrants for their arrests.
The vehicle in the incident had been reported stolen from the Kalamazoo on November 1. And within the vehicle, 58 grams of methamphetamine and 3 grams of suspected heroin were seized.
The Sheriffs Office says nformation from the traffic stop led to the execution of a search warrant at an area hotel room where the two had been staying; evidence of narcotic distribution and a small amount of suspected methamphetamine were found there, as well as live firearm ammunition and components.
A 35-year-old Traverse City woman was arrested for multiple local warrants; a 36-year-old Interlochen man was arrested for multiple local warrants, possession with intent to distribute Methamphetamine/Heroin, possession of a stolen vehicle, being a felon in possession of ammunition, and a parole violation.
TCAPS Recall Hits Legal Snag
Read More >>
Public Input Sought On Airport Becoming Authority
Read More >>
Garland Street Closed Friday, Monday
Read More >>
Traffic Signal Work At M-72/Elk Lake To Start Monday, Continue Through May
Read More >>
Median Coming To US-31; Aim Is To Prevent Accidents, Help Pedestrians
Read More >>
Roundabout Coming To Blair Townhall Road, Six More To Follow Across GT County
Read More >>
TADL Offering Fine Forgiveness In December
Read More >>
Traffic Projects On Deck: Pedestrian Crossings, Front/Madison, Parking Rate Study
Read More >>
When Will Pot Sales Begin In TC?
Read More >>
Damaged Toyota Sought By Police
Read More >>
Join Us For A Special Recess Of Giving Tonight!
Read More >>
Munson, Nurses Association Reach Settlement Over Nurses' Rights To Talk About Work Conditions
Read More >>
Welcome To The Golden Age Of Shipwreck Hunting
Read More >>
Inman Recall Effort Goes To Court
Read More >>