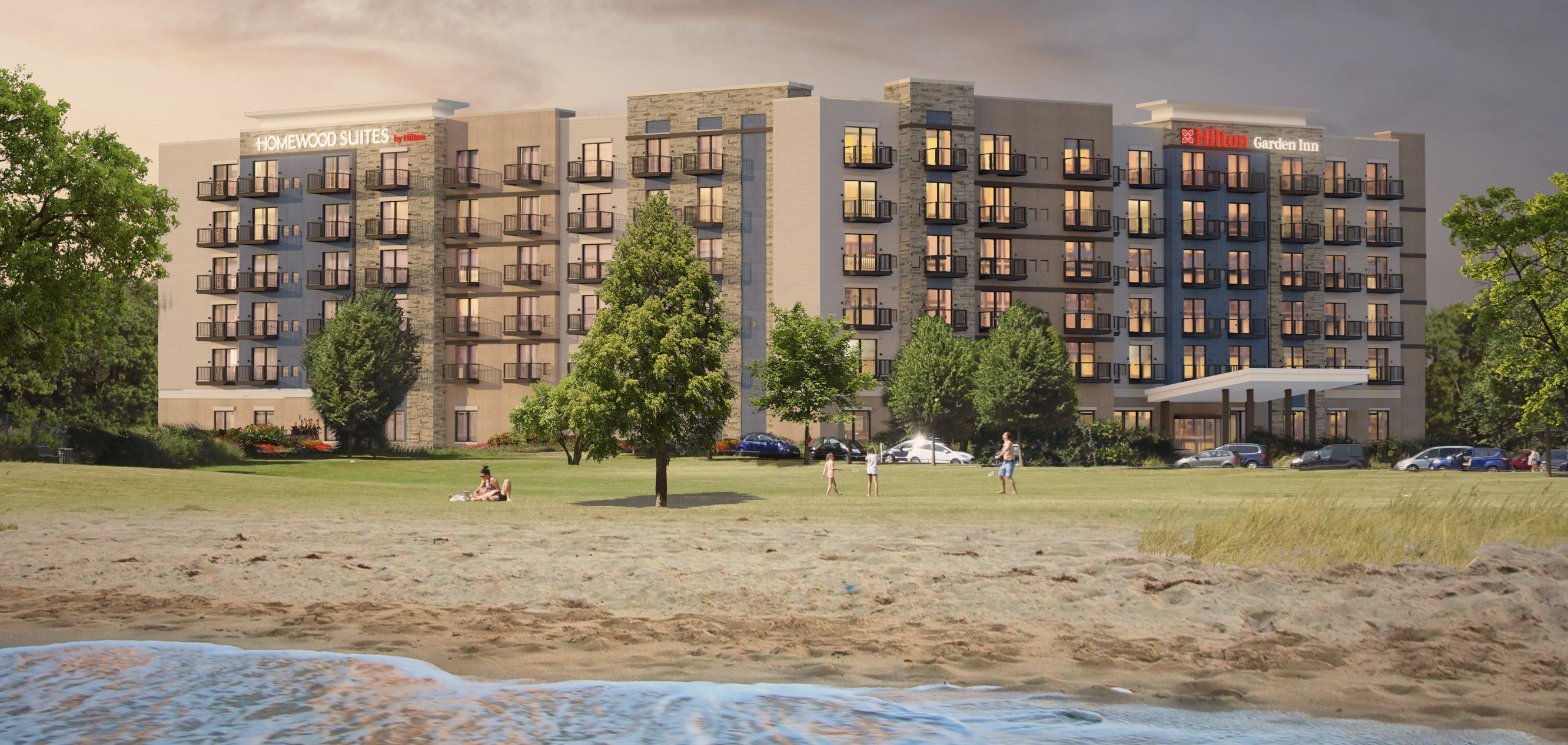 Two Hilton Hotels Planned for US-31/Three Mile Road Intersection
By Beth Milligan | Sept. 21, 2023
A major new hotel development featuring two Hilton properties – a Hilton Garden Inn and a Homewood Suites by Hilton – is planned for the southeast corner of the US-31 and Three Mile Road intersection in East Bay Township. The project would bring 186 more rooms to a busy tourism corridor that has already seen multiple new hotels come online in recent years.
The Bacall Group – a estate development group based in West Bloomfield – appeared before township planning commissioners Tuesday for a sketch plan review of the project. The group is planning to redevelop five parcels on 3.5 acres on the southeast corner of US-31 and Three Mile Road next to the Hampton Inn. Developers plan to demolish the existing AAA building and two residential homes on the site to make way for a 75-room Hilton Garden Inn and a 111-room Homewood Suites by Hilton, totaling 186 rooms across the six-story development (pictured, rendering).
The Hilton Garden Inn brand has more than 980 hotels in 58 countries and territories. It specializes in "upscale accommodations and unexpected amenities," including social spaces, meeting and event rooms, a pool and fitness center, and a 24-hour retail store, according to the company's website. An on-site restaurant and bar – open to both guests and the public – will serve breakfast, lunch, and dinner during peak season, developers said. They said they're also exploring the possibility of adding a rooftop bar to the site if they can hire enough staff to run it.
Homewood Suites by Hilton specializes in "spacious studio and one-bedroom suites featuring fully equipped kitchens with separate living and sleeping areas," according to its website. The properties offer free breakfast, a 24-hour fitness center and sport courts, a pool, and outdoor grills and firepits. Homewood Suites is a major competitor in the extended-stay market alongside similar brands like Staybridge Suites by IHG and Residence Inn by Marriott.
The property is located in East Bay Township's Regional Business (RB) district, which allows hotels and motels as a use by right. Properties on the south side of US-31 can go up to 80 feet – as the Hilton developers plan to do – so long as they provide additional open space in exchange for the additional building height. The hotels are proposed to have driveway access from both US-31 and Three Mile Road. Township planning commissioners discussed the possibility of making the US-31 entrance a right-out only driveway given the high volume of traffic in the corridor and the project's close proximity to the intersection.
Planning commissioners also asked developers to consider landscaping and other placemaking elements on the highway-facing portion of the property to make it more aesthetically appealing as part of the township's East Bay Beach District Visioning effort. Township officials are looking for opportunities to offer "public third spaces and placemaking amenities on private properties" along the highway, according to Township Director of Zoning and Planning Claire Karner. The goal is to make the US-31 corridor feel safer, more appealing, and more walkable instead of just featuring an endless row of large parking lots next to hotels and commercial buildings. Amenities could include things like public art and public seating areas on the Hilton property.
Planning commissioners also suggested the Bacall Group invest in clear signage, fencing, or other infrastructure on the property to direct guests to the designated intersection crossing over US-31 to the Traverse City State Park. "There's a ton of traffic on that road, and regularly now I see people get stranded trying to cross over to the state park in the left-hand turn lane," said Planning Commissioner Carl Ferguson. He cited an example he recently witnessed of a woman with a stroller stuck in the middle of the highway trying to cross from Hampton Inn. "It's crazy dangerous," he said. Developers agreed and also said they'd talk with BATA about a possible new stop and pullout on the property as part of BATA's efforts to enhance its Bayline route and stops along the corridor.
The largest sticking point with the Hilton hotel plans centered on conflicting language in the township ordinance about required building setbacks from Mitchell Creek. One part of the ordinance says the setback should be 50 feet, but a footnote in another section says it should be 100 feet. Karner said the intent of the ordinance – as evidenced by maps, the language used in most sections, and the setbacks of existing businesses throughout the corridor – is that the buffer is supposed to be 50 feet. Planning commissioners agreed – noting that 100 feet would make development prohibitive on many sites – and suggested updating the ordinance to remove the conflicting footnote.
East Bay Township is going through a zoning rewrite that could eventually require those setbacks on Mitchell Creek and other watersheds to feature native vegetation to serve as a more protective buffer. Planning commissioners asked developers to consider those plans and the township's intended direction to be a good project partner and protect Mitchell Creek as much as possible.
Since Tuesday's meeting was only an informal feedback session, the Bacall Group will return in the future with a formal application for review and approval. "We've developed a lot of hotels in the past," said project representative Dominic Bacall, "but this one is something that we're extremely excited about."
Comment
The (Many) New Faces Of Local Leadership
Read More >>
A Cut Above: Five Decades (And Counting) Behind the Chair
Read More >>
NMC Eyes Student Housing, More 'Vibrant' Main Campus As Part Of In-Progress Facilities Master Plan
Read More >>
Senior Living Facility, Housing Zoning on East Bay Agenda
Read More >>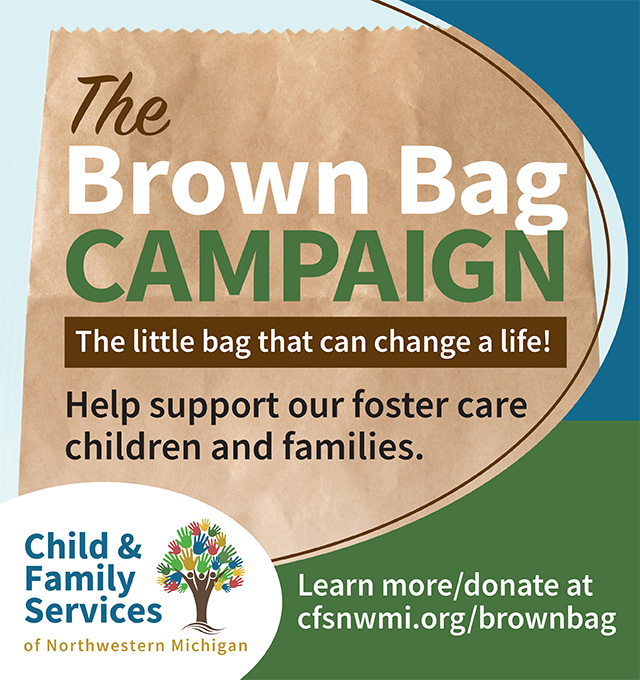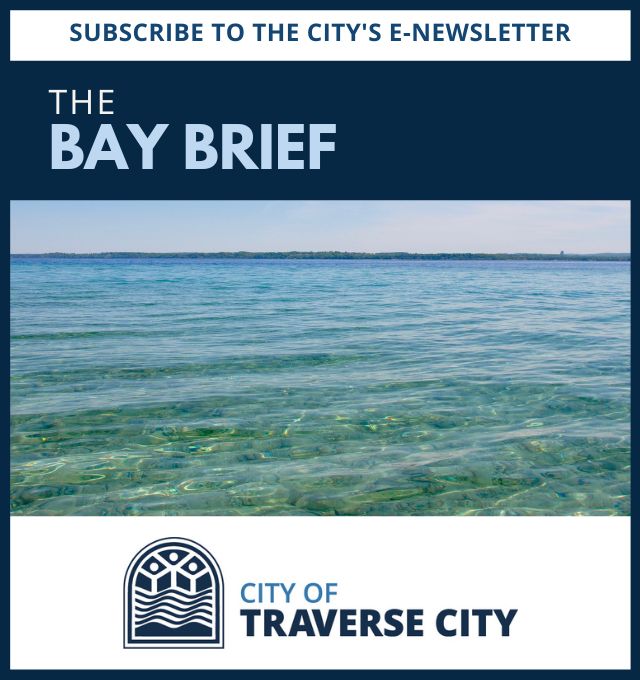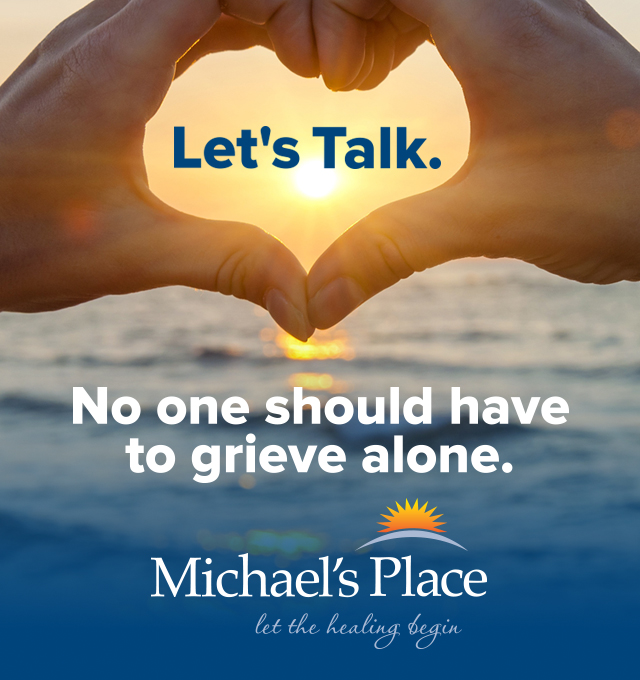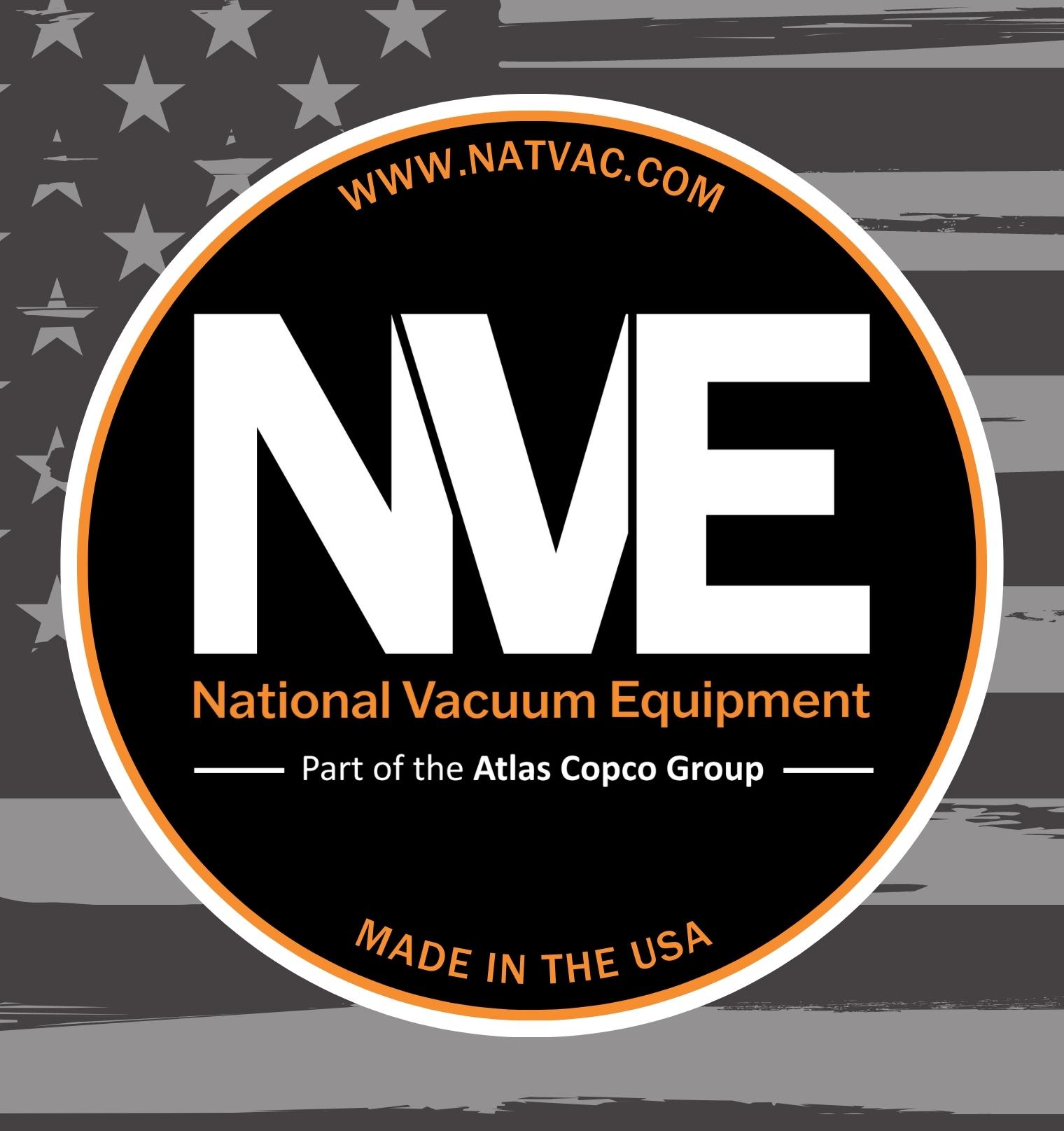 Morsels Owner Arraigned
Read More >>
Join Us for a Holiday Recess at Delamar!
Read More >>
Changes Brewing at Downtown Food & Beverage Spots
Read More >>
Man Arrested with Open Container, Loaded Guns on Front Street
Read More >>
Celebrating Local Artists & Artisans
Read More >>
Road Commission Approves Roundabout Construction at Potter/Garfield/Hoch; Work to Start in Spring
Read More >>
TC Man Arrested for Credit Card Fraud
Read More >>
Walking, Biking Take the Spotlight as Communities Focus on Nonmotorized Plans
Read More >>
Hickory Hills Becomes First Homologated Course in Lower Peninsula
Read More >>
TC Comedy Fest Announces Rory Scovel, More Headliners
Read More >>