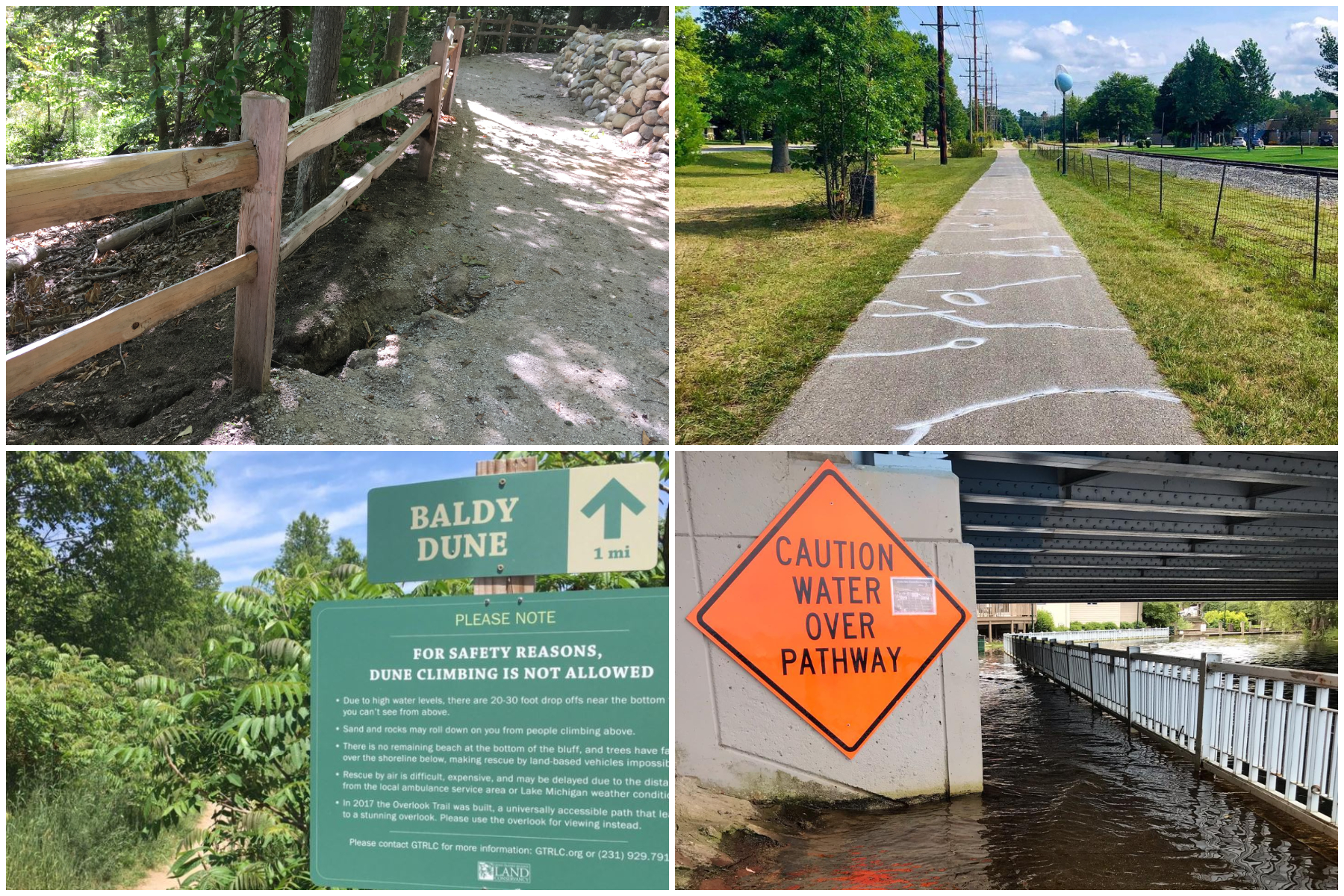 Weathered Trails, Weathered Guardians
By Craig Manning | Sept. 23, 2020
Heavy rains, high water levels, significant erosion, aging trails, invasive pests, and a global pandemic: just a few of the challenges that local trail management guardians like TART Trails and the Grand Traverse Regional Land Conservancy (GTRLC) have faced in 2020 as they've tried to keep trails open to the public during a high-traffic year for outdoor recreation spaces.
Chris Kushman says trail maintenance is a big undertaking even in a normal year. He's the planning and management director for TART Trails. Maintenance involves everything from trimming back branches and vegetation that are encroaching on trails to sealing cracks in the asphalt. 2020 was not a normal year, both because of the higher-than-average water table and because of numerous heavy rainstorms that caused significant erosion on and around several TART-managed trails.
"We've had three or four major rain events where we had a very large amount of rain falling in a short window," Kushman says. "When that happens – when you get that much volume flowing that quickly –it's going to carry material down the hill."
For TART, none of the damage has been catastrophic – but has meant a lot of extra work for maintenance crews. Particularly challenging are the repairs of unpaved trails, such as the VASA Pathway. Kushman notes that, since the VASA spans 21 miles of trail – and includes lots of hills – it was subject to quite a bit of erosion due to recent rainstorms. TART can correct those issues using a tractor and a device called a "Harley rake," which turns up top soil, distributes it equally, and compacts it to create even patches of trail where erosion might have occurred. However, because of sandy soils and oak wilt risk – which Kushman says trail maintenance can exacerbate if the Harley rake comes into contact with oak trees or oak tree roots – the process of trail maintenance in the woods isn't always easy.
Kushman says TART-managed trails have been largely spared from the impacts of higher lake levels, the obvious exception being the Murchie Bridge underpass downtown at Grandview Parkway. Previously a crucial TART Trail connector, the underpass has been underwater for most of the last two years, with a detour currently directing trail traffic down to Park Street to cross the Parkway. While TART has considered more permanent solutions, Kushman tells The Ticker they ultimately proved to be non-starters.
"There's less than six and a half feet of clearance there [under Grandview Parkway], and to get above the water, you'd have to add a structure between six inches and a foot in height," he explains.
"That just wouldn't leave enough clearance for safe passage through. The other possibility would be a boardwalk into the river, which would be costly and you'd also be going into navigable waters, so that's not a viable option either. Really the only thing that we can do is set up a temporary detour and wait out the high water level."
High water has been a much bigger issue for the Grand Traverse Regional Land Conservancy, which has had to close several trails due to flooding and lost infrastructure.
"The high lake levels have had an impact where we have low-lying trails near Lake Michigan or any of the bays," says David Foote, GTLRC's director of land stewardship. "We had to close a low-lying trail loop at the Reffitt Nature Preserve, which is on Mitchell Creek near East Bay. We also had flood damage and lost some sections of boardwalk at the Pyatt Lake Preserve, which flows into Bowers Harbor on Old Mission Peninsula. We are wrestling with severe coastal erosion at Arcadia Dunes and Green Point Dunes. We had to preemptively remove the beach stairs at Green Point Dunes, and we had to close the lakeward dune face of Mt. Baldy at Arcadia Dunes, because of a steep cliff at the bottom and fallen trees blocking the beach."
The damage has led GTLRC to invest in several emergency projects to keep its trails accessible. At the Arcadia Marsh Nature Preserve, Foote say GTLRC raised a 200-foot section of boardwalk by 10-13 inches to prevent the pathway from being inundated with water. The damage at Pyatt Lake Preserve, meanwhile, has GTLRC working to upgrade the preserve's entire trail and boardwalk system – not only to replace lost sections, but also to make the park universally accessible for wheelchairs, walkers, strollers, and more.
These challenges have been compounded by other hurdles for GTLRC. Foote says many ash trees in local preserves have succumbed to emerald ash borer in recent years and are now falling across trails. COVID-19 has also made the process of preserve and trail maintenance even more difficult, as staff "can't share vehicles to reach remote properties or share tools once there."
Even with all the unforeseen challenges, though, some of 2020 has gone according to plan for GTLRC and TART. Foote notes that GTLRC was able to build 16 miles of new trails this year, as well as open two new preserves: Upper Manistee Headwaters, between Kalkaska and Grayling; and the Lower Woodcock Lake Nature Preserve, near Lake Ann. TART, meanwhile, broke ground on the next phase of the Boardman Lake Trail Loop and will soon be moving forward with a major capital improvement project on the main TART Trail. The latter project will replace the nearly 30-year-old stretch of trail that runs from Three Mile Road to Hastings Road, widening it from eight feet to 10 feet and adding new gravel shoulders. Kushman says the project will take about a week and will likely occur during the second half of October.
Comment
Munson Launches New Stroke Program, Becomes One Of First Hospitals In U.S. To Acquire State-Of-The Art Brain Imaging Machine
Read More >>
Trump Campaign Schedules Two TC Stops Before Election
Read More >>
As More Tenants Leave Downtown TC, DDA Explores Options For Relief
Read More >>
Nissley Earns High Marks In First NMC Evaluation
Read More >>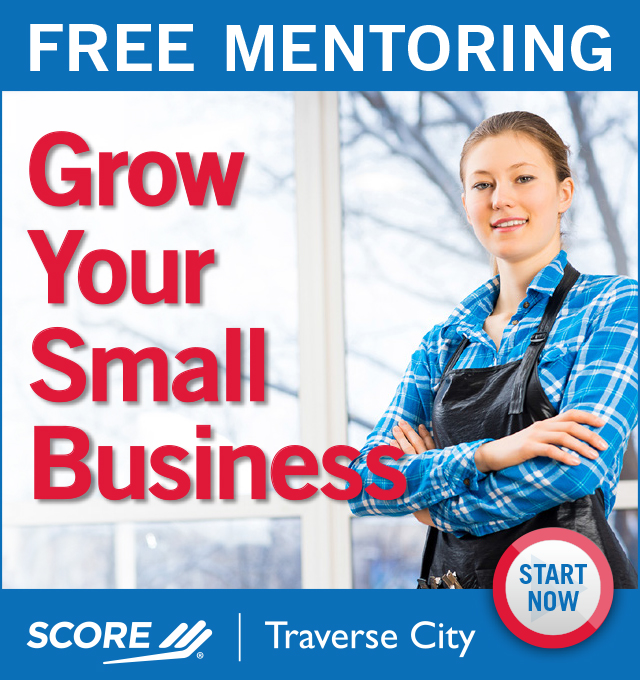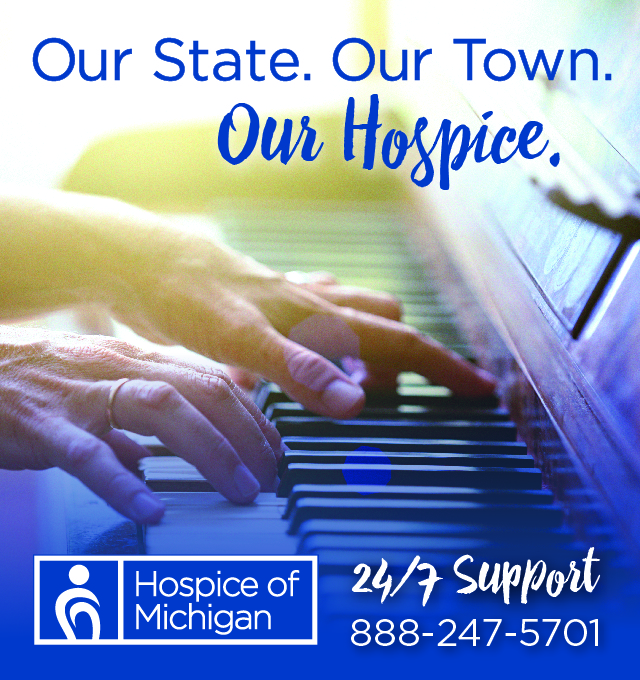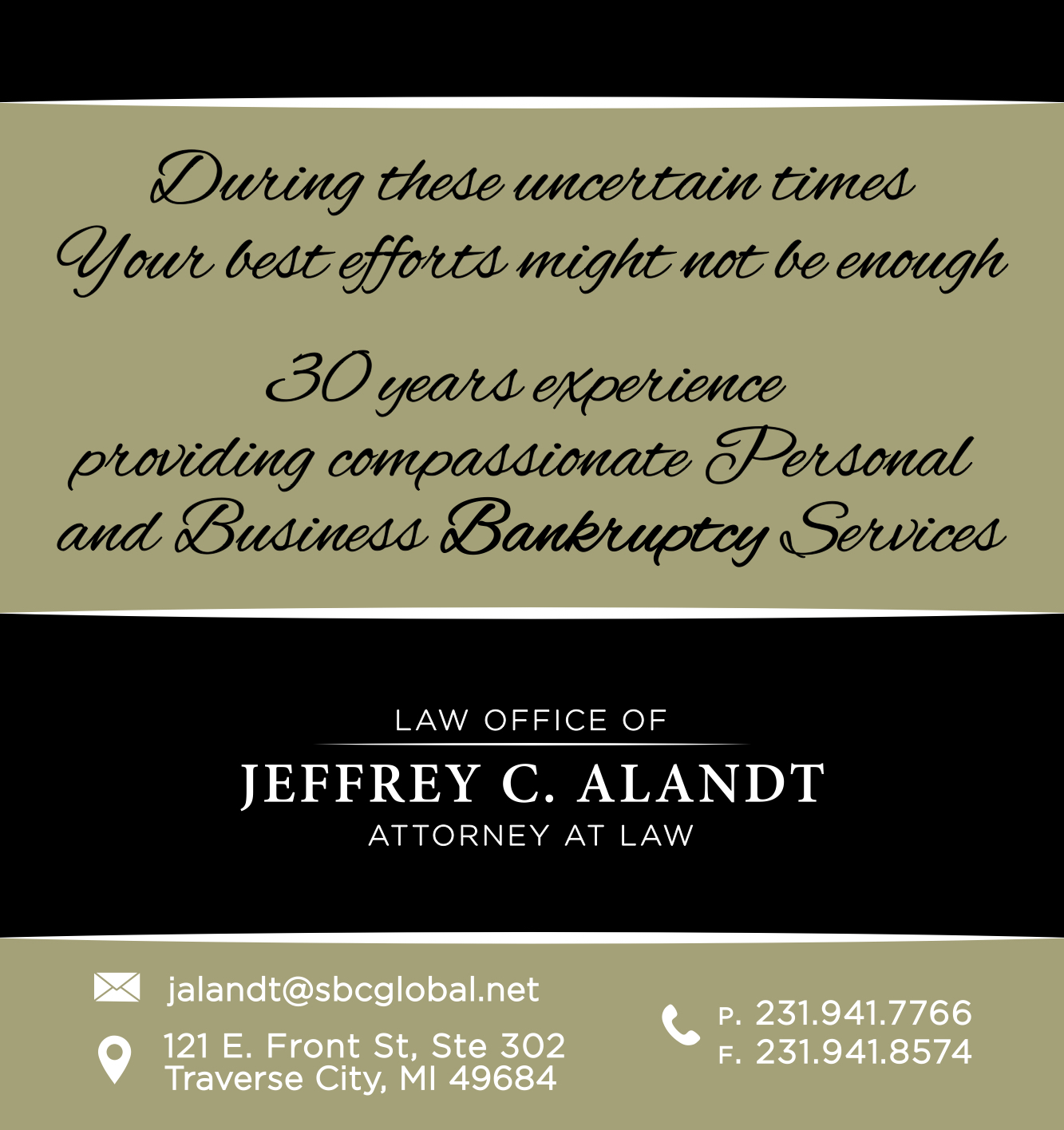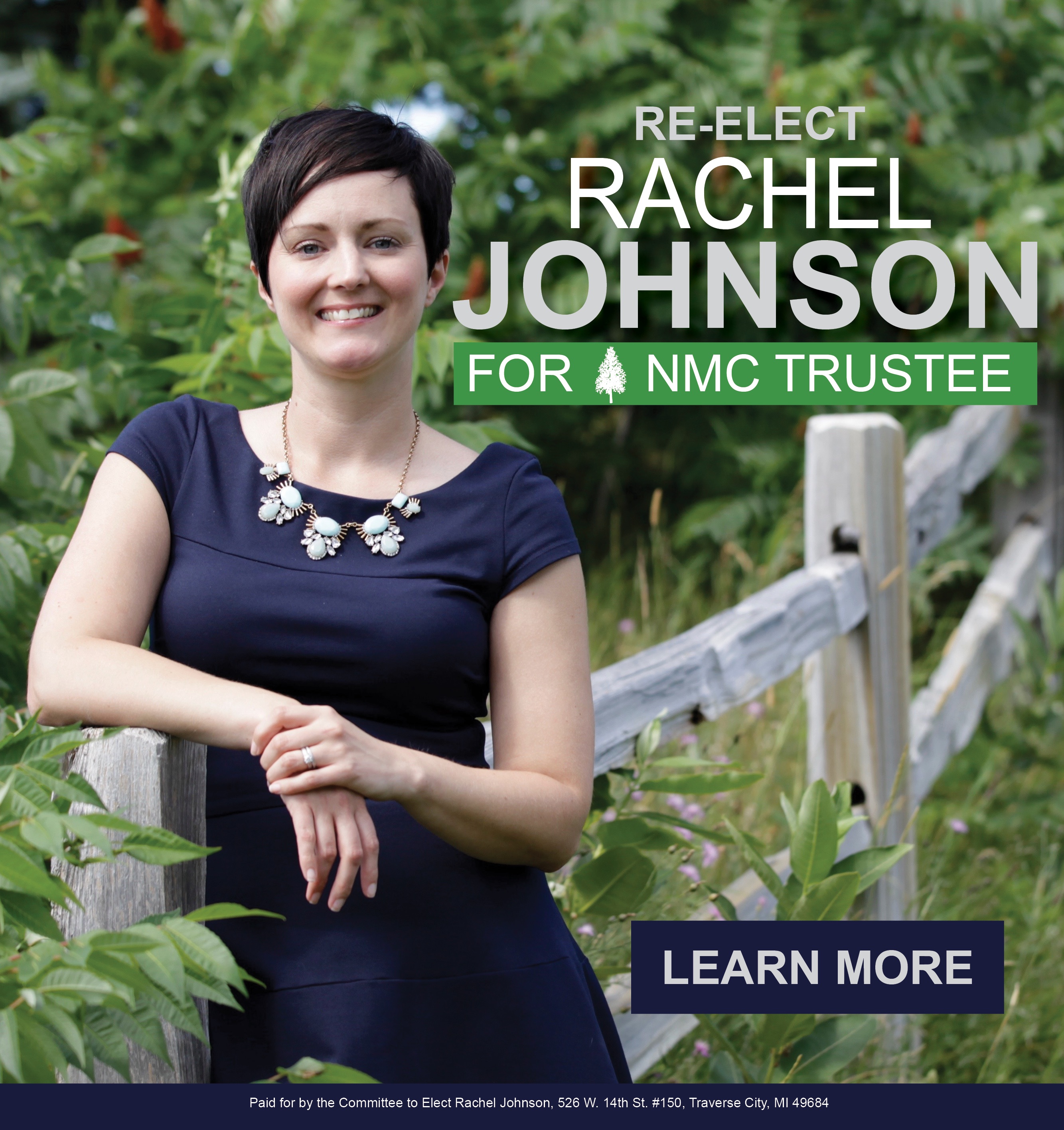 Kingsley Man Charged In Case Of Jogger Killed On River Road
Read More >>
Commongrounds Cooperative Development Awarded $1.5M State Grant
Read More >>
TCAPS Teachers Embrace "Crash Course" On Teaching 2.0
Read More >>
Sunrise Rotary Announces Its Grants
Read More >>
Here's The Latest On Traverse City's Absentee Ballot Numbers
Read More >>
A Nightmare For Michigan Bats?
Read More >>
Pugsley Is Our Entry Into Michigan's Space Race
Read More >>
Details Emerge On PFAS Contaminants In East Bay Township
Read More >>
Master Plan Approved For Civic Center; More Parks Projects Move Ahead
Read More >>
East Front Street Closure Planned Wednesday
Read More >>