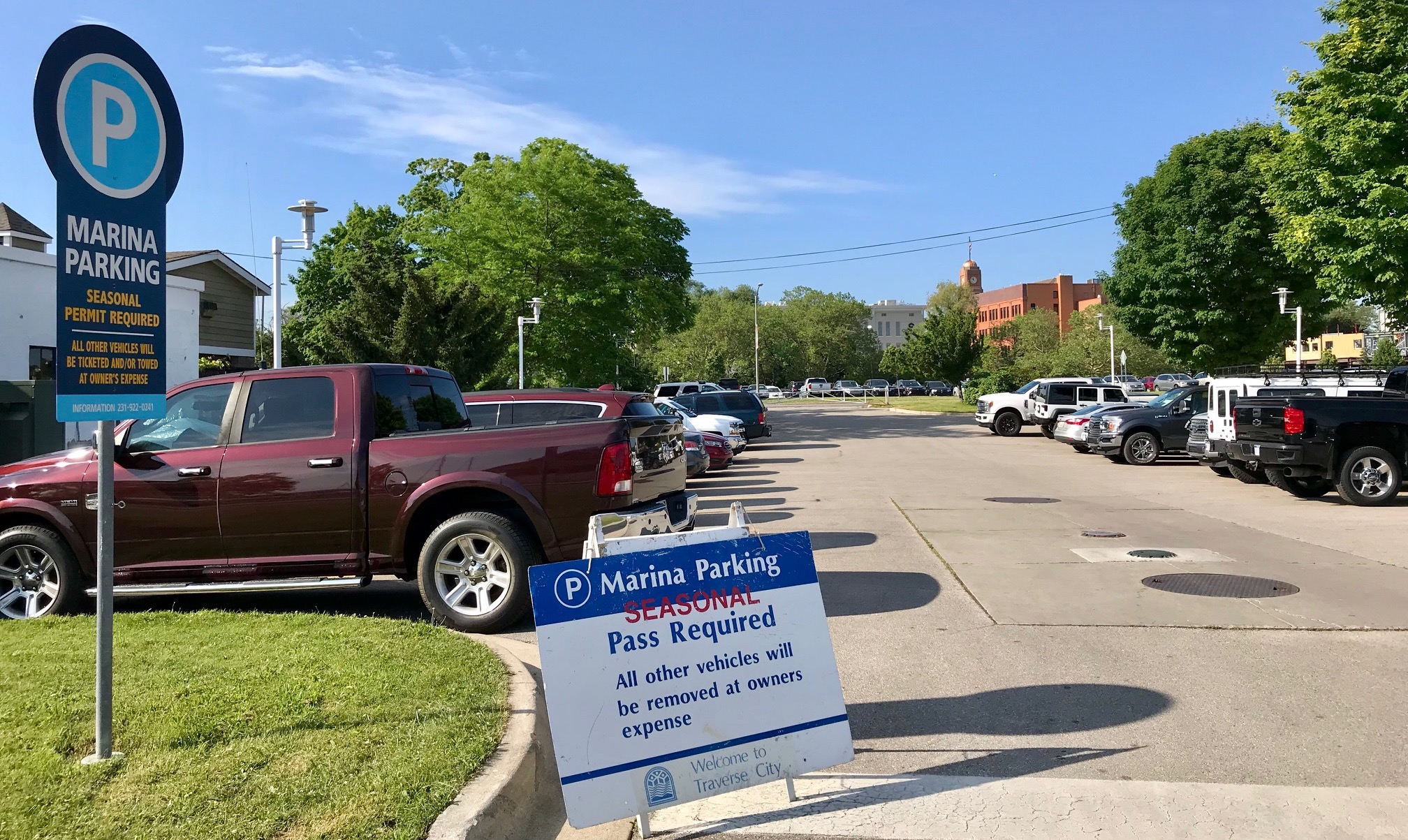 Where Has All The Permit Parking Gone?
By Beth Milligan | July 15, 2019
New development in downtown Traverse City continues to gobble up permit parking spots, with the recent loss of 85 spots at the corner of Pine and Front streets to accommodate a new building prompting officials to look for parking solutions elsewhere. Those include creating new metered spaces downtown, allowing permit holders to park in other lots and at certain meters, and considering a proposal to reduce parking permits for marina users.
Commissioners will discuss the marina proposal at their 7pm meeting tonight (Monday) at the Governmental Center. Seasonal slip holders at the Duncan L. Clinch Marina currently receive two parking passes as part of their rental, while transient boaters receive one parking pass. Up until this year, the passes allowed their owners to park in any downtown permit lot. At the start of the 2019 summer season, city leaders changed the rules to allow slip holders to park only at the marina. The move was made to provide more room for downtown employees in other permit lots.
As part of the change, parking meters along the boathouse and the westerly row of Lot M at the marina were removed to create 50 additional parking spaces for marina parking. Metered parking spaces are also still available throughout the marina lot that can be used by either the public or by marina permit holders. The removed public meters will return to Lot M after Labor Day.
Commissioner Brian McGillivary is asking commissioners tonight to consider changing the marina rules to only issue one parking pass per seasonal slip, instead of two, and to eliminate parking passes entirely for transient slip users. The proposed changes would go into effect starting with the 2020 boating season. DDA CEO Jean Derenzy says she would support reducing passes for seasonal slip holders to one.
"I think having one makes more sense," she says. Derenzy notes that the marina parking lot could accommodate most if not all of its slip holders with the change, whereas right now – even with the increase in spots this summer – there are more marina parking passes issued than spaces available. Derenzy says eliminating parking passes for transient users is a more complex issue, however, and will require more discussion. "We have a great boat launch, so it's important to have access to that and to have people be able to park their cars close by," she says. "We need to be able to get transient users in and out and figure out where we are parking the boaters."
The DDA is also looking to increase options for other downtown permit holders this summer. With Lot S – the site of the new four-story mixed-use development at Pine and Front – closing June 29, Derenzy says her organization has been preparing options to accommodate the loss of 85 spaces. The DDA installed 22 new parking meters – including eight on Boardman Avenue between State and Washington and 14 on Railroad Avenue between Front and State – and put signs on those meters indicating permit holders can park at them. Additional permit signs have been placed on meters in Lot RB next to the volleyball courts, Lot J by the Union Street Dam, on Union Street between the U.S Post Office and Seventh Street, on Pine Street between West Front and State, and on West Front between Oak and Pine streets.
In total, there are 134 metered spaces downtown at which permit holders can now park (only surface parking permit holders can park at meters; garage permit holders cannot). Permit holders still have to compete with other drivers who want to use and pay for metered spaces, but at least have more options now, Derenzy says. She adds permit holders are starting to adjust to the new system, though her office is still fielding questions from downtown employees about how the meters work. "We're getting calls to verify they can park (at them) all day," she says. "I think it's working OK, but we also had Cherry Festival (as the change was being rolled out)...so it's still in progress."
Also at tonight's commission meeting…
> Commissioners will vote to approve a $202,638 contract with Environment Architects to provide architectural design services for a new Traverse City Senior Center. The public request-for-proposals (RFP) process came down to two firms, Environment Architects and Cornwell Architects, with the latter having a slightly higher bid of $204,070. Commissioners discussed the project at their study session last week and will tonight vote to officially authorize Environment Architects to begin design work. Grand Traverse County commissioners will also need to approve the contract; while Traverse City owns the Senior Center property, the county operates the facility as part of the Grand Traverse County Senior Center Network.

> Commissioners will vote to spend $760 from the Public Art Trust Fund for a public art project called Then & Now, a three-year exhibit that will feature 10 plaques installed throughout Traverse City showcasing historical photos of key buildings or locations next to their present-day incarnations. A matching $760 contribution for the project is being made by the Downtown Traverse City Association.

> Commissioners will consider scheduling an August 19 public hearing on a request from Safe Harbor of Grand Traverse to change its staffing levels at the shelter. Because Safe Harbor operates through a special land use permit (SLUP) issued by the city, changing its staffing plan is considered a major amendment to its SLUP and must receive commission approval. After two years in operation at Safe Harbor's Wellington Street location, the organization now has more paid staff and is less in need of volunteers staying overnight, according to leadership. As part of the proposed change, commissioners will also consider allowing Safe Harbor to make adjustments to staffing levels in the future without having to go through a commission approval process.
Comment
Coronavirus Poses Low Risk To Northern Michigan, Says Health Department
Read More >>
Record $1 Billion In Home Sales In 2019, Another Banner Real Estate Year Ahead?
Read More >>
Whitmer Selected To Deliver Democratic Response To Trump's State Of Union
Read More >>
TC Man Faces Charges After Disturbance At Nursing Facility
Read More >>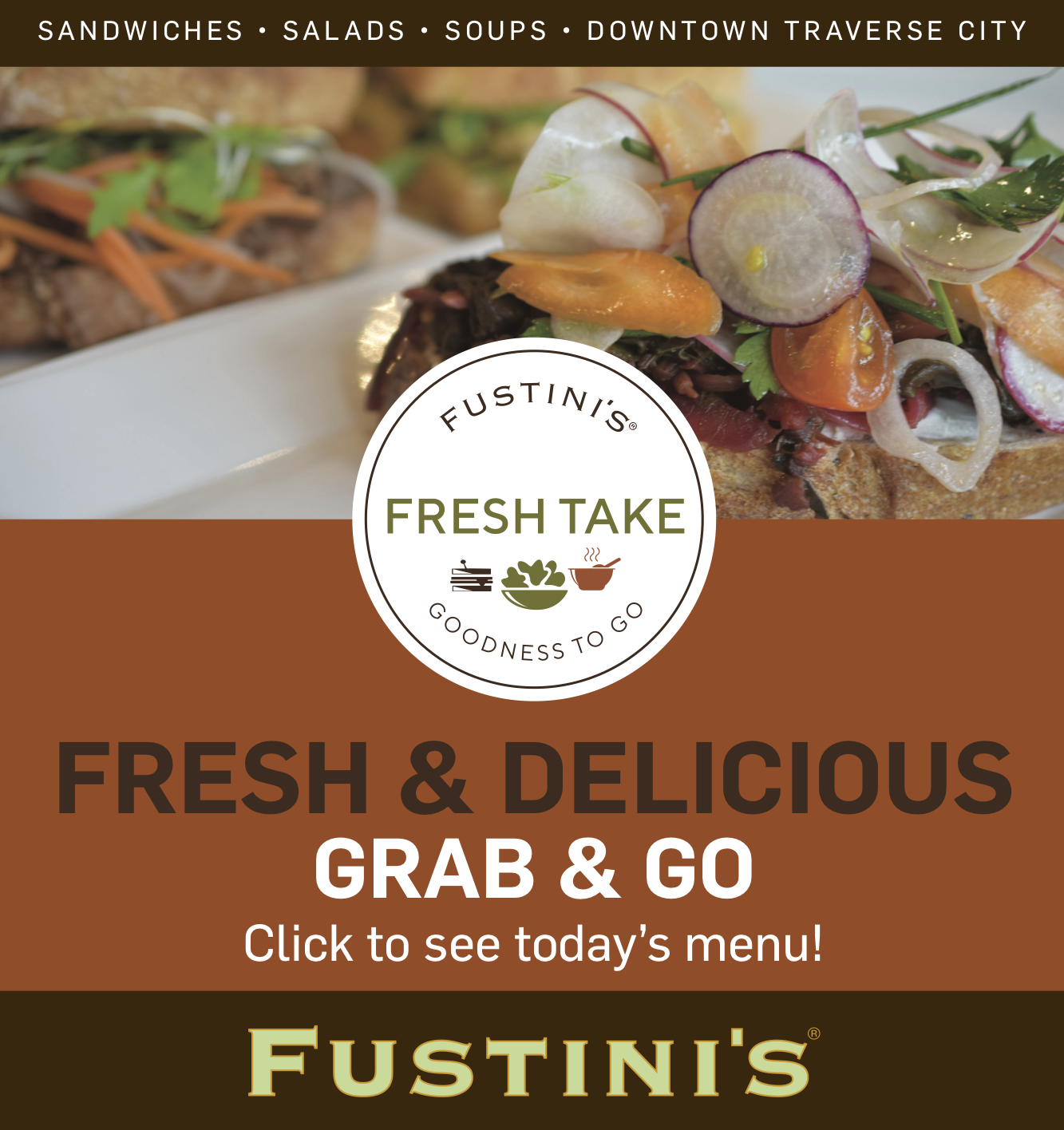 Man Arrested After Assaulting Daughter, Stabbing Her Friend
Read More >>
Resident Feedback Shapes New Plan For Barlow-Garfield Corridor, With Emphasis On Redeveloping Cherryland Center
Read More >>
TC Arts Commission Seeking Artists For Pitch Night
Read More >>
Road Commission Projects On Deck: Environmental Study For Possible Bypass, 2020 Bridge Replacements Over Boardman
Read More >>
Unfair Funding? GT County Seeks Answers On Mental Health Services
Read More >>
Time To Make Tracks
Read More >>
Amid Nationwide Lucky's Market Closings, TC Store To Remain Open
Read More >>
These Local Teachers Are Institutions
Read More >>
DDA Targets 2020 Projects, Wadsworth/Hall Intersection Improvements
Read More >>
Eighth/Boardman Light Planned For Early March Installation
Read More >>