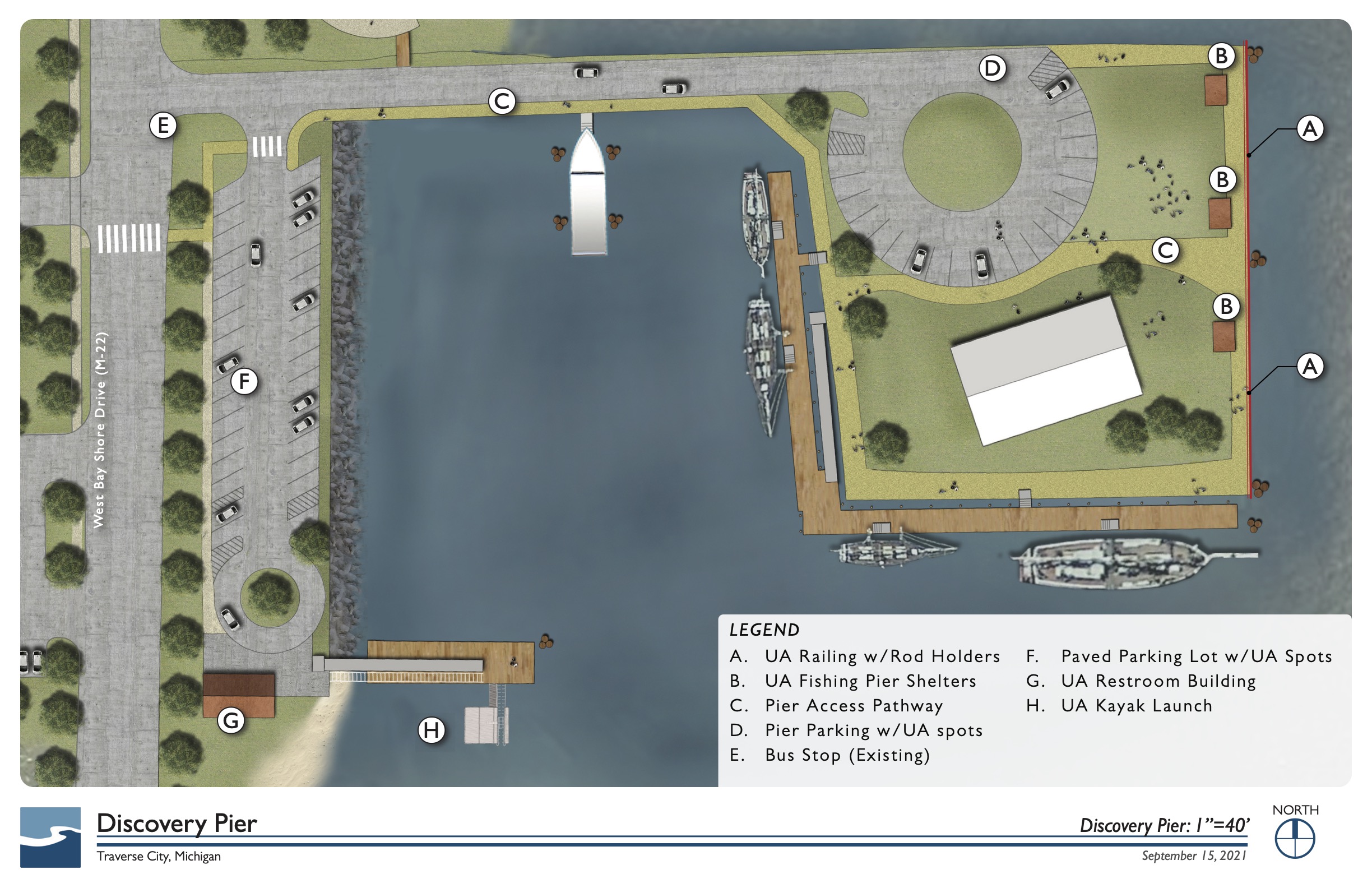 Discovery Pier's Big Year: Planned 2022 Construction Will Bring Barrier-Free Park, Public Fishing Pier To Traverse City
By Beth Milligan | Dec. 28, 2021
Big plans are in store in 2022 for Discovery Pier, the former Traverse City Light & Power coal dock on West Grand Traverse Bay now owned by Rotary Camps and Services. Rotary is halfway toward a $3 million fundraising goal to start construction this coming year on numerous improvements that will convert the pier into a barrier-free public park, designed with input from individuals with disabilities to offer universal access to all amenities. The project will also create the first public fishing pier in the area, with the next-closest piers located in Frankfort and Charlevoix.
Rotary Camps and Services has been working to slowly transform the pier since the organization acquired the property from the City of Traverse City in 2016 for $1 million. A $2 million state grant in late 2018 allowed Rotary to tackle several initial maintenance and improvement projects, including dredging and expanding the harbor basin, installing floating docks to accommodate tall ships, building a bridge over the creek to neighboring Greilickville Harbor Park, and converting a former coal storage lot across M-22 into a parking lot.
Now Rotary is gearing up for the next crucial stage of project work: converting the pier into a barrier-free public park and fishing pier. "Our mission is to connect people of all ages, needs, and abilities to the Great Lakes," says Rotary Camps and Services Executive Director Matt McDonough. "We realized we had an opportunity to be thoughtful about how we designed and built out the pier to be accommodating to people of all abilities."
In addition to talking to Rotary's nonprofit partners located across the street from the pier in Discovery Center about their vision for the project – including the Inland Seas Education Association and Maritime Heritage Alliance, among several others – Rotary consulted with an expert in universal access design. Universal access goes beyond Americans with Disabilities Act (ADA) requirements to accommodate the greatest number of users possible regardless of age, size, or disability status. A focus group of clients from the Disability Network Northern Michigan also provided input on the pier plans. Rotary notes that 13.6 percent of adults and 7.3 percent of children ages 5-17 face mobility challenges, and "80 percent of us will have a mobility issue at some point in our lives."
Planned barrier-free improvements include a 12-foot-wide promenade that will lead down the middle of the pier and around the exterior. Roughly one-third of the pier railing will be located at a lower level that allows children and individuals in wheelchairs to cast fishing lines off the pier. "There's nothing like that in the Traverse City region," says McDonough, noting that the next two closest public fishing piers in Frankfort and Charlevoix lack universal access. Discovery Pier's sidewalks and parking lot will be barrier-free, using stark color contrasts instead of curbs to delineate spaces. The pier will offer an adaptive kayak launch and ramp, picnic tables, a 4,000 square-foot picnic pavilion tent, and universally accessible restrooms.
McDonough says the Disability Network Northern Michigan focus group provided several lightbulb moments for designers, including the need to create shaded "shelters" along the pier that provide refuge from the sun or inclement weather and allow for longer visits. "When you have a physical disability, it can take a lot of time and energy to get to a destination," McDonough says. "You may be apt to stay there longer. It may be your only destination for the day. A lot of medication can also cause people to be sensitive to sunlight. So we wanted to provide a place where if the sun gets too hot, or it starts to sprinkle, you can still hang out for an extended period of time. There are fun little picnic spots where you can put a fishing rod into a rod holder, and then wheel back into the shade if you need."
The planned pier improvements will cost an estimated $3 million. Rotary has already raised half that amount, including nearly $600,000 from two grants from the Michigan Natural Resources Trust Fund and Great Lakes Fishery Trust, $50,000 in private individual donations, and the remainder from a variety of foundation grants. Engineering plans have already been completed for the project by Edgewater Resources, which specializes in waterfront projects across the Great Lakes and the U.S. McDonough says Rotary will put the project out to bid in May, continuing to quietly fundraise from private individuals and foundations between now and then. The organization hopes to reach 75 percent of its fundraising goal by summer, then launch a public fundraising campaign and hold open house events at the pier to raise the last 25 percent. The goal is start construction in October 2022, with the revamped pier open to the public by May 2023.
In addition to free public fishing and recreation, Discovery Pier will have numerous options for on-site programming, according to McDonough. "A lot of programming will be done on partner vessels," he says, referring to the numerous nonprofits that have tall ships on-site as well as the commercial sightseeing company Discovery Cruises. Over 3,000 students annually are estimated to come to the pier for Inland Seas programming, and Northwestern Michigan College plans to use the renovated pier for College for Kids and Community Extended Education classes. Discovery Pier and NMC are also partnering on a "Discovering Careers in Marine Technology" program that will offer 8-10 field trips comprised of 20-30 high school students next fall to introduce students to marine technology and career opportunities. McDonough hopes to see many offerings made available for free, noting that low-income or at-risk students often lack equitable access to the Great Lakes.
Much of the on-site programming will take place in the new picnic pavilion, which will typically be utilized by partners during the week but available for rent by the public on weekends. "That's going to be a revenue generator to offset costs," says McDonough. "We have a handful of partners who pay market-rate rent and dock fees, and our nonprofit partners pay discounted rent, but that's not enough to pay all the bills." He envisions the renovated Discovery Pier hosting both passive recreation and structured events in the coming years. "The pavilion has a cool feel to it and will lend itself to more organized activities – everything from concerts to plays," he says. "We don't want to limit it. Rotary's goal from day one has been for the pier to be a community resource. So we want to stay true to that and have it open to public use."
Comment
Fall On The Farm: What Local Farmers Are Harvesting & Growing This Season
Read More >>
Employee Pay, Complete Streets, Rooftop Spaces On City Agenda
Read More >>
Are State Education Policies Working Against Rural School Districts Like TCAPS?
Read More >>
A Better Winter: Advocates For Local Homeless Population Get Ready For Winter Operations
Read More >>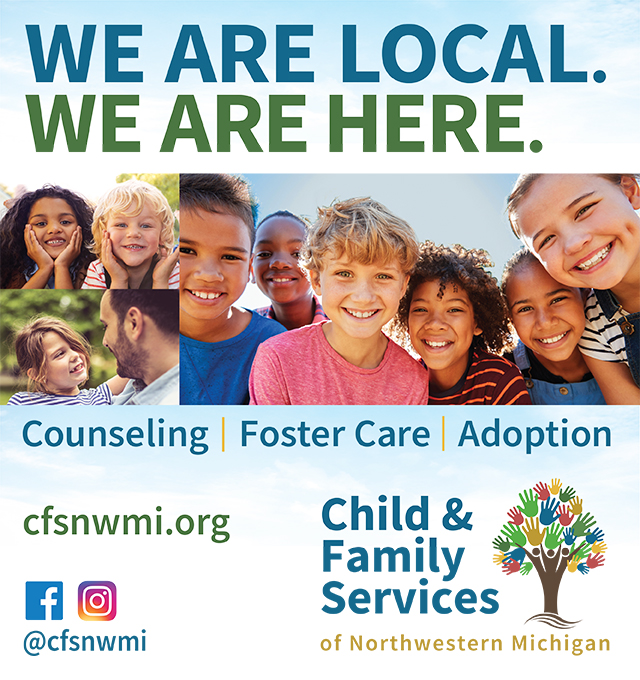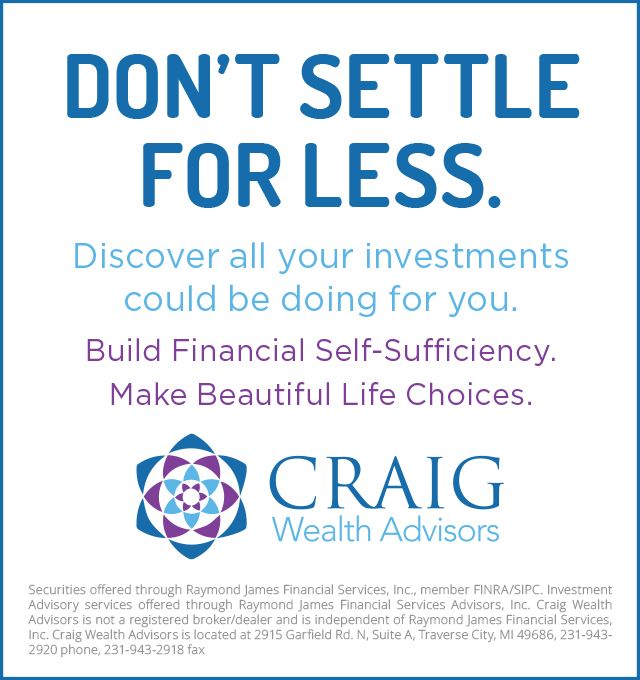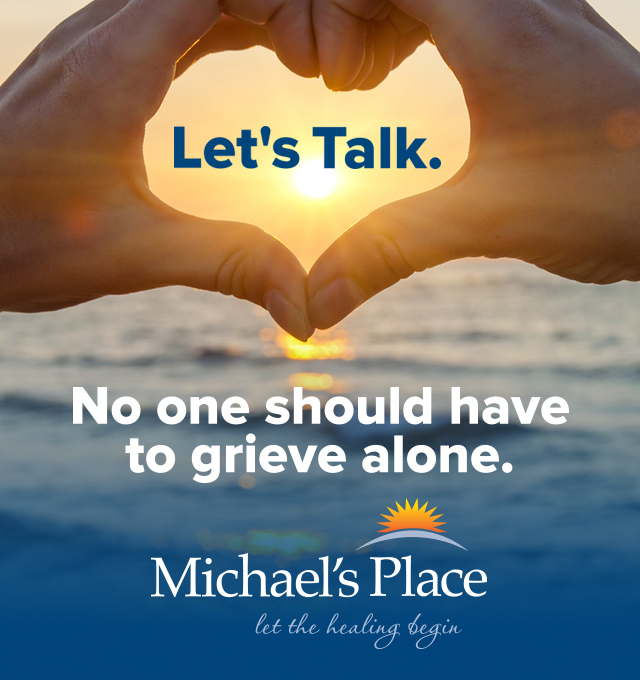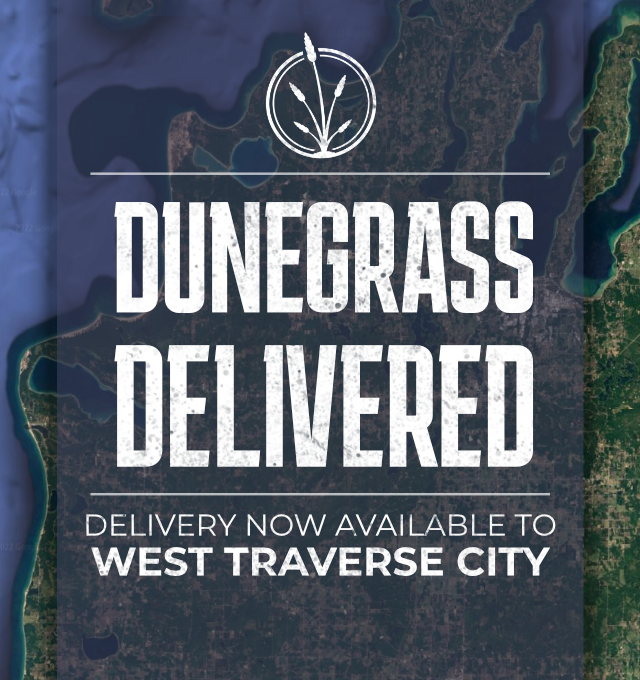 M-22/M-72 Roundabout, Waterfront TART Trail, Pedestrian Crossings Emerge In Road Redesign
Read More >>
Three Nonprofits Win Impact100 Traverse City Grants
Read More >>
313-Unit Development Proposed For Hammond Road
Read More >>
Rotary To Close GO-REC, Withdraws PUD Application
Read More >>
Senior Center, Madison/Jefferson Reconstruction, Governmental Center Parking On City Agenda
Read More >>
Night Closures On East Front Street This Week
Read More >>
Downtown TC Launching New Comedy Festival In February
Read More >>
Garfield Township Residents Weigh In
Read More >>
How Do You Get Millennials To Move To Traverse City?
Read More >>
Over 600 Housing Units On Deck In City - But Variety Is Lacking
Read More >>