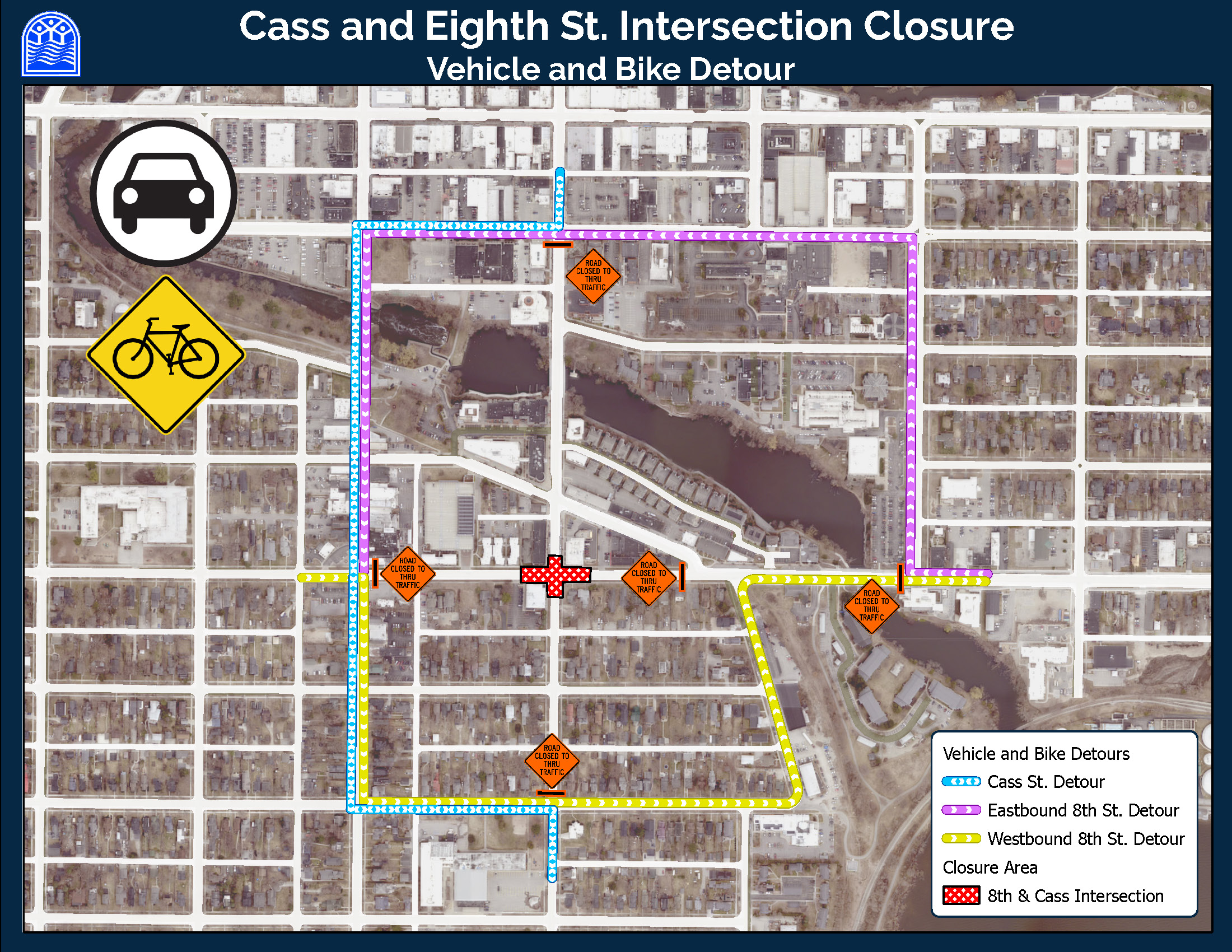 Downtown Project Updates: Cass/Eighth Intersection Reconstruction, Retail Incubator, Parking Changes
By Beth Milligan | Sept. 16, 2023
Work will kick off Monday on the full reconstruction of the Cass and Eighth Street intersection in downtown Traverse City – a project that is expected to last through mid-October and will require traffic to detour around the site in all directions. TC Downtown Development Authority (DDA) board members received an update on that and other downtown projects Friday, including the planned November opening of a new retail incubator, significant changes to the city's parking system, and upcoming downtown fall events.
Eighth/Cass Intersection Reconstruction
Team Elmer's will begin work Monday on the complete reconstruction of the Cass and Eighth Street intersection, including the installation of new concrete pavement and brick crosswalks. The project is expected to be complete by mid-October, weather permitting.
"During construction, the intersection will be closed to all vehicular, bicycle, and pedestrian traffic," according to a city release. City detour maps show routes for drivers, cyclists, and pedestrians to navigate around the work site, primarily using a combination of Lake Avenue, Union Street, State Street, and Boardman Avenue. Signage and barricades will be in place around the construction zone. Access to all businesses, residences, and the Old Town parking deck will be maintained throughout the project.
DDA board members and city commissioners recently approved contracts to reconstruct both the Cass/Eighth and Union/Eighth intersections this fall ahead of the March start of the Grandview Parkway/East Front Street reconstruction project. Eighth Street will serve as a key detour route during that project. However, DDA CEO Jean Derenzy said Friday that the "timing is going to be incredibly tight" to get both intersections done this fall. If Cass/Eighth goes well and it looks like the weather will hold, crews may be able to tackle Union/Eighth before the snow falls. But if they can't get to that intersection in time, they may then have to wait until after Grandview Parkway – potentially 2025 or 2026 – to complete Union/Eighth.
BATA announced that its City Loop Route 2 and Village Loop Route 13 (Kingsley) will have a modified route path the next several weeks due to the construction at the Eighth/Cass intersection. Both the inbound and outbound stop at Cass and Lake for Route 2 (#205/275) and 13 (#1302/1303), as well as the Route 2 stops at Eighth and Lake (#207/273), will be closed throughout the construction project.
The two Eighth Street intersections together will cost an estimated $883,445 to reconstruct (that figure may have to be adjusted if Union/Eighth is rebid or delayed beyond 2023). The projects are bundled into a larger $2.57 million pavement preservation contract with Team Elmer's for several street upgrades starting this year and continuing into 2024. Other work areas will include Maple Street between Sixth and Griffin streets, Twelfth Street between Division and Union streets, Eastern Avenue between M-37 and the eastern terminus at the city water plant low pump station, Railroad Avenue (stormwater components), the Maple and Eighth intersection, and city parking lots G and C. The contract is funded by a combination of sources including TIF, road commission millage, capital projects, and parking funds.
Retail Incubator
Tenant applications are now open for a new downtown retail incubator set to open this fall called Cass Street Marketplace.
The newly renovated 1,900 square-feet space, located on Cass Street just south of Front Street in the Keen building next to The Pub, "will house several emerging, locally-owned retail businesses," according to Derenzy. She said that local independent businesses "are one of the most defining features of downtown Traverse City. Their continuous growth and success are important and must be nurtured and supported. We believe the retail incubator will bolster a thriving retail scene for emerging entrepreneurs. We are looking to select a diverse but complimentary mix of tenants for the incubator's inaugural year, but different tenants will occupy the space over time."
Staff said that only retail tenants – no food or restaurant tenants – are being accepted at this time. Applications are available through the DDA's website. Rent will average between $600 to $800 per month, depending on the size of the retail stall, with tenants having access to "peer and expert-led small business training and marketing and communications support." The goal is to start with six to seven participants, according to project documents.
Staff said the planned timeline is to accept applications through the end of September, select tenants in early October, and open Cass Street Marketplace to the public in early November.
Parking Changes
"Big changes" are soon coming to the downtown parking system, DDA Transportation Mobility Director Nicole VanNess told board members Friday. Those changes are coming to both downtown parking decks and are meant to streamline operations for users and staff.
The traffic circulation at the Hardy deck will shift from clockwise to counter-clockwise on the ground floor, with the State Street lanes swapped to align with the new two-way traffic flow on State. Payments can soon be made in all parking deck exit lanes with credit cards (cash payments will not be accepted in exit lanes, but can be made inside the deck – producing a barcode that's then scanned in the exit lane). Businesses will have more validation options to pay for customer parking. Any permits purchased online will immediately be available for use in the lanes without having to pick them up from the office.
VanNess said drivers will be able to keep barcodes for their permits on their phones so they always have them with them, eliminating situations where a parker forgets their physical permit or is using a different car. Permit parkers will also have access to encoded hang tags that can be detected automatically to allow for hands-free access (no more having to roll down windows in the winter, she said). Some of the changes have already begun, with implementation of the rest expected next week, according to a city release.
Downtown Events
Finally, DDA staff shared brief updates Friday on several upcoming fall events. The second annual Downtown Tailgate at Rotary Square will take place Saturday, October 21. The free event will including a public televised broadcast of the Michigan vs. Michigan State football game. Three food trucks will be on hand – including Ludovikos, Chubby Unicorn, and The Good Bowl – with beverages for sale from FreshCoast Beer Works and lawn games available. A local high school drumline will kick off festivities at 5pm ahead of the game start (estimated at 7:30pm).
The annual Downtown Halloween Walk will take place Saturday, October 28 from 10am to 11:30am. Businesses will be handing out candy during the event to trick-or-treaters. Locations will include the 100, 200, and 300 blocks of Front Street, as well as participating businesses on State Street. Also returning this fall is the DDA's annual dinner – Toast to Downtown – on Thursday, November 9 from 5pm to 8pm at the City Opera House. The event includes a celebration of accomplishments in the downtown community and the presentation of the annual Lyle DeYoung and Golden Shovel awards.
Comment
Three-Campus Plan Comes Into Focus for County, City
Read More >>
Join Us For a Special Fall Recess Wednesday at Seven Hills on Old Mission!
Read More >>
Seven Fall Festivals and Celebrations Up North
Read More >>
City Updates: Commission Votes, Fish Survey, Senior Center Tree Project
Read More >>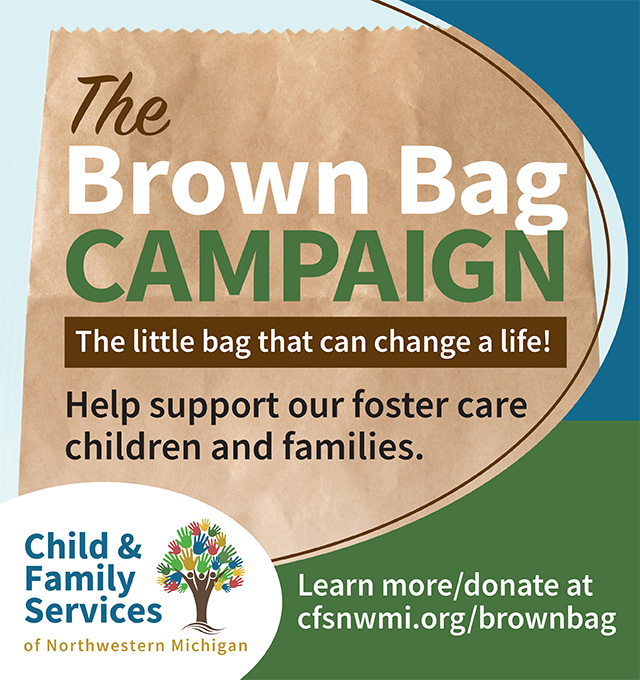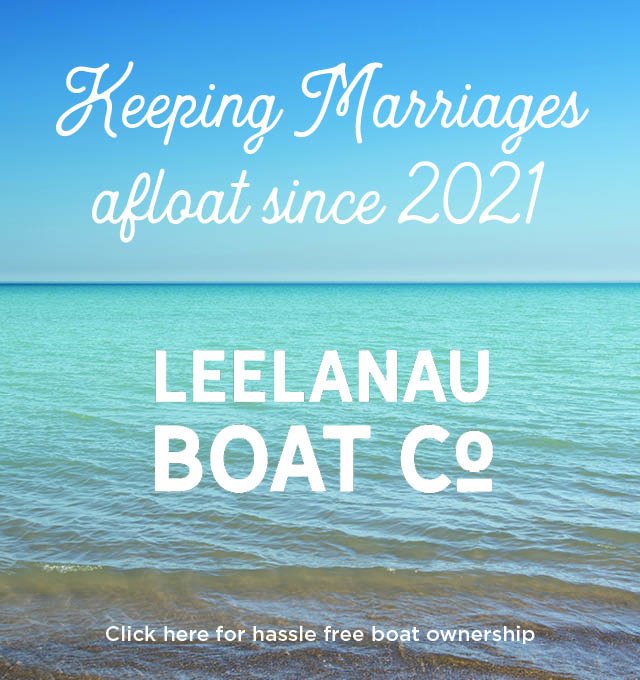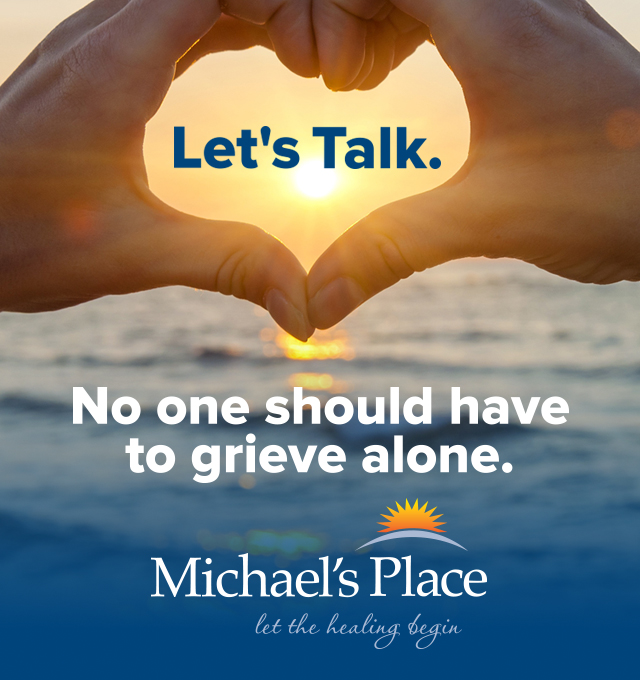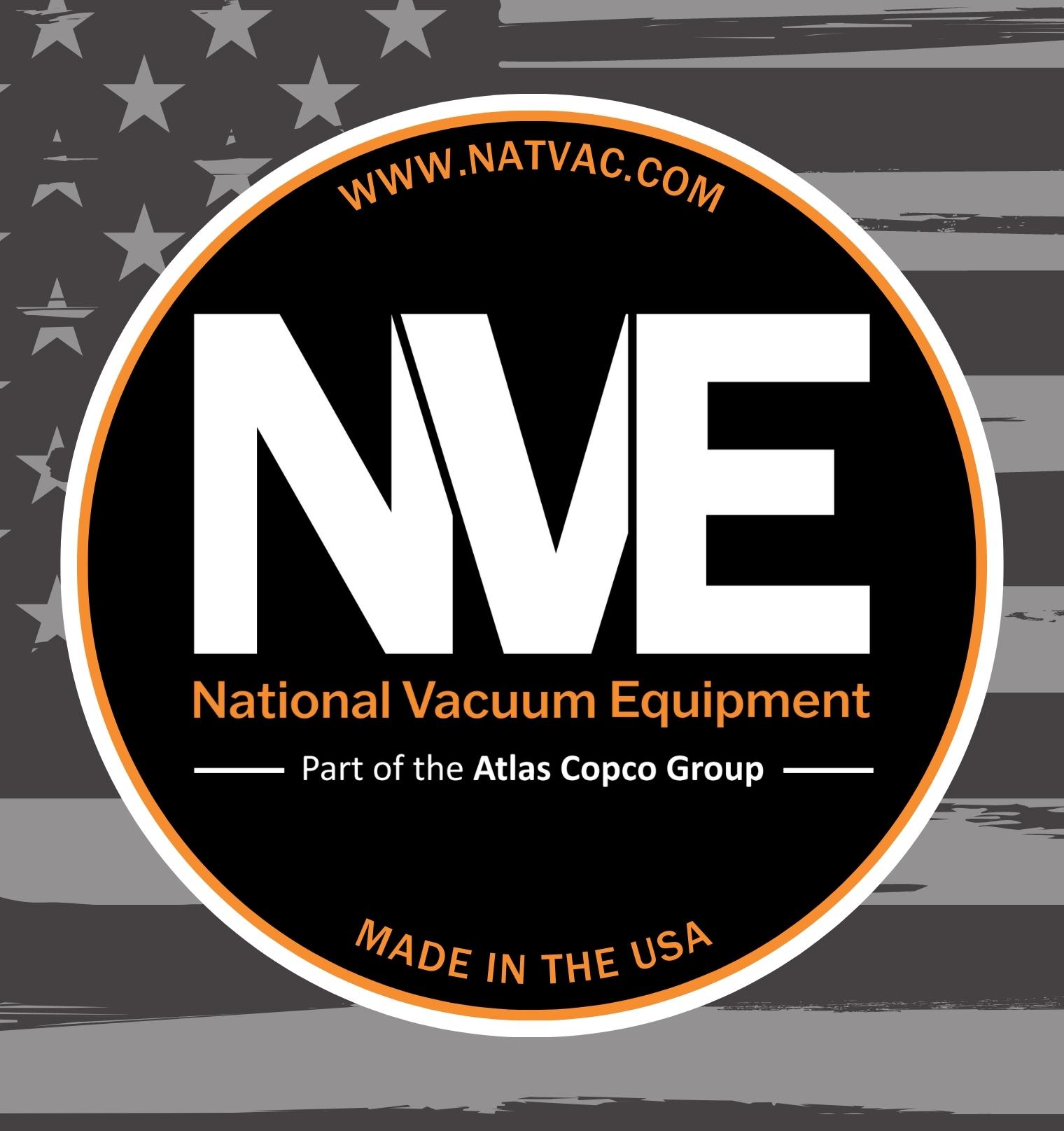 How A Local Car Dealership Added 'Free College' To Its List Of Employment Benefits
Read More >>
Affordable Housing, Mixed-Use Development Possible On Woodmere
Read More >>
Impact100 Traverse City Announces Latest Grant Recipients
Read More >>
Three Hundred Miles in 24 Hours
Read More >>
Building Peninsula Shores
Read More >>
GT County Commissioners Approve Peninsula Parks Funding, Remote Work Policy
Read More >>
Munson to Ramp Up Outpatient Efforts, Regionalize Inpatient Care
Read More >>
Man Arrested After Concerns Over Blair Township Threat
Read More >>
Join Us For Fall Recess Next Week at Seven Hills on Old Mission Peninsula!
Read More >>
Man Arrested After Standoff in Central Neighborhood
Read More >>