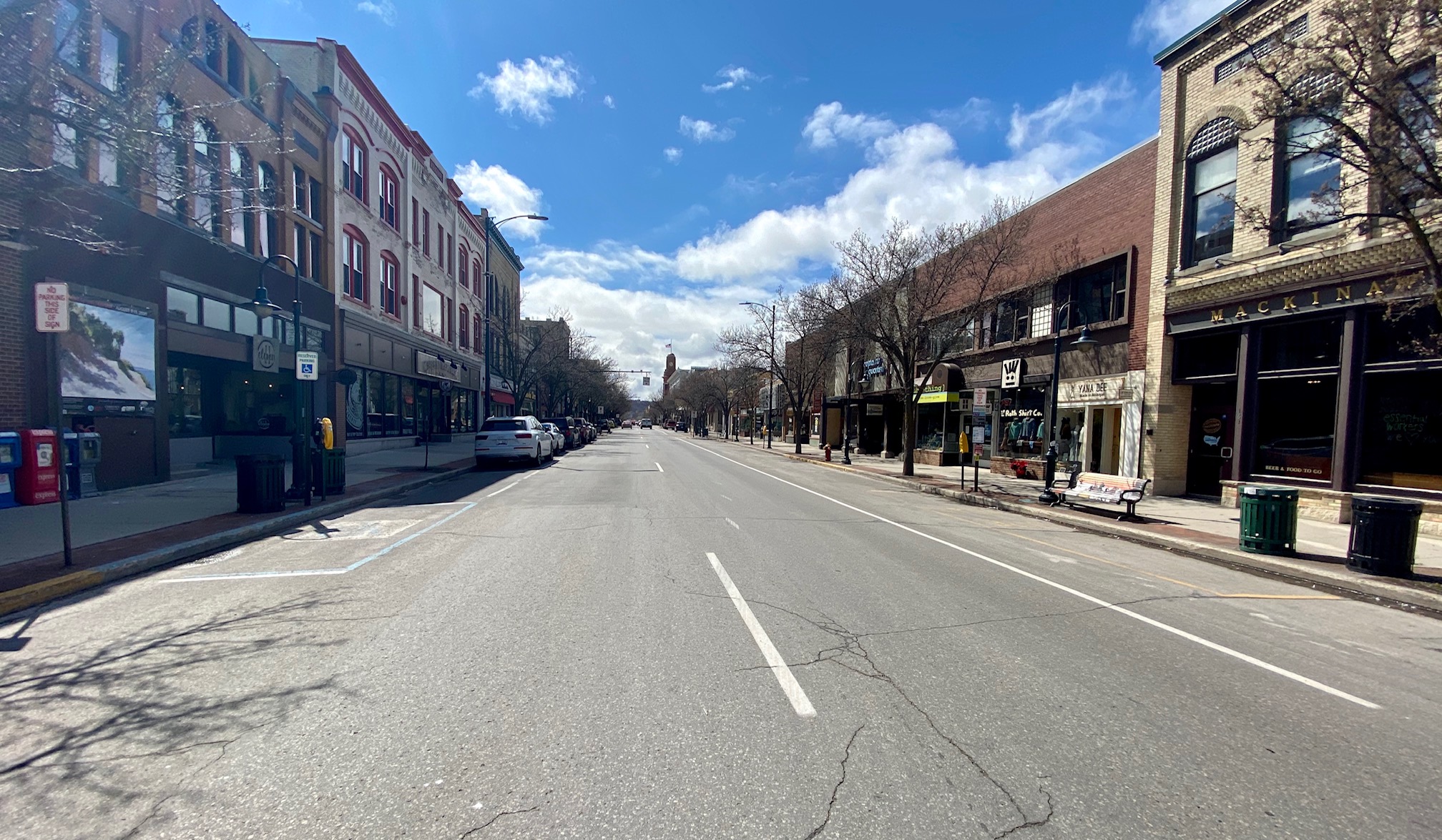 Downtown TC Aims To Make Front Street Pedestrian-Only For Summer
By Beth Milligan | May 9, 2020
The Traverse City Downtown Development Authority (DDA) is aiming to close two blocks of Front Street in the heart of downtown for the summer – a move that would provide retailers and restaurants expanded operational space and allow pedestrians to safely social distance while visiting downtown.
DDA CEO Jean Derenzy will bring the proposal to Traverse City commissioners for approval at their May 18 meeting, with the goal of starting the street closures in June. The proposal calls for closing the 100 and 200 blocks of Front Street – stretching from Park Street to Union Street – to all vehicles through the summer and limiting the shopping district to pedestrians only. The closures would remain in effect during overnight hours. Cass Street, located in the middle of the closure zone, would remain open to north-south vehicle traffic.
Restaurants and retail stores would have an expanded outdoor presence under the proposal, with increased patio space for dining and additional room to display goods and make sales transactions outdoors. The additional capacity would help reduce crowding in stores and allow pedestrians to spread out on Front Street, rather than being funneled onto sidewalks. "More than anything, it's about the ability to have space between people downtown, so it's not shoulder to shoulder," says Derenzy. "Some people will be comfortable going into stores and some won't, so we're looking to help the community feel safe and to have confidence in returning downtown."
Removable barricades are planned to be placed at the street ends that could be moved aside to allow emergency vehicles through. Chief Jim Tuller of the Traverse City Fire Department says he is supportive of the proposal and has been working with the DDA on the closure plans – along with staff from the streets, police, and other city departments – to fine-tune details. Tuller says his main focus is ensuring that any outdoor displays or dining areas are not permanent structures that would impede the path of an emergency vehicle but could be "easily moved in a quick and orderly fashion" if there were a fire or ambulance call. "It's an exciting proposition, especially with the current situation we're in, to get people downtown and help the downtown merchants," he says. "We just have to make sure we do it safely."
Derenzy says parking will be available in surrounding lots and side streets, with the DDA looking at adding more short-term loading zone spaces on Cass and Union streets to assist with curbside pickup. Parking enforcement has been temporarily suspended during the pandemic; Derenzy says the DDA is still working through whether that will remain the case or if enforcement will start up again in the coming weeks.
Merchants have traditionally resisted calls to turn Front Street into a pedestrian mall because of concerns over parking and the potential loss of customers who prefer to park as close to their shopping or dining destinations as possible. However, in light of safety and economic issues caused by the pandemic, several business owners expressed enthusiasm for the proposal as a move that could help make downtown viable in a time of extenuating circumstances.
"I love the idea that by closing down Front Street, everyone will have the six feet they need for social distancing," says Cherry Republic President Bob Sutherland. "It's a terrific way to be able to have less people in our stores by having more of them outside. We're already considering how we can extend our shopping in a way where people don't even have to come in the store. We're all going to be doing our best to reduce the amount of people in our stores downtown, which is going to be a hit on businesses, but if we can make extra money on the sidewalk, that will make up for it."
Even without major events like the National Cherry Festival taking place this summer, Sutherland anticipates visitor traffic could still be brisk in downtown Traverse City. Bill Golden of Golden Shoes agrees and says he's willing to support street closures if it helps make guests feel more at ease shopping downtown. "We need to try things, because this is the new new," says Golden. "Nobody knows what it's going to be yet. You want to make sure customers and everybody walking around is comfortable…so I would support something like this for this year. It's going to be interesting. I'm hoping for the best."
Adrienne Brunette of Mama Lu's says having expanded patio space could potentially allow the restaurant to reopen and offer some type of dining or outdoor service this summer when permitted under state orders. The restaurant's narrow aisles and small kitchen make it difficult to socially distance customers and staff inside, she says, and the existing small patio area wouldn't work to socially distance tables. "But if we could have more space, absolutely it would be a great option to kind of do an in-between," she says. Derenzy is working with the Michigan Liquor Control Commission (MLCC) to allow restaurants with patios to have alcohol service within their expanded outdoor boundaries, provided there is some kind of perimeter in place to clearly delineate areas where customers can drink. Walking Front Street with open containers would not be permitted, Derenzy says.
Traverse City Mayor Pro Tem Amy Shamroe says she plans to support the Front Street closure plan when it comes to the commission for approval. "I think it's a great way to deal with the new normal," she says. "When things reopen, it's not going to be business as usual. This will give the opportunity to restaurants and shops to expand out their footprints and offer their goods and services while keeping people safe. It'll help make downtown feel like a welcoming place."
Comment
City Commissioners To Vote On Bonding $8M In Water, Sewer Projects
Read More >>
Full-Scale Renovation Coming To Turtle Creek Hotel
Read More >>
85 Years Of Child & Family Services
Read More >>
The Good, The Bad, And The Ugly: Five Takeaways From A Chaotic Summer At Local Restaurants
Read More >>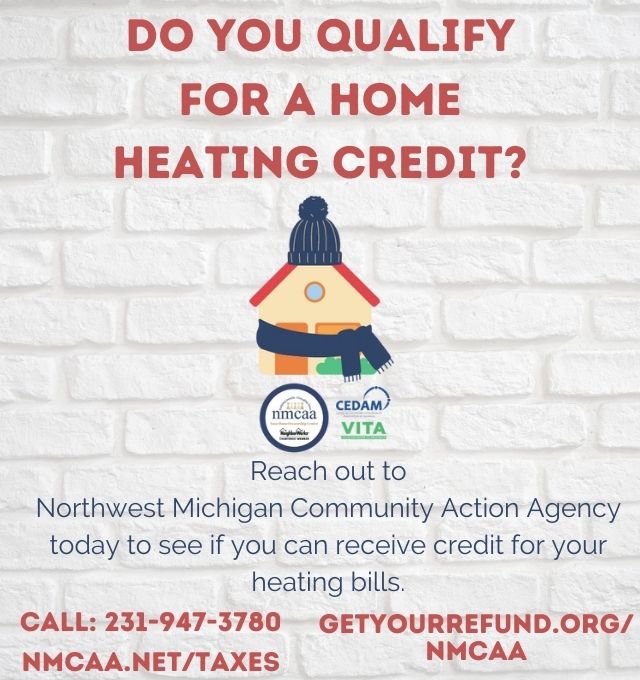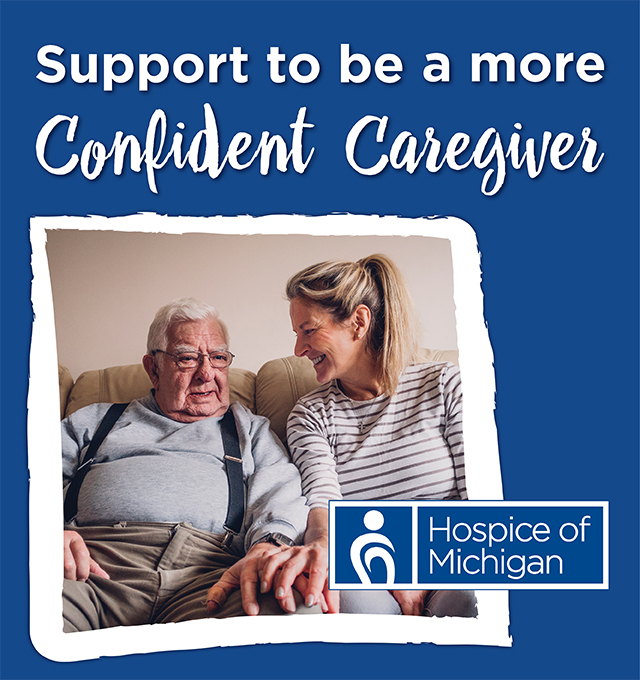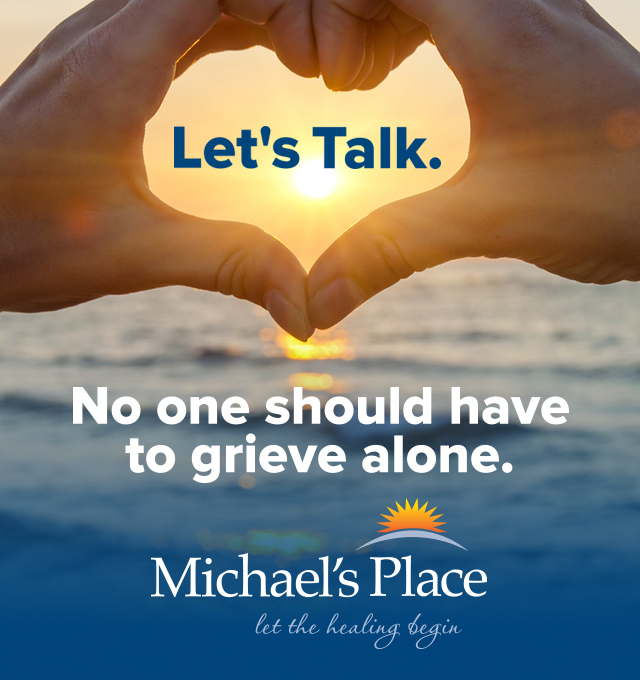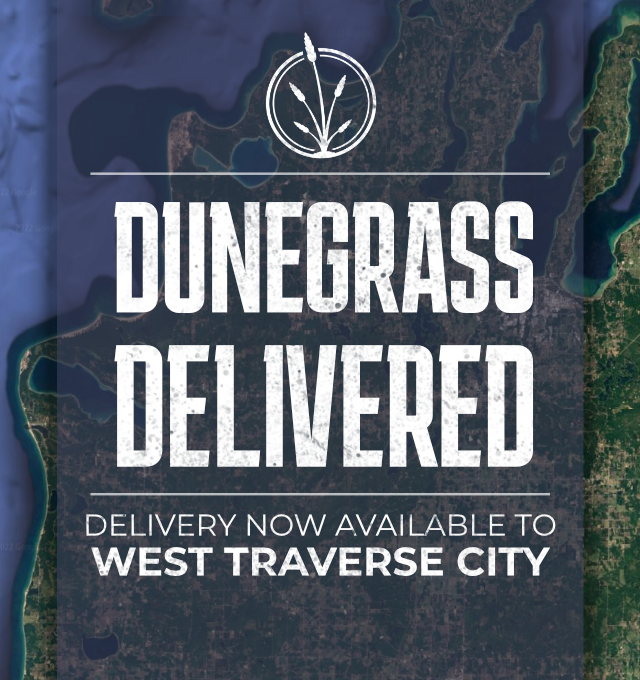 TC Housing Commission & BATA Close On LaFranier Property, Prepare To Move Forward With Housing/Transit Center
Read More >>
NMC's New DEI Leader Is All About 'Embracing The Tough Conversations'
Read More >>
Trail Expansion Planned At GT Commons Natural Area, Hickory Hills
Read More >>
Find An Employee, Find A Job
Read More >>
Youth Movement: 17-Year-Old Joins City Planning Commission
Read More >>
Safe Harbor, Partners Look To Offer Day Center Starting This Fall
Read More >>
TCAPS Eyes Selling Bertha Vos, Webster Administration Building
Read More >>
Live Music Haunts: Where To Hear Local And Touring Musicians Around The North
Read More >>
School Security, Staff Housing, and Mental Health: TCAPS Superintendent Talks New Strategic Plan
Read More >>
City Commissioners To Talk ARPA, Climate Change Projects
Read More >>