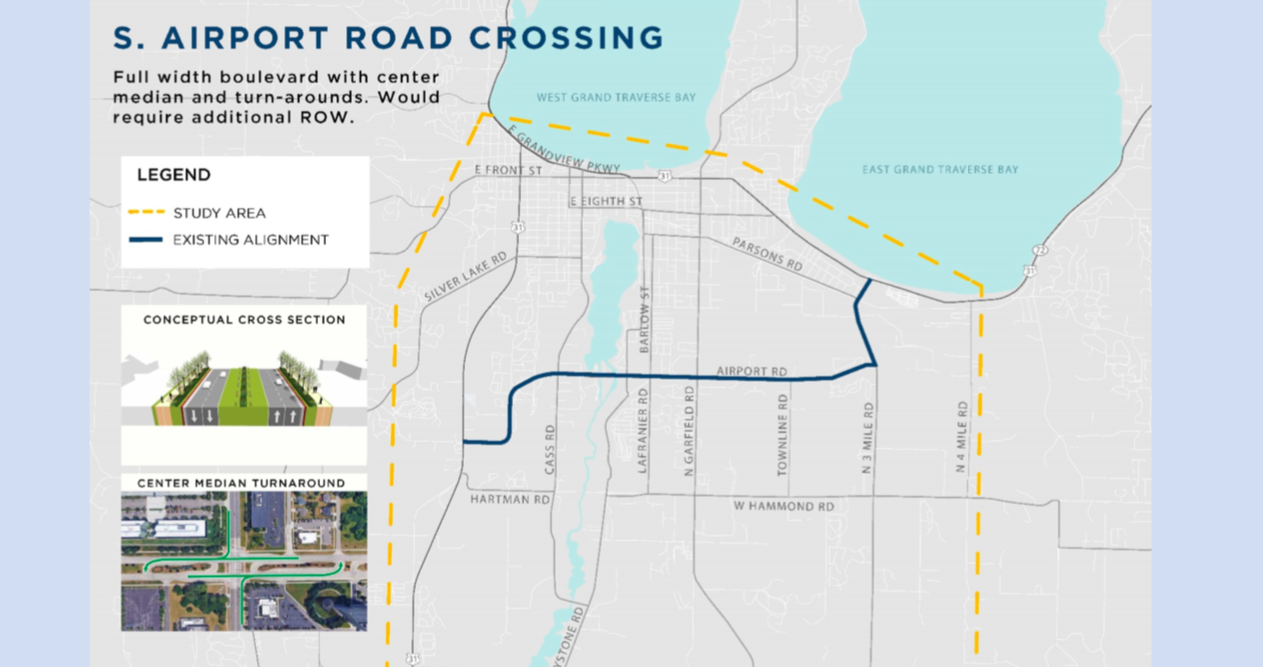 East-West Corridor Options Unveiled: South Airport, Hammond, Beitner Improvements Proposed
By Beth Milligan | Feb. 12, 2019
Area residents will have a chance to give feedback Monday on design options for improving cross-town traffic along several key corridors, including South Airport, Hammond, Cass, Beitner, and Keystone roads.
The Grand Traverse County Road Commission will host a public open house Monday from 5pm to 8pm at Traverse City East Middle School to unveil five design scenarios – or "practical solutions" – for improving the county's transportation network. The options were created as part of the East-West Corridor Transportation Study, a Road Commission-funded study led by consulting firm OHM Advisors.
The study area extends from Grandview Parkway south to Beitner Road and from US-31 east to Four Mile Road. The goal of the project is to use public feedback on design options for key corridors to create a final plan for traffic improvements consisting of both major long-term projects – those on the scale of a long-proposed Hartman-Hammond bypass, for instance – and smaller short-term projects, like intersection upgrades. The plan would be used by the Road Commission to prioritize projects and funding, with some improvements potentially implemented as early as next year.
Two of the five scenarios that will be rolled out Monday propose significant redesigns of South Airport Road: one that would convert the corridor into a full-width, divided boulevard with center medians and turnarounds, and one that would replace traffic signals at several major intersections with roundabouts. In the first scenario, left-hand turns would be eliminated throughout most of the corridor – notably at intersections – with drivers instead required to make a "Michigan left," turning right onto South Airport out of businesses or at signals and then using cut-throughs at medians to go left.
The second scenario also calls for turning South Airport into a four-lane, divided roadway, but instead of median turns proposes installing roundabouts at intersections including Cass, LaFranier, Garfield, Townline, and Three Mile. Crash data shows some of those intersections have the highest rate of accidents in the study area, notably at Garfield and South Airport (the only other intersection to rival it is Garfield and Hammond; both intersections experienced between 181 and 230 accidents from 2013 to 2017).
While roundabouts have proven unpopular with some residents in past visioning and planning studies, their implementation locally – such as on M-72 and more recently planned for Fife Lake's US-131 and M-186 intersection – have increased drivers' comfort level with them, says Road Commission Engineer Wayne Schoonover. "They are gaining support nationwide, as well as within Michigan," he says. "They're a little daunting at first, as anything new is, but as people then start to use and experience them, they find out really how relatively simple and straightforward these are. The benefits really do outweigh any of the negatives with them."
The third scenario revives the contentious Hartman-Hammond bypass, proposing building a new bridge over the Boardman River from Hammond Road that would either connect to Hartman and on to US-31 or directly to US-31 via an alternative southwest connection. Megan Olds of Parallel Solutions, which is managing public and stakeholder engagement for the study, is aware of past controversy over the proposed bypass and of more recent concerns posed by critics that the East-West Corridor Transportation Study is a thinly veiled attempt to resurrect that project. She says all options need to be looked at as part of the study with fresh eyes, and that a bypass is just one of many potential solutions on the table.
"(The process) is not presuming any one outcome…we want nothing to be thrown away, and not to dismiss anything," she says. A wide variety of local groups have been consulted on all design scenarios, Olds says, ranging from environmental groups like the Northern Michigan Environmental Action Council (NMEAC) – which opposes a bypass over the Boardman – to business owners to local and state government representatives to tourism planners to multi-modal transportation groups like TART Trails. "Anyone who has a lens on transportation issues facing the community that would inform what the issues are and what could be different in the future," Olds says of those who were included in the planning process.
One data point of note is that a bypass is not anticipated to change traffic levels on US-31, nor to significantly impact traffic going around Traverse City. Both of those scenarios had been heavily cited in the past as reasons for supporting bypass construction. Traffic data cited by OHM Advisors found that "only four to six percent of vehicle trips in Traverse City are actually passing Traverse City," and that "modeling shows that demand into Traverse City along US-31 is virtually unchanged as additional east-west connections are made" – e.g., a bypass. A Hartman-Hammond connection is instead seen more as a potential solution for alleviating traffic within the study area itself, providing a direct east-west path for traffic over the Boardman River that could have a ripple effect on alleviating traffic on nearby corridors.
A fourth scenario envisions creating another crossing nearby extending from the Cass Road bridge west to US-31 or southwest to Rennie School Road. The Michigan Department of Transportation (MDOT) has railroad connections to Rennie School Road that could provide one path for the extension; crossing over directly to US-31 on a new road running parallel to Hartman Road would require running through multiple properties. A fifth scenario looks at more roundabout options starting with Beitner at its US-31 and River Road/Keystone Road intersections and continuing on throughout parts of Hammond. Extending Hammond's five lanes further throughout the corridor is another option that could be considered, according to consultants.
Project representatives emphasize that all design scenarios are highly conceptual, offering "high-level, 30,000 feet" views of potential options. Design logistics, project costs, property availability, and right-of-way options – among other critical considerations – are not reflected in this phase of the project. Those will follow in March, after public feedback helps narrow the five solutions down to three; the finalists could include combinations of one or more solutions or even small pieces of all five solutions. OHM Advisors will take the narrowed field of options and create detailed reports on estimated costs, traffic and congestion models, bicycle and pedestrian accessibility, and environmental, residential, and business impacts and unveil those at another public meeting in April. Feedback there will help create a final recommendation to go to the Road Commission at the end of April.
Not all recommendations will necessarily be high impact or high cost, notes OHM Advisors Project Manager Matt Wendling. Some could include smaller projects like mid-block crossings, intersection reconfigurations, signal optimization, and sidewalk extensions. The goal is to look at both big-picture solutions and "low-hanging fruit" for improving the county's transportation network, he says. "It's not just one solution," he says. "It's not going to be that clean."
Comment
MSU President Visits TC; Talks Student Enrollment & Vaccinations, Athletics, Local Partnerships
Read More >>
Cases Low, Vaccinations High -- But So Are Concerns For Local School, Health Officials
Read More >>
Sixth Street Closure Next Week
Read More >>
Delta Variant Now In Grand Traverse County
Read More >>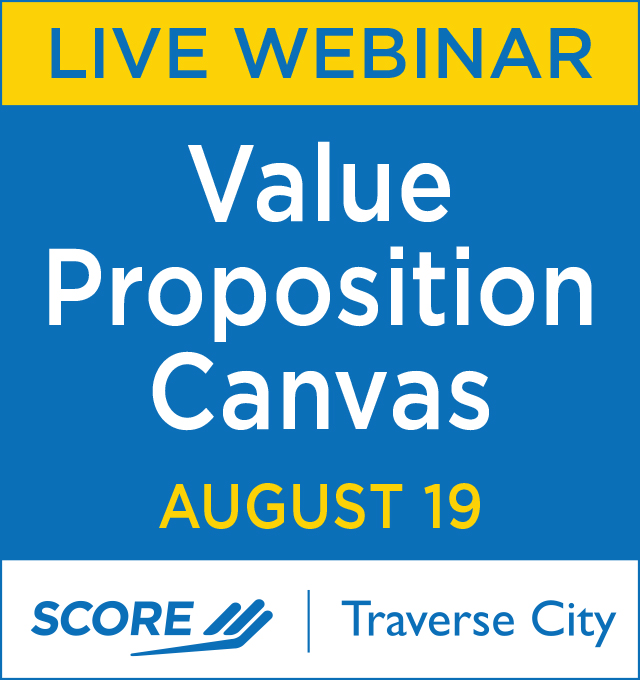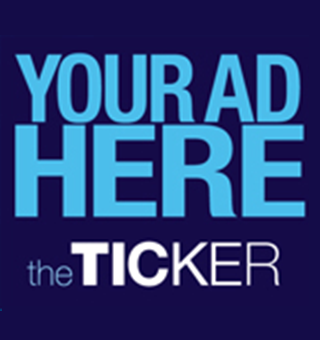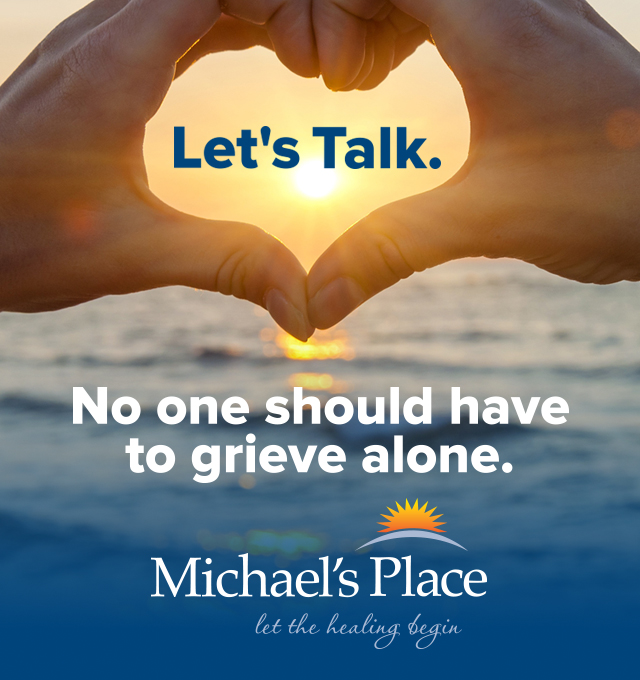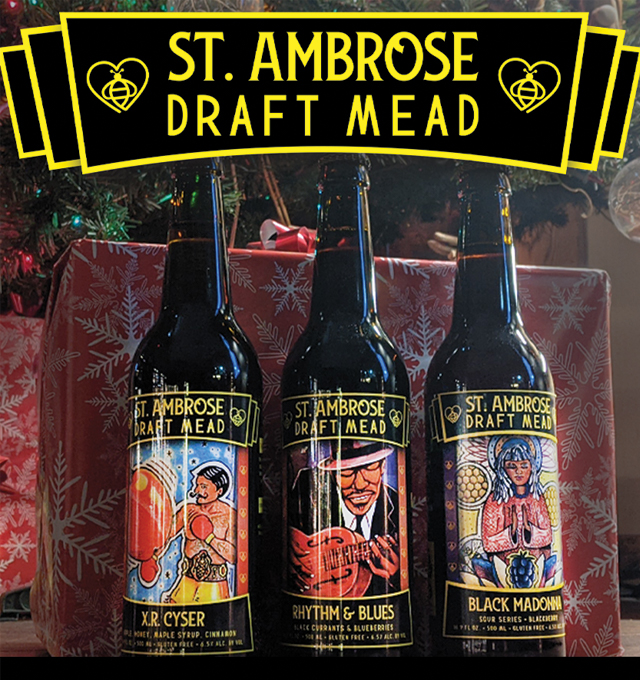 (Desperately) Seeking Workers: Behind Traverse City's Employment Crisis
Read More >>
TADL Institutes New Library Fine Procedures
Read More >>
Here's Who's Running For City Commission
Read More >>
Ironman Charity Challenge To Benefit Five Local Nonprofits
Read More >>
Where To Eat This Summer
Read More >>
Three Mile Trail Route Unveiled
Read More >>
PACE North Names New Executive Director
Read More >>
Expedited Appeal Rejected In FishPass Lawsuit; Court Case Will Proceed On Normal Timeline
Read More >>
Night Out In Kingsley Wednesday To Feature Live Music, Car Show, More
Read More >>
TC Voters To Decide City Manager's Spending Authority
Read More >>