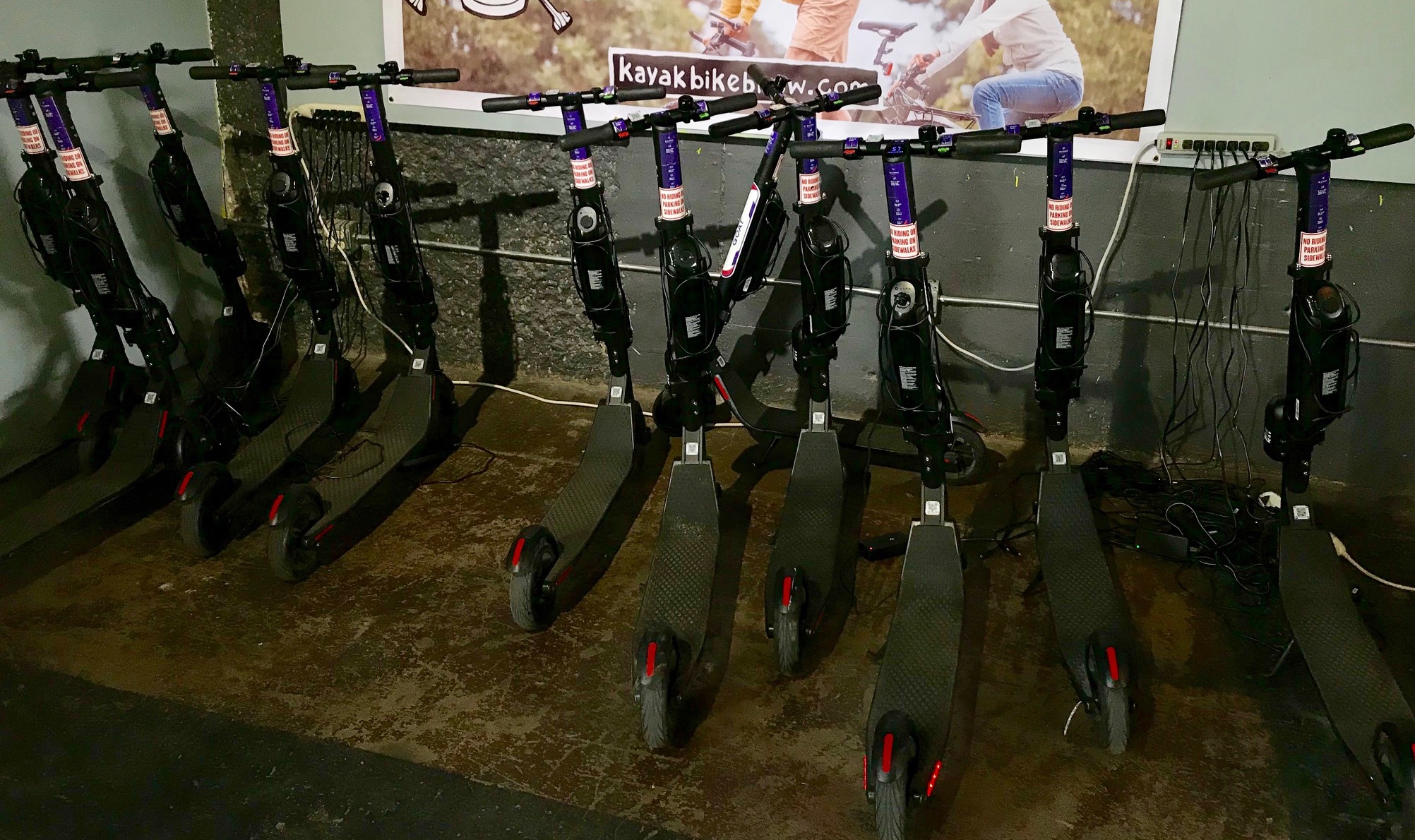 The E-Scooter Debate
By Beth Milligan | July 29, 2019
The sudden appearance of electric scooters in Traverse City this summer – devices that can be rented via a smartphone app and then left for someone else to use – has prompted city officials to begin working on a policy governing their use, including where they can be ridden and stored. Proponents of e-scooters say they offer a fun, economical, and environmentally-friendly transportation option, reducing traffic and parking congestion; critics express frustration about users speeding dangerously along crowded sidewalks and haphazardly discarding the scooters throughout downtown.
Owner Troy Daily of Kayak, Bike & Brew purchased 30 e-scooters at the start of the summer season, with the goal of using them as part of his brewery tours. But after the Murchie Bridge underpass flooded – making his tour route impassable for e-scooters – he changed course and started a scooter-sharing service, making the gadgets available to anyone to use for short-term rentals.
"We decided to test out this ride-share program during Cherry Festival, the busiest time, to see how it would do," he says. "It was very popular. We had 987 rides in just under five days. And that was really only on 20 scooters in rotation, because 10 were always charging."
Scooter-sharing programs have become popular in other cities across the country, offering users an easy way to commute short distances. Users download an app on their phone (in Traverse City, the app is called Goat – Scooter Rental) and view a map showing all available scooters. To unlock a scooter and make it operable, the user must add a payment method to the app and agree to a list of provisions, including following all local laws, wearing a helmet, not operating under the influence, and parking the scooter upright in a "lawful and visible" position at the end of the ride.
The user can then begin riding the scooter, at a cost of $1 to unlock the device and 15 cents per minute to ride. A half-hour ride costs $5.50; an hour sets you back $9. There is a geofenced area where the devices work, rendering them inoperable if users go outside its boundaries. In Traverse City, Daily's scooters work from Oak Street down to Right Brain Brewery, throughout the Boardman Lake area to Barlow Street, and north to Grand Traverse Bay – essentially encompassing the downtown area.
Scooter users are warned to stick to city streets under 25mph, trails, or bike lanes. Large stickers on the scooters warn: "NO RIDING OR PARKING ON SIDEWALKS." Users are encouraged to park the scooters in bike racks when they're done, or return them to Kayak, Bike & Brew in the Warehouse District. Daily says he's also begun retreiving them daily so that they're largely kept at his headquarters when not out in active use. But city officials have received complaints this summer about scooter users zipping through crowds, nearly clipping pedestrians on sidewalks, weaving through traffic, and leaving the scooters strewn across sidewalks and yards or tossed against buildings.
"We really don't want these on the sidewalks," says Downtown Development Authority CEO Jean Derenzy. "We're not that large of a city, so you can't have them getting left everywhere." Derenzy adds, however, that the technology itself offers benefits to downtown – provided the scooter-share program can be properly managed. "E-scooters are another form of transportation, and if we're about embracing change and getting younger people here and being outside, there's substance to that (program)," she says. "Anytime you're outside a motor vehicle, it's a good thing. We just need to look at the infrastructure of how we're going to utilize them."
A task force comprised of Derenzy, Daily, City Attorney Lauren Trible-Laucht, City Planning Director Russ Soyring, TART Trails reps and others will meet this week to begin working on a new potential city policy regulating e-scooters. Currently the only regulation on the books is a general city ordinance stating that bicycles, coaster toys, skateboards, and other types of wheeled, self-propelled vehicles are banned on sidewalks or public property where signage is posted. Violators can receive a civil infraction; new downtown community police officer Jonathan Culver says he's started cracking down on such violations and has issued several citations this summer.
A specific e-scooter ordinance, however, could spell out in greater detail where e-scooters can be ridden and parked and how they can be used. Brian Beauchamp of TART Trails says the organization has not yet taken a position on e-scooters being used on the city's recreational trails, but will participate in discussions and monitor their potential impacts, along with those of e-bikes. "The great thing is that people are using the trails for transportation, which is something we want to encourage," he says. "No one wants to say no (to e-scooters). The biggest factor we'll be monitoring is user safety. We're pushing the need for trail etiquette and the three c's: courtesy, caution, and control. There are a lot of users of all ages and abilities on the trails, so mindfulness will help everyone to have a good time."
Trible-Laucht says she'll also be digging into state law to determine what the city is allowed to do in terms of regulating e-scooters. There are gray areas on issues like determining responsibility for when a scooter is left in a hazardous place, such a blocking a sidewalk: Is that the user's fault, or Daily's? How can a violation be enforced? "It'll be a bit of a nuanced thing to figure out," she says.
No one The Ticker interviewed advocated for an outright ban on e-scooters. Trible-Laucht says she'd have to research whether that's even a legal option for the city. Instead, most officials would like to see better guidelines in place to allow for the safe and regulated use of such devices. E-scooters aren't the only new form of alternative transportation coming to Traverse City; the Groundwork Center's TC Mobility Lab is also preparing to launch a bike-share program, offering 75-100 bikes at 15-20 locations throughout the city. While the bike-share program was initially targeted for an August launch, TC Mobility Lab Director Jim Bruckbauer says it will now be rolled out next spring. "We'd like to take a little bit more time to make it more successful, looking closely at the right locations for the stations and developing strong guidelines with the city on how they're used, as well as engaging with the community about the program," he says.
Daily is hopeful he can work with TC Mobility Lab to add scooter docking spaces next to the bike-share spaces, promoting centralized locations throughout the community where shared vehicles are stored. Bruckbauer says e-scooter and bike-share programs can be a viable transportation option in Traverse City – as they are in many places around the world – if implemented thoughtfully and with the right infrastructure in place. "They just have to be part of a larger strategy around transportation choices," he says. "In order to be an asset and not a liability, we have to create some guidelines around how they're used and where they're parked. And I think this community can do that."
Comment
Amid Nationwide Lucky's Market Closings, TC Store To Remain Open
Read More >>
These Local Teachers Are Institutions
Read More >>
Eighth/Boardman Light Planned For Early March Installation
Read More >>
Unfair Funding? GT County Seeks Answers On Mental Health Services
Read More >>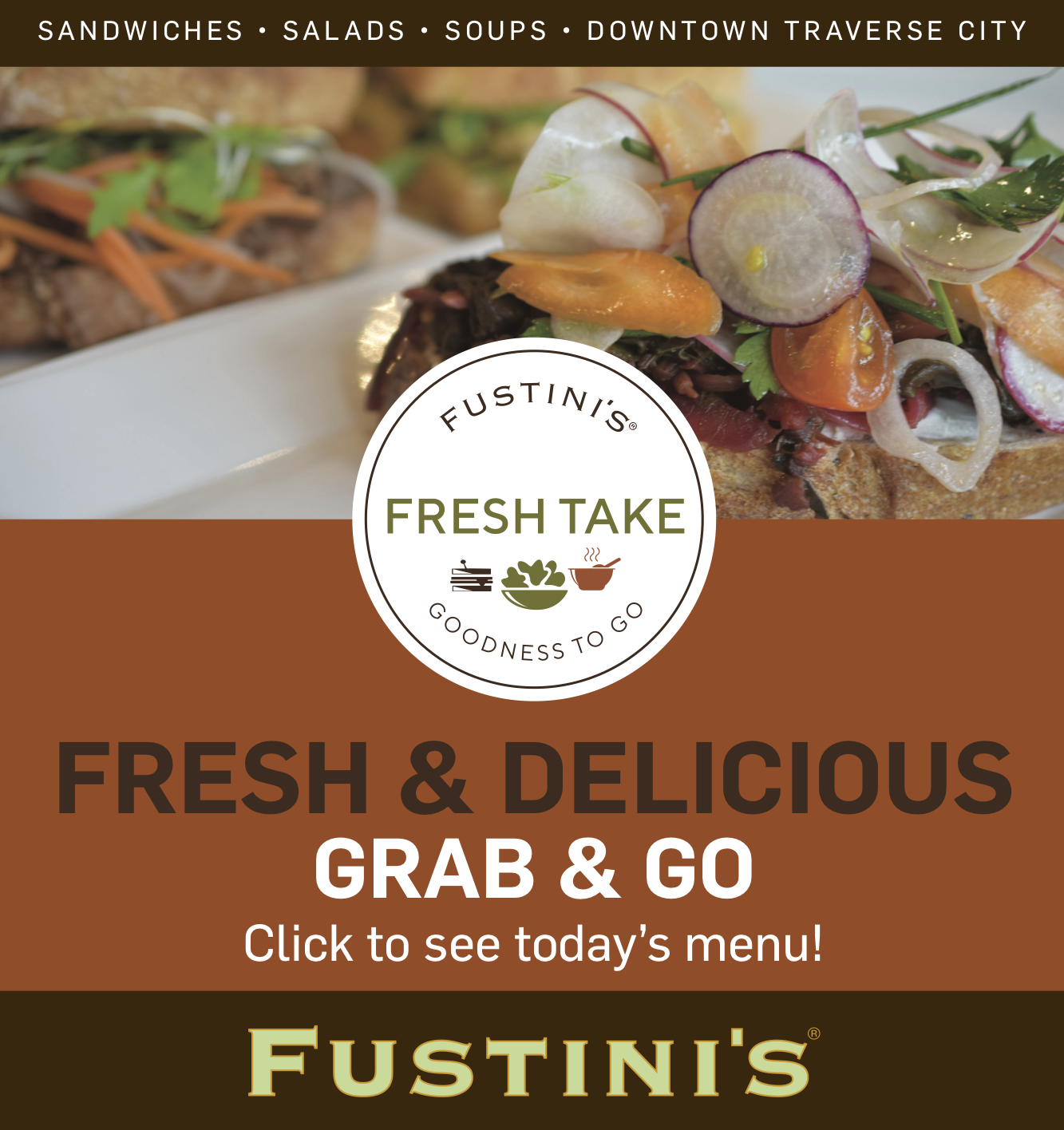 Time To Make Tracks
Read More >>
DDA Targets 2020 Projects, Wadsworth/Hall Intersection Improvements
Read More >>
Viking Cruise Ship Will Visit Traverse City
Read More >>
Oral History Projects Aim To Capture Local Stories, History
Read More >>
City Commission Decisions Coming On Coal Tar Ban, Setbacks, Front/Madison Stop
Read More >>
Driver Arrested After Crashing Into Propane Tank
Read More >>
Downtown TC Hosts Chili Cookoff Today
Read More >>
REO Speedwagon To Play Cherry Festival
Read More >>
The Ripple Effects Of High Water Around Traverse City
Read More >>
Woman Arrested After Assaulting Officer
Read More >>