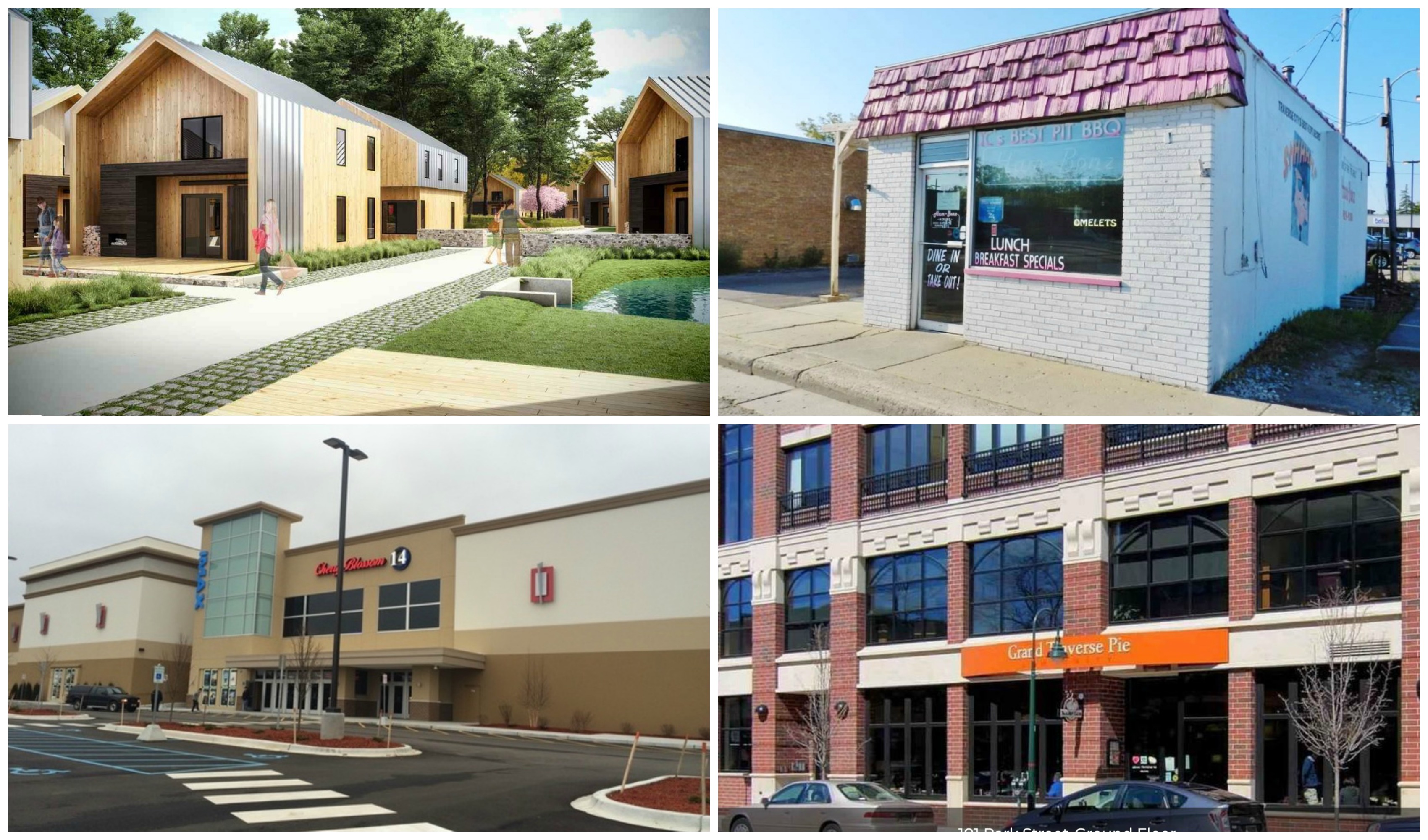 What's For Sale: Developments, Restaurants & More
By Craig Manning | July 5, 2019
Dan Kelly's entire KOTI property in Williamsburg – an ambitious proposed mixed use development -- is now listed for sale on numerous local real estate sites, but Kelly insists the project is still moving forward "full steam ahead," just one of several news items in local commercial real estate.
KOTI (concept drawing top left) has been in development since late 2017, when The Ticker reported that Kelly was planning to turn an 18-acre property off of M-72 into a 76-unit condominium resort with commercial space available for offices, restaurants, and retail. As of January, Kelly was projecting that construction on the new development would begin this summer.
Recently, though, KOTI was listed for sale for $5.2 million for the property, construction drawings and site plans, details about contractor bids, pre-reservations from condo buyers, and all existing and pending permit approvals for the project. The listing called into question if Kelly is still interested in pursuing the KOTI project as the developer.
"We're marketing the whole thing," Kelly says. "We're marketing the condos. We're marketing the commercial. All options are on the table. We are planning on moving forward with construction, but if somebody comes along and wants to do the whole project, I'd entertain it. It's one of those 'everything is for sale' kinds of things."
Kelly adds that it is "pretty unlikely" that someone would purchase and take over the development at this stage. In the meantime, the project is moving forward – albeit with a slightly delayed timeline.
"We're pushing [construction] back to this fall, and it may not even happen until next spring," Kelly says. "The whole permit process takes a long time. We're almost there with the permits, and we're putting the project out to bid right now."
In other real estate news…
The Ticker has previously reported on the listings of properties such as the former Hooters building on US-31, the building that houses Traverse City's AMC Cherry Blossom 14 movie theater, and a private 3.8-acre island on Silver Lake. These properties are all still on the market but have seen price fluctuations. The Hooters building is listed for $1.4 million, up from $1.3 million in 2016. The theater building is priced at $18,932,000, down from $18,959,000 in January. And the Silver Lake island is listed for $1 million, reduced from $1.15 million in June 2017.
Several major retail complexes in the area are also up for sale.
A 14,777-square-foot section of Logan's Landing is now listed; it accounts for the part of the complex situated on the east side of Boardman River, as well as the bridges that connect to the other half of the complex. That section, which boasts the former home of the restaurant Auntie Pasta's, is listed for $1,325,000 by owner Vince Amroian, who operates the Logan's Landing-based Vince's Jewelers. The portion of the complex on the west side – which features tenants such as Panda North and Ebb Tide Resale Shop – is under different ownership.
The three buildings that make up Kid's Creek Marketplace on South Division are also for sale, both separately and together. The entire 30,000-plus-square-foot complex – which currently hosts tenants like Little Caesar's, Biggby Coffee, and T-Mobile – is listed for $4,965,950. Just down the street, the Fifth Third Bank building at 14th and Division is also for sale for $1.3 million; the bank will be vacating this month.
On the restaurant front, the buildings left vacant by the recent closures of Ham Bonz and Bistro Foufou are both on the market. The Ham Bonz location, at 1108 East Eighth Street, is going for $234,900. The Foufou space, meanwhile, located at 118 Cass Street, is listed for $475,000, noting that a buyer would take over Foufou's "sweetheart" eight-year lease, rather than owning the property outright. The price would include all equipment, Foufou's liquor license, and the improvements the previous leaseholders made.
Also on the market is the space that's currently home to Grand Traverse Pie Company at 101 Park in downtown TC. When asked what the $1.1 million listing might mean for GT Pie Co., which has occupied the space since 2011, owner Mike Busley tells The Ticker that the business still has another two years on its lease and will likely stay put regardless of what happens.
"We're fine just leasing away here," Busley says. "And if there's an opportunity to acquire the property at what in our minds would be a reasonable rate, we'd be interested in that. Otherwise, we'll continue to lease."


Comment
TC Commission Approves Front Street Closure Plan
Read More >>
Whitmer Reopens More Local Businesses
Read More >>
New E-Bike Shop, Third Cuppa Joe Location Coming To TC; More Openings/Closings
Read More >>
Blair Township Man Arrested For Child Abuse
Read More >>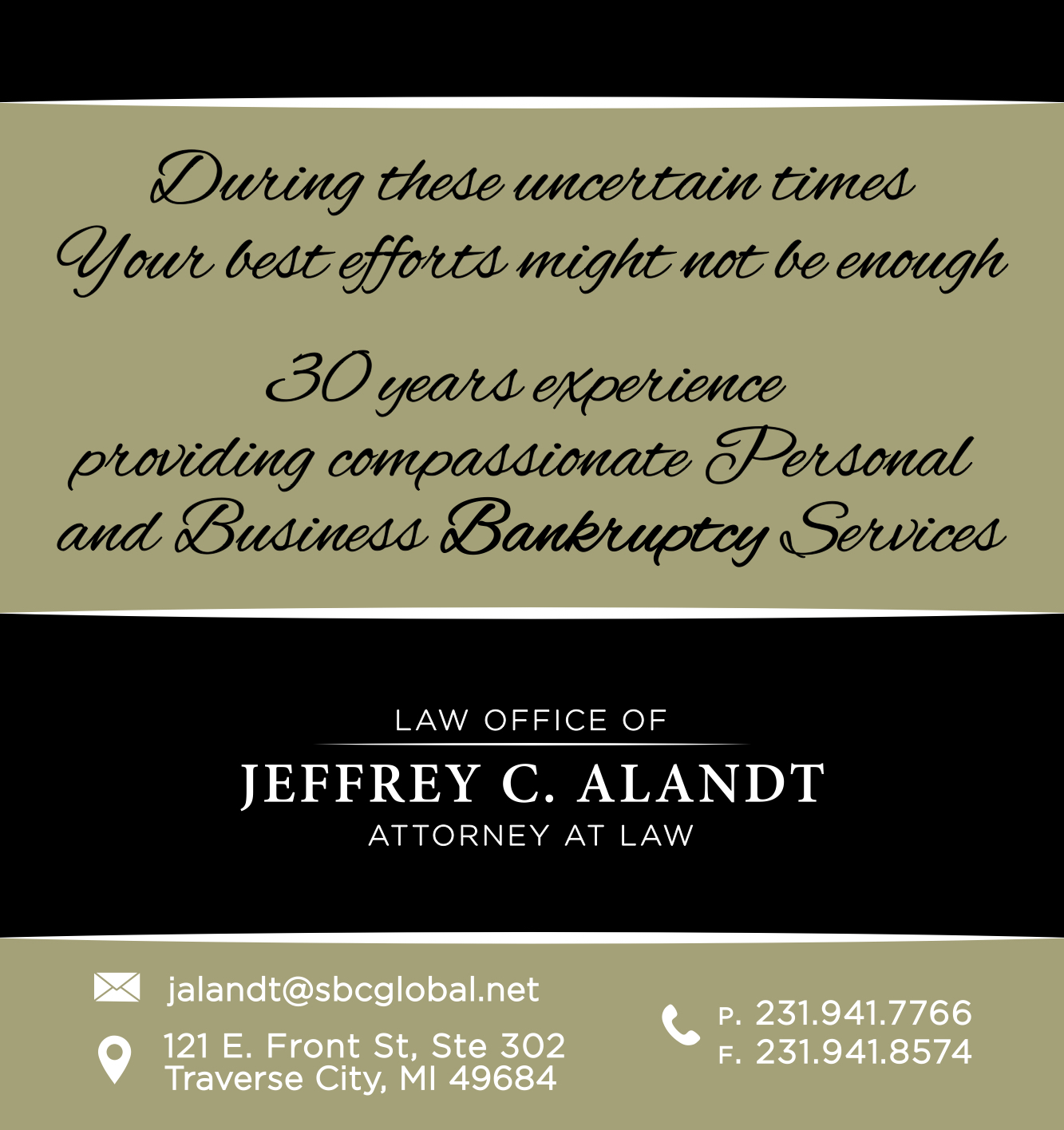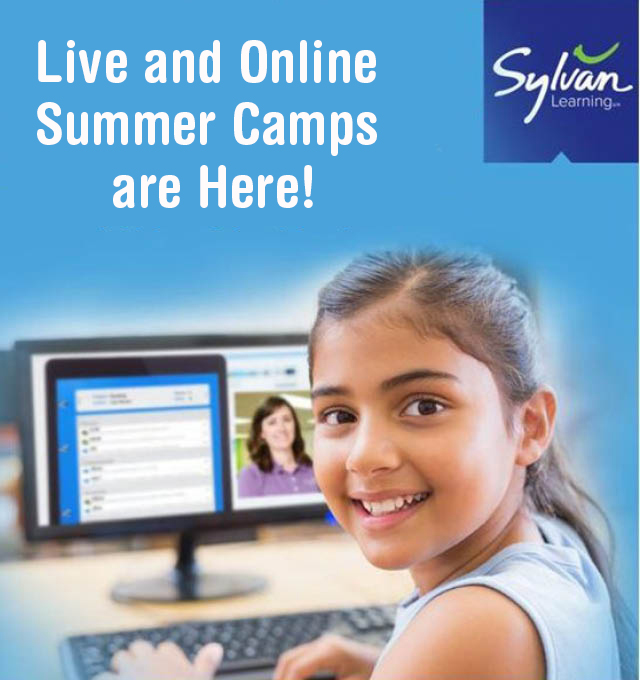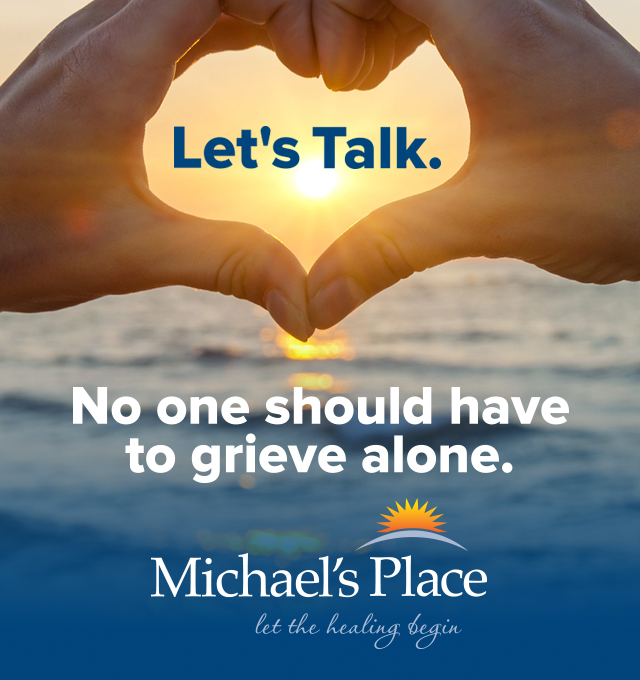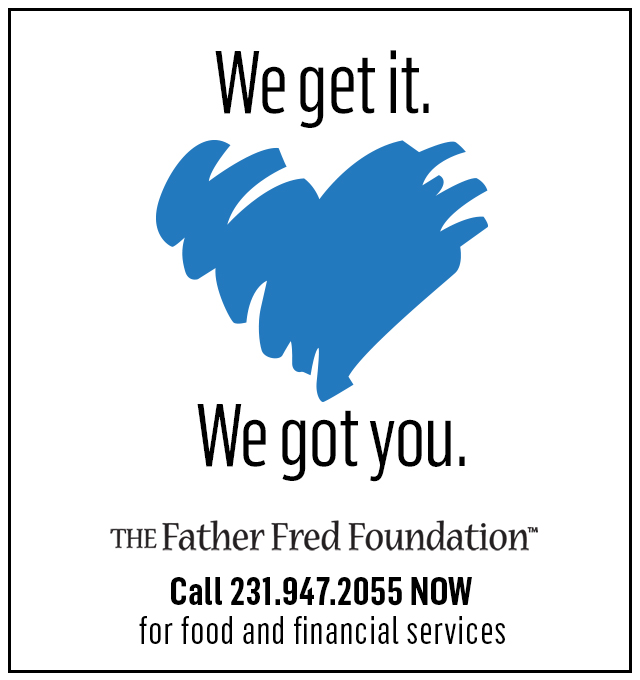 835 Coronavirus Tests Administered During Free Testing Weekend
Read More >>
Your 2020 Summer-Hike Hot List
Read More >>
Some Advisories Lifted For Downtown TC Beaches
Read More >>
A Revitalization Of "Restaurant Row" In East Bay Township?
Read More >>
Will Front Street Become Pedestrian Only? We'll Find Out Monday.
Read More >>
Free Drive-Thru COVID-19 Testing Offered This Weekend At Turtle Creek Stadium
Read More >>
After A 95 Percent Drop In Passengers, Cherry Capital Airport Inching Back To Normal
Read More >>
Four New Positive Cases Identified In GT County, Public Exposure Locations Shared
Read More >>
Two More Cases Identified In Grand Traverse County, Both From Community Spread
Read More >>
54,000 Gallons Of Sewage Spilled Into Boardman, According To Estimates
Read More >>