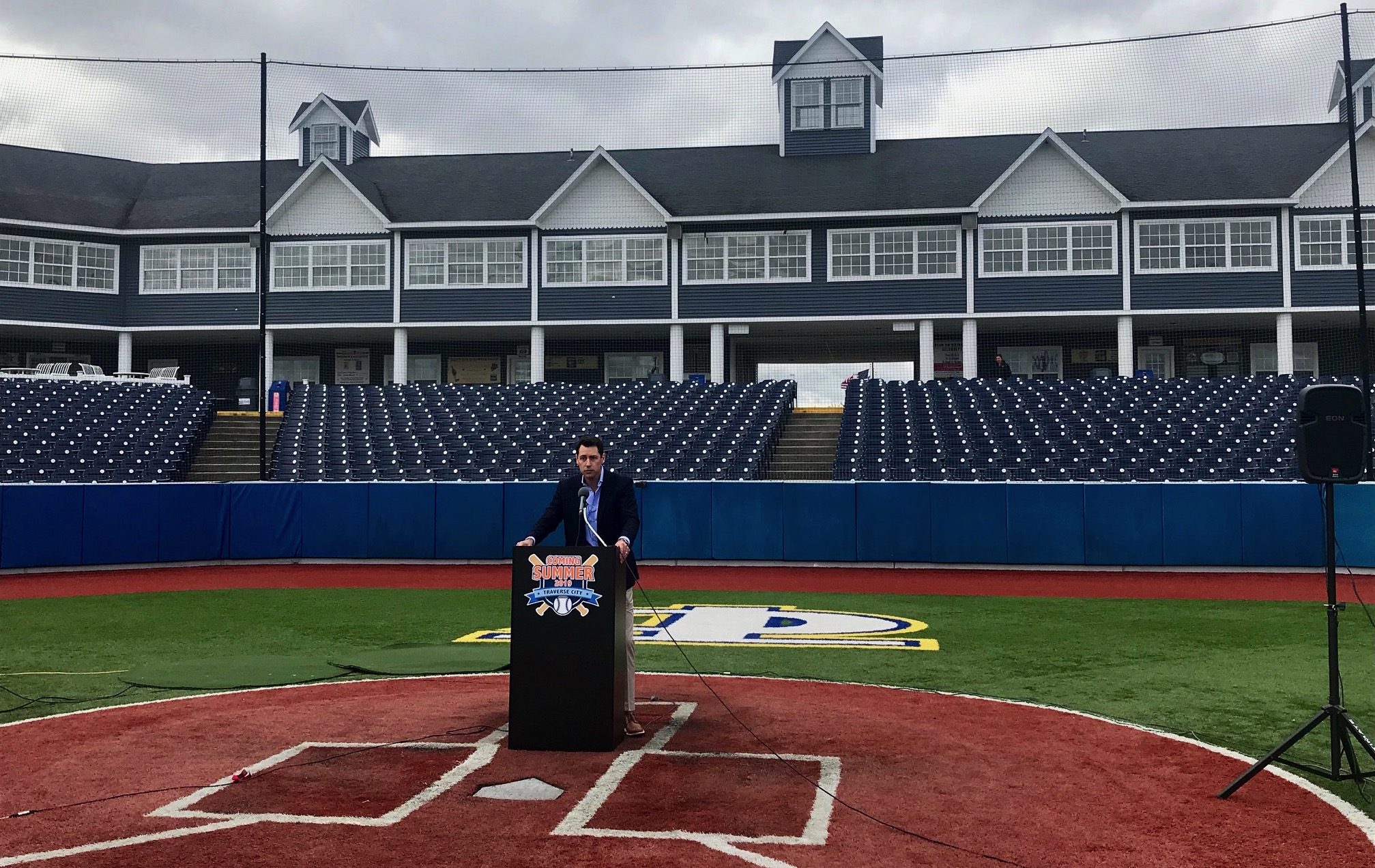 Beach Bums Sale Leads Changes For Chums Corner
By Beth Milligan | Sept. 27, 2018
The Traverse City Beach Bums and Wuerfel Park have been sold to a new ownership group that plans to bring a new baseball team and year-round programming to the park – one of numerous projects underway that are transforming Chums Corner in Blair Township.
Traverse City Baseball, an investment group led by the Detroit Tigers-affiliated minor league baseball team West Michigan Whitecaps, announced at a press conference Wednesday it has purchased the Beach Bums and Wuerfel Park. Confirming rumors previously reported by The Ticker in early September, the new Traverse City team will play as a Northwoods League affiliate beginning in May 2019. The Northwoods League has 22 teams across the upper Midwest and Canada attracting college talent from around the country, boasting alumni including Chris Sale, Max Scherzer, Curtis Granderson, and Jordan Zimmerman. Two other Michigan teams also belong to the Northwoods League, including the Kalamazoo Growlers and the Battle Creek Bombers.
"Fans should expect a new, more interactive experience, complete with innovative promotions, new food options, and facility upgrades to enhance the ballpark fun," Traverse City Baseball said in a release about planned changes to the venue. The Beach Bums team and Wuerfel Park will be rebranded as part of the transition; Whitecaps CEO Joe Chamberlin, who will oversee operations, hinted the ballpark will likely be named for a corporate sponsor similar to the Whitecaps' home Fifth Third Ballpark in Comstock Park.
A public contest to name the new Traverse City baseball team is being held now through October 15 online at Traverse City Baseball's new website.
The Northwoods League is a for-profit summer collegiate, wooden bat baseball league that plays 72 games between May and August, including 36 home games. According to Chamberlin, players are not paid and must maintain National Collegiate Athletic Association (NCAA) eligibility. As with the Beach Bums, players will stay with local host families. Citing the tourism appeal of Traverse City and training amenities at Wuerfel Park, Chamberlin said Traverse City Baseball had a strong recruiting advantage in the league.
"In terms of being a marketable location to pull top-tier college athletes, we feel like we're in pretty good shape," he said. "We want to place a focus on having a very competitive team."
Chamberlin also told press conference attendees his organization wants to take "a vastly underutilized facility and turn it into something that is incredibly special for Traverse City and the surrounding community." He said his group plans to quickly begin exploring year-round programming opportunities for Wuerfel Park, citing options ranging from concerts to beer festivals to high school baseball and football programs. "You name it, we're going to be open to it," he said.
Chamberlin said Traverse City Baseball will likely employ approximately 10 year-round employees in its first year, with a significant boost in seasonal jobs for the 2019 summer launch.
For realtor James Schmuckal, a Blair Township native with long-time family ties to the area who first helped the Wuerfels find their ballpark site, the team sale is reflective of the "biggest growth pattern" he's ever seen in Chums Corner. Schmuckal estimates he's been involved in 75 percent of the real estate deals that have occurred in the US-31 corridor in recent decades and details numerous new developments springing up in the district. In Chums Village – the commercial park where Wuerfel Park is located – multiple new businesses have either opened or are under construction this year, including Aker Outdoor Products, PepsiCo, and Richter Construction, Inc. Waggener Electric is also reportedly coming to the park; Schmuckal adds he's received an inquiry from a boutique hotel wanting to open at the site.
Additional development is occurring nearby. Behind Mancino's Pizza & Grinders, Schmuckal says he's sold a lot that will soon be home to a 12,000 square-foot, five-unit mixed-use development that can host both commercial spaces – such as retail stores – and "light industrial" business. Next door on US-31, Midwest retail giant Blain's Farm & Fleet is constructing a $10 million, 100,000-plus square-foot retail store off Rennie School Road set to open in spring 2019. The project will necessitate the installation of a new traffic light at the Rennie School Road/US-31 intersection, as well as improvements to connect Rennie School Road and Stadium Drive.
Behind Blain's, another 27 acres are being targeted for purchase for the development of "business storage and warehouse operations with an estimated investment of $7.5 million," according to the Grand Traverse County Land Bank Authority, while another 25 acres further back on the property are slated for future residential development. A new $9.5 million veterans affairs clinic – the Demas T. Craw Department of Veterans Affairs VA Community Based Outpatient Clinic – is also planned to open across US-31 as soon as spring 2019 at the former Metro Coney & Grill property.
"I'm so excited – all of this development has been such a collaborative effort, and has brought so many developers and people together working toward the same goal," says Blair Township Supervisor Nicole Blonshine. "It's teamwork, it's positive growth. Many of these developments are just going to draw more and more people outside of our area to the area."
Schmuckal agrees. "You're seeing new businesses you've never thought of before – like the VA center and Blain's – coming in, and now with year-round activity at the baseball park, the dynamics are something we've never seen before," he says. He cites Chums Corner's physical terrain (sprawling and largely absent of sensitive environments like wetlands), proximity to the highway, sewer and water infrastructure, and cheaper land costs than Traverse City as factors he believes will continue to spur corridor growth.
"I used to have many clients who would say they couldn't go south of South Airport Road," he says. "That's changing now. I think you're going to see Chums Corner becoming the new benchmark (for development)."
Pictured: Joe Chamberlin addresses media Wednesday at Wuerfel Park
Commissioners Object To Mandated Sexual Harassment Training
Read More >>
Mental Health Services To Expand At TC West, Kingsley Middle School
Read More >>
Norte Youth Leadership Council Readying For Long Ride
Read More >>
Red Kettles Coming Out
Read More >>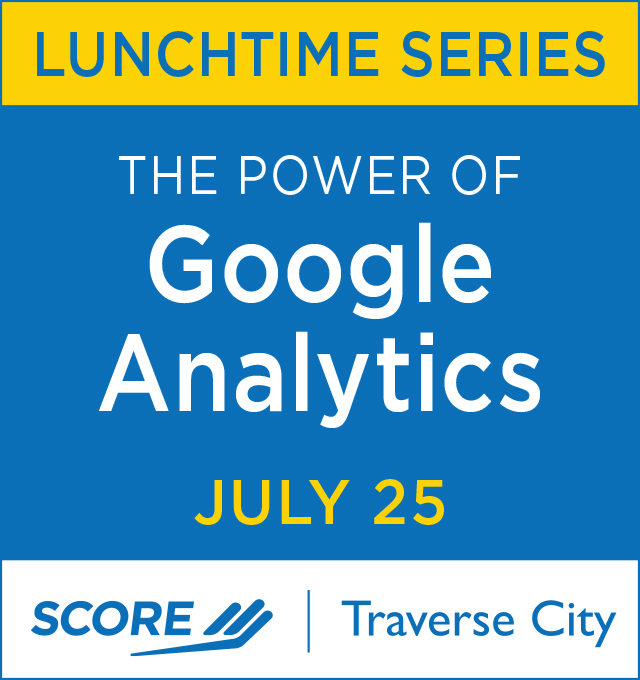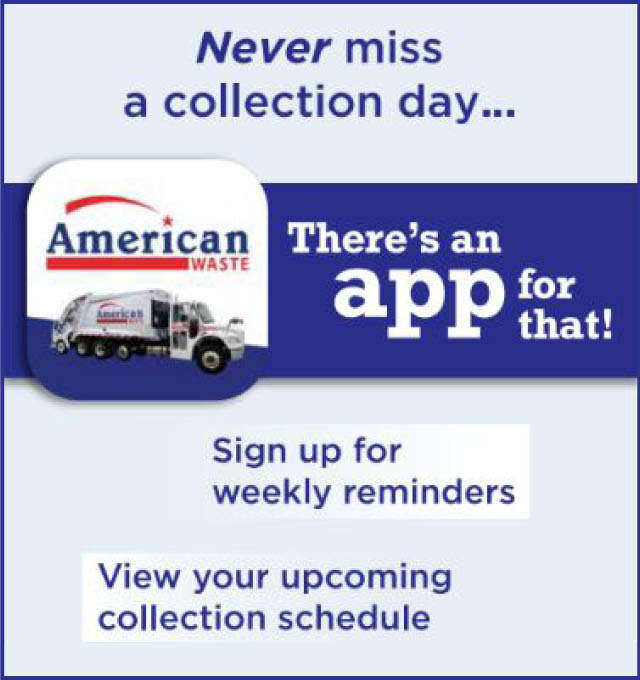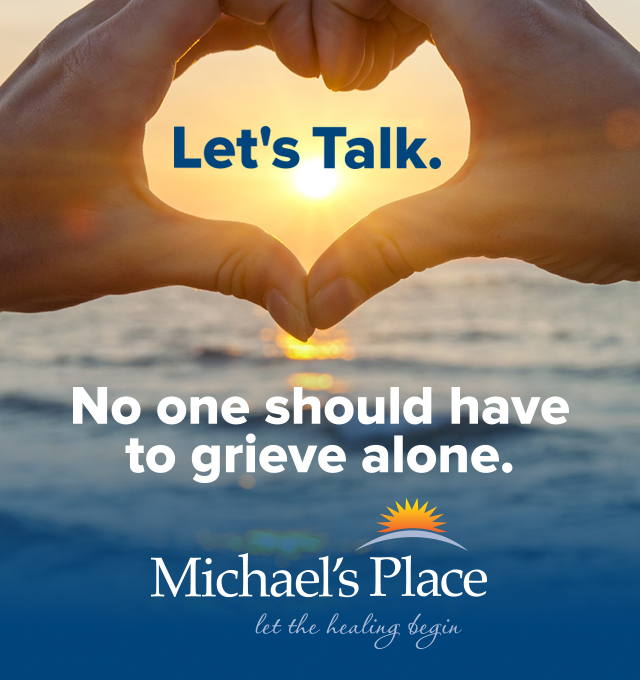 Two Injured In M-22 Crash
Read More >>
What Zillow Says About Traverse City Real Estate
Read More >>
Commissioners Reject Changes To Marina Parking
Read More >>
GT Pavilions Receives $50K Grant From Blue Cross
Read More >>
Where Has All The Permit Parking Gone?
Read More >>
June Home Sales Dip, But Big Year Still Underway
Read More >>
County Looks To Update Sexual Harassment Policy For Officials
Read More >>
New Sidewalk Construction On Kinross, Grant Streets Starting This Week
Read More >>
New Events Planned For City Parks, Dog Beach Considered
Read More >>
Cadillac: Pro-Wrestling Hotbed Of The North
Read More >>