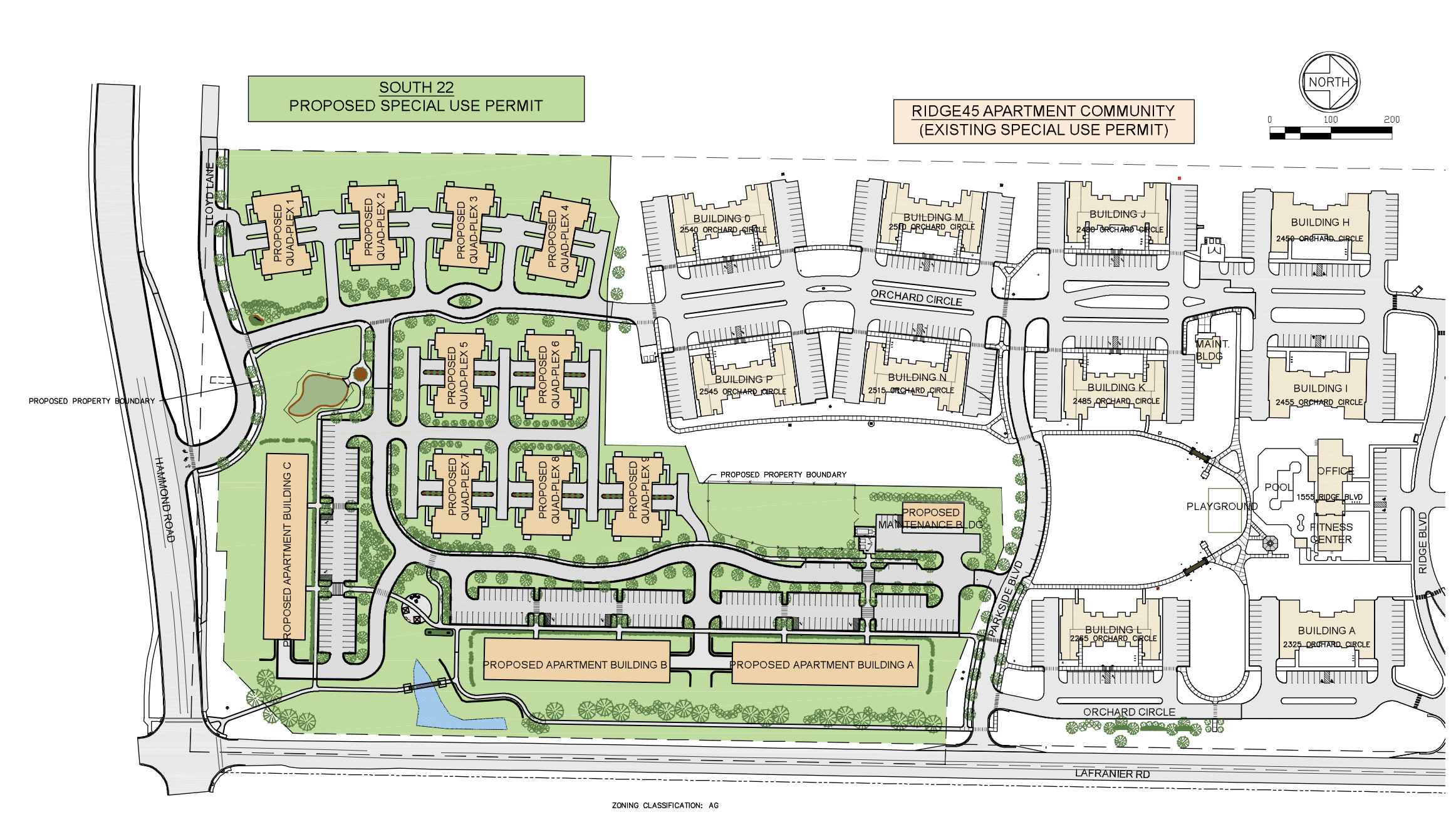 Garfield Township To Vote On 216-Unit Apartment Complex, Medical Clinic
By Beth Milligan | Oct. 13, 2021
After several months of discussion, Garfield Township planning commissioners will vote tonight (Wednesday) on a new 216-unit apartment complex planned for the northwest corner of LaFranier and Hammond roads. The development group behind the Ridge45 and Trailside45 complexes intends to build a new residential neighborhood called South22 on 21 vacant acres next to Ridge45. Planning commissioners tonight will also vote on plans to build a new medical clinic on US-31 near the Franke Road intersection, and will consider taking action on two other housing projects.
South22
Another 216 apartments could soon be coming to the LaFranier Road corridor if planning commissioners approve a special use permit for South22, a proposed development that will abut Ridge45 and feature tenant amenities including a dog park, pavilions, grills, cornhole court, patio area, pocket parks, a pedestrian bridge over a wetlands area, and new sidewalks within the neighborhood and along Hammond and LaFranier roads.
Plans call for constructing three apartment buildings that are three stories each and contain up to 60 units per building, including a mixture of one-bedroom, one-bathroom and two-bedroom, two-bathroom apartments (pictured, rendering). Another nine quadplexes would contain four units each for a total additional 36 units. Each apartment in the quadplex would have a two-car garage plus driveway parking. While the development is only required to offer 270 total parking spaces for the three buildings, 306 spaces are planned. Public sewer and water hookups are planned for the development.
While a traffic impact report is typically required for a development like South22, staff are recommending waiving that requirement because developers aren't adding any new driveways on Hammond or LaFranier roads. Instead, the group is offering up land to reconstruct the intersection of Hammond Road and Lloyd Lane into a proper T-shaped intersection that meets Grand Traverse County Road Commission standards. Access to South22 will be offered from Lloyd Lane to the south and Parkside Boulevard in Ridge45 to the north. "In light of these improvements and design, staff recommends waiving the requirement for a traffic impact report," township documents state.
According to developers, "the plan is for a one-phase development, with construction to commence fall of 2021 with site grading followed by utilities and vertical construction commencing shortly thereafter." The group said that South22 will offer much-needed "multi-family housing in an area that has been designated for such a development." The development only requires planning commission approval, so if the board approves the project tonight, developers will have the green light to proceed.
Medical Clinic
Planning commissioners will also vote tonight on plans for a new urgent care medical clinic to be built on US-31 near the intersection of Franke Road just south of McDonald's. The site is currently vacant but used to be part of the Bill Marsh auto dealership; a 1.61-acre parcel was recently created through a land division. The 4,232 square-foot clinic will have at least 40 parking spaces on-site and is planned to be constructed in one phase, with an estimated November start date and a targeted completion date next May.
According to project documents, the clinic will "significantly decrease the amount of impervious coverage within the site" as most of the property is currently an abandoned parking area. "The proposed medical clinic is a low traffic generator and will not have a significant utility service (water, sanitary, and gas) demand," according to the application. "Existing infrastructure within the US-31 corridor, including the major highway and public utilities, allows for the proposed medical clinic to be built without causing an undue impact on local public services." Medical offices are an allowed use by right in the area with site plan approval from the planning commission.
More Township Housing Projects
Planning commissioners will hold a public hearing tonight on a proposed 60-unit apartment complex called Marengo 31 on nearly 16 vacant acres behind the Baymont Inn between Hartman and South Airport roads. M Brothers Northern LLC is planning to build two three-story buildings, each with 30 units featuring a combination of one and two-bedroom apartments. Ninety-five parking spaces are planned for the development. A large majority of the site would be preserved as undisturbed wetlands area, with over 19,000 square feet of common outdoor open space and a BBQ area offered for tenants. If planning commissioners are comfortable with the plans to date, they can direct staff tonight to prepare a findings of fact report and then vote on the project's special use permit at an upcoming meeting.
Planning commissioners tonight will also consider scheduling a November 10 public hearing on plans from Woodmere Crossing to build five new 10-unit buildings with 50 detached garages at the northwest corner of Premier Street and Woodmere Avenue. The development group has a planned unit development (PUD) – or a zoning plan tailored to a specific property – for the residential site and previously constructed 11 10-unit buildings on an adjacent parcel. Because residents are now living on-site, staff recommended that planning commissioners hold a public hearing before approving a minor amendment to the Premier Place PUD that would allow the next phase of development to move forward and 50 more units to be built on the property.
Comment
Traverse City's Graduating Class Of 2023 Wants To Save The World
Read More >>
DDA Eyes Project List, Citizen Advisory Council for New TIF Plan
Read More >>
First-Ever International Fireworks Championship Coming to TC
Read More >>
Is Traverse City Spartan Country?
Read More >>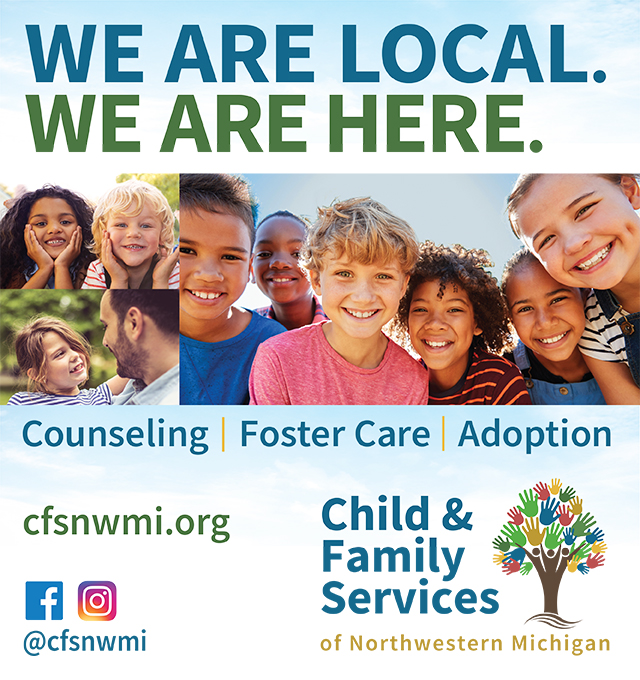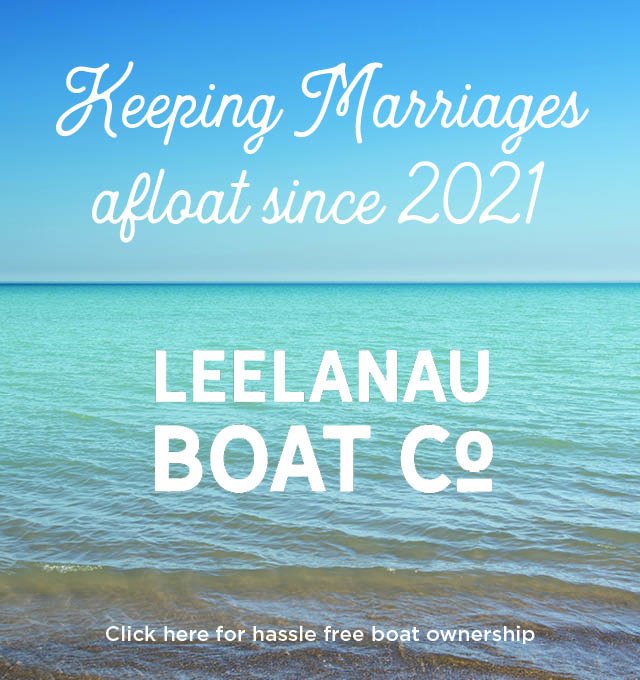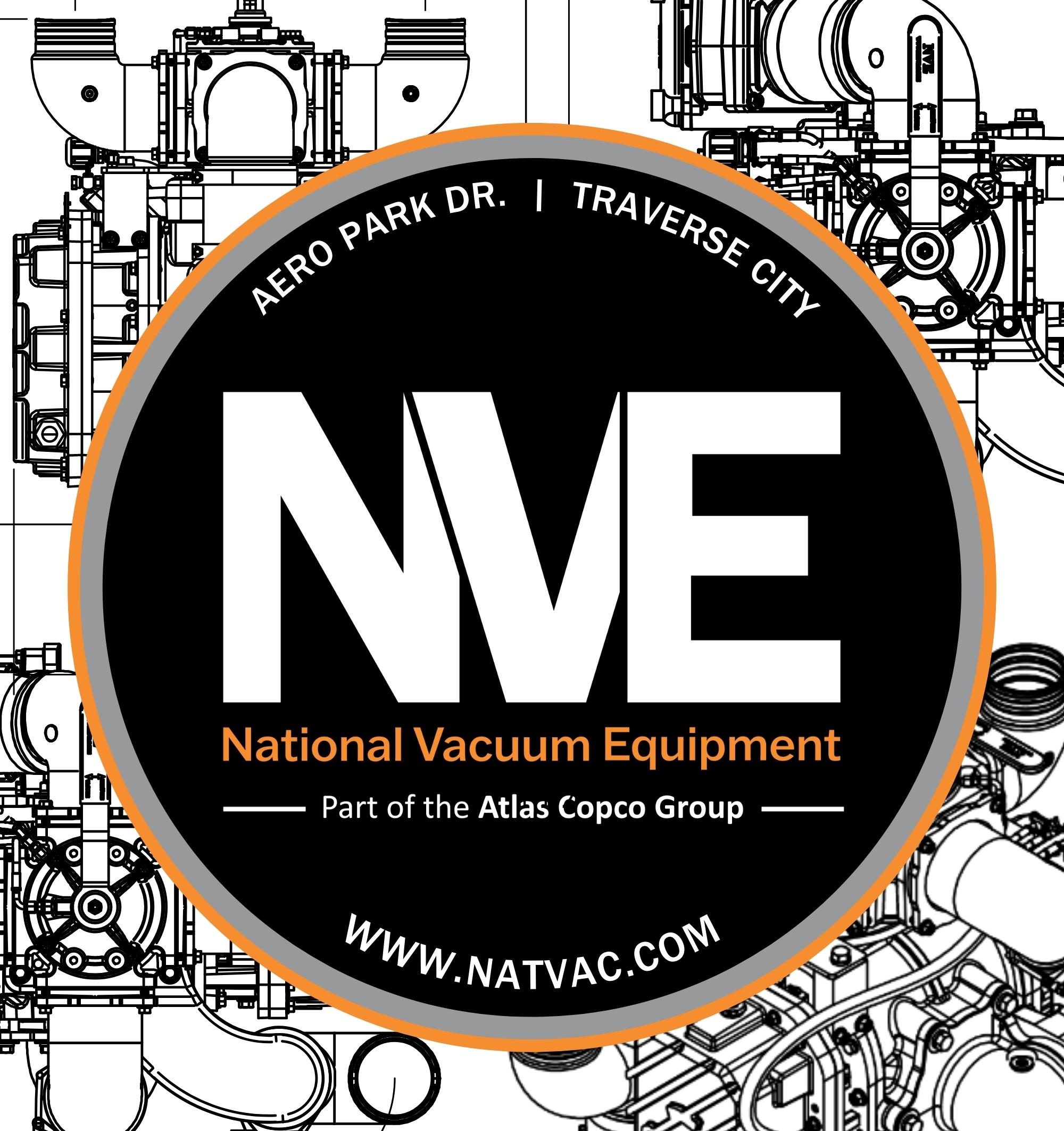 Seven Hills Opens on Old Mission Peninsula
Read More >>
Off To The Races: An Early Look At 2023 Mayoral And City Commission Elections
Read More >>
Interlochen Cyclist Killed in Car Crash
Read More >>
Kingsley Woman Arrested for Possessing Taser, Meth
Read More >>
Free Housing And Cash: Munson Ups The Ante For Nursing Openings
Read More >>
Introducing The New Mustang
Read More >>
Road Commission Updates: Roadkill Stalemate, Keystone Parking, South Airport/Silver Lake Intersection Rebuild
Read More >>
Nominations Now Open For 17th Annual Hagerty TCBN 40Under40
Read More >>
Memorial Day Events In And Around Traverse City
Read More >>
Rail Renaissance: What's The Status Of TC-To-Downstate Rail Corridor?
Read More >>