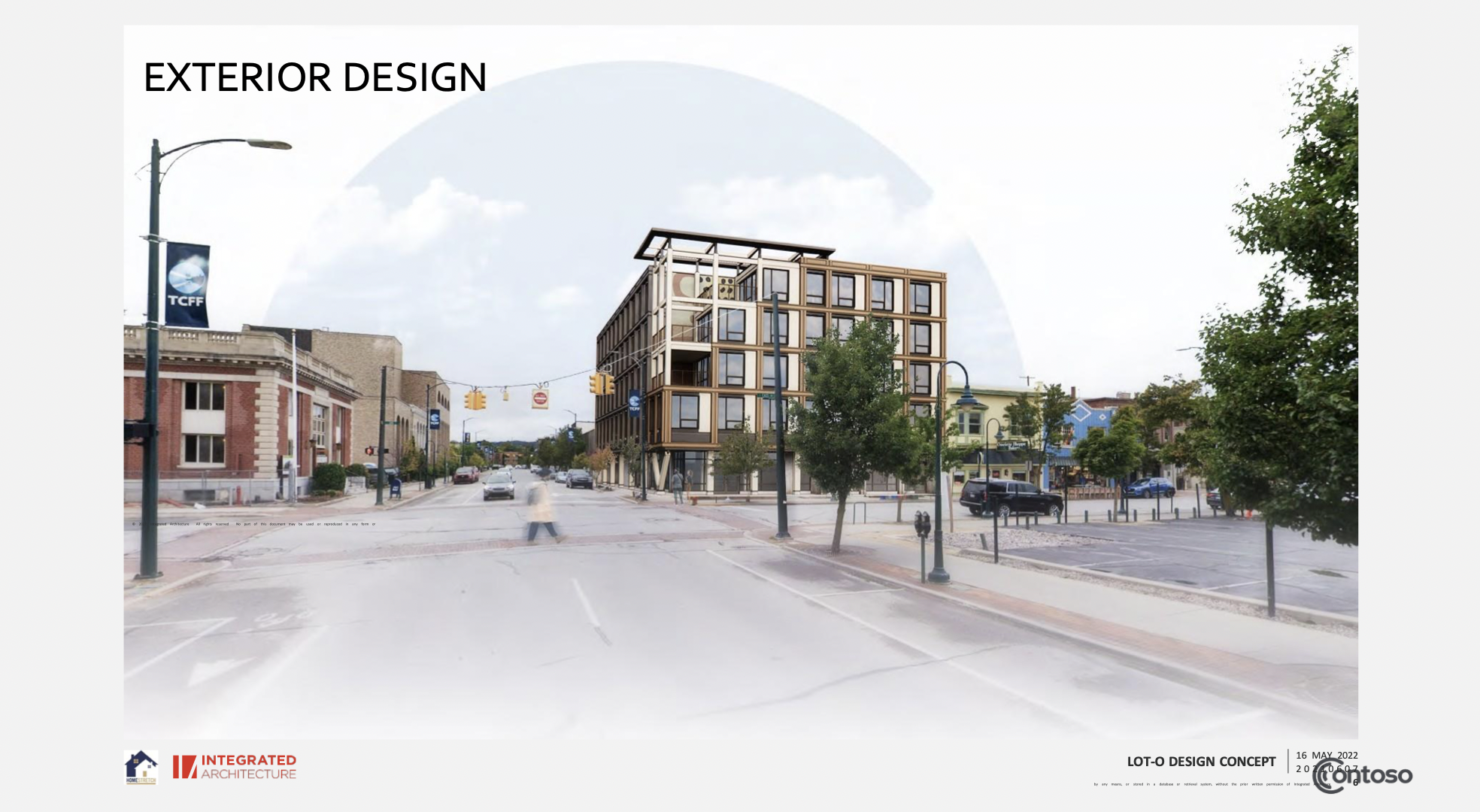 Housing Project Planned For Downtown TC Parking Lot
By Beth Milligan | June 11, 2022
After revising design plans to accommodate a recent court ruling that determined all parts of new buildings must be under 60 feet in Traverse City to avoid triggering a public vote, nonprofit affordable housing developer HomeStretch is ready to move forward with a project to construct a mixed-use housing development on Lot O at the northwest corner of Cass and State streets in downtown Traverse City.
Traverse City commissioners will review HomeStretch's proposal at their 7pm Monday study session. Last year, commissioners approved issuing a request-for-proposals (RFP) to find developers interested in building housing on Lot O – part of a broader city goal to consolidate parking into decks and convert surface lots to more productive uses, particularly housing. The city received four proposals for redeveloping Lot 0, with a committee of staff and commissioners selecting HomeStretch as the top candidate. At the time, HomeStretch proposed building a 64-unit mixed-use development on the property.
But shortly after the proposal was selected and HomeStretch and the city began negotiations for a property transfer of Lot O, Judge Thomas Power ruled in a lawsuit that no part of any new buildings in Traverse City could exceed 60 feet without triggering a public vote. Historically, the city's system of measuring height excluded parapets, steeples, clock towers, and other mechanical or architectural features. According to City Manager Marty Colburn, HomeStretch's planned building had an elevator shaft and other rooftop features that exceeded 60 feet – allowed by the city previously, but no longer after Power's ruling. "Since then, HomeStretch has worked hard to revise its design to stay under the more restrictive 60-foot limit while maintaining the number of floors proposed in their original submittal," according to Colburn.
HomeStretch's new proposed building now contains 60 units – four fewer than previously planned – but remains a five-story, mixed-use development with over 5,000 square feet of leasable ground-floor commercial/retail space and four upper floors of rental units. According to project documents, the apartments will include 46 studios ranging from 245 to 480 square feet and a rent range of $800-$950. Another 10 units will be one-bedroom, 600-square-foot apartments with a rent range of $1,150-$1,300. The remaining four units will be two-bedroom, 750-square-foot apartments with a rent range of $1,400-$1,500 (the most expensive units in each category are on the fifth floor, offering the best views).
According to HomeStretch, 40 units on the third and fourth floors will be "cooperative-style" rentals with access to a large communal kitchen (including a vegetarian cooking area), a dining/lounge area, and an outdoor terrace. "The unit concept on these floors is a collaborative-style that residents would rent an efficient type of accommodation with space for a bed and study/relaxation as well as in-room grooming, a 'kitchenette' and microwave and sink," according to project documents. "A communal laundry, as well as a quiet area, is also planned on each floor along with a refuse and recycling area." Tenant selection for the cooperative-style units will be based upon being at 0-40 percent of the area median income (AMI) level, with a maximum rent of $800 per month for non-voucher tenants (rents could be lower for those using housing choice vouchers and project-based vouchers, which will be accepted in the development).
According to HomeStretch, tenant preference will be given to "income-qualified employees and workforce in the city," including renters with "verified current and future employment with a downtown-based company." HomeStretch says target income levels for most renters in the Lot O building will be the "missing middle" salary range of $30,000-$74,000 annually. The organization interviewed 72 downtown businesses and found that 38 percent of those businesses are cutting operational hours because of staffing shortages, 71 percent are looking for employees, and 67 percent have one or more employees who drive over 30 miles to work. Offering more rental housing will help boost the downtown employee base, according to HomeStretch, who also cited increased business and revenue, the ground-floor retail space, increased surrounding property values, and improved stormwater retention as benefits to the city in the project.
Project documents describe the development as a "highly sustainable" building to be constructed out of mass timber with a vegetated roof system, recycled building materials, energy-efficient plumbing and HVAC systems, and the potential for photovoltaic roof arrays "to provide renewable energy and minimize grid dependence." The building design – led by Grand Rapids-based firm Integrated Architecture – maintains vehicle access from State Street to the parking spaces behind businesses such as My Secret Stash and The Omelette Shoppe. The retail space will have frontage on both Cass and State streets and allow for rear access for service and deliveries.
Jonathan Stimson, executive director of HomeStretch, says the organization is "pursuing multiple viable (funding) paths to deliver the Lot O development." The nonprofit submitted an application this month to the Michigan Economic Development Corporation (MEDC) for Revitalization and Placemaking program funds. Contingent on the outcome of that application, HomeStretch could seek additional grants through the Michigan State Housing Development Authority (MSHDA) or apply to the state's Low Income Housing Tax Credit (LIHTC) program. Financing will be supported by a construction loan from Independent Bank, which "does not require a permanent loan commitment in place at the time of the construction loan closing," according to Stimson. "The development team plans to go to market for the permanent financing when construction is completed." The permanent loan is estimated to be $6.5 million. "Further financial feasibility will be sought through lowered operational costs, consideration given to land acquisition, capital subsidies, and an approved Payment in Lieu of Tax, or PILOT," Stimson adds.
Multiple local leaders and organizations wrote letters of support for the project to the MEDC, including Colburn, Traverse City Downtown Development Authority (DDA) CEO Jean Derenzy, Grand Traverse County Deputy Administrator Chris Forsyth, MassTimber@MSU Director Sandra Lupien, Northwest Michigan Community Action Agency Executive Director Kerry Baughman, Northwest Michigan Coalition to End Homelessness Director Ashley Halladay-Schmandt, Groundwork Center for Resilient Communities Transportation Program Manager Carolyn Ulstad, Housing North Executive Director Yarrow Brown, and Goodwill Northern Michigan Executive Director Dan Buron.
"We believe strongly in the benefits of downtown housing, a blend of different housing types, and the use of quality building materials and systems with attention paid to the housing experience of residents and health of the environment in which they live," Buron wrote. "We have had a long-term relationship with HomeStretch and have partnered on housing solutions for years. We have a tremendous amount of respect and confidence in their ability to take a concept to implementation effectively." Buron said Goodwill is interested in collaborating on the Lot O project, including "supporting the inclusion and management of 0-30 percent AMI housing units." Having minimal parking on-site "is not a concern," he added, "as many of our residents do not have access to a vehicle, making the walkability of a downtown solution ideal."
According to a proposed timeline submitted to the city, HomeStretch aims to work on fundraising, entitlements, architecture, engineering, and bidding through July 2023. Construction would start in August 2023, with the goal of occupancy permits being issued by December 2024. Because Monday's city commission is a study session, commissioners won't take any action on the proposal but instead will receive a presentation from Stimson and discuss the project. Colburn says staff will then work with the city attorney "to prepare a purchase agreement (for Lot O) for authorization in the future by the commission."
Pictured: Rendering of proposed Lot O building as seen looking west from State Street
Comment
Impact100 Traverse City Announces Latest Grant Recipients
Read More >>
Three Hundred Miles in 24 Hours
Read More >>
Munson to Ramp Up Outpatient Efforts, Regionalize Inpatient Care
Read More >>
Man Arrested After Concerns Over Blair Township Threat
Read More >>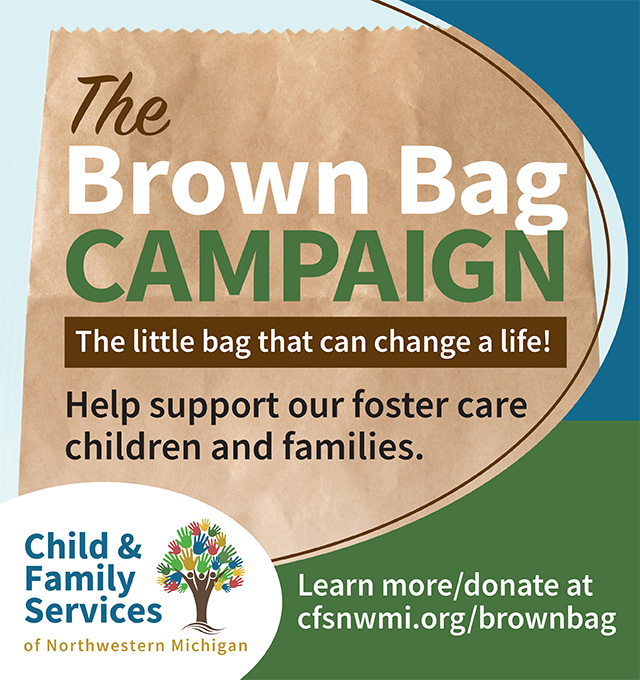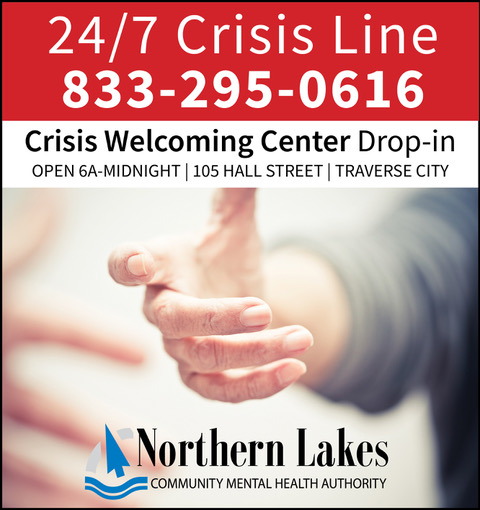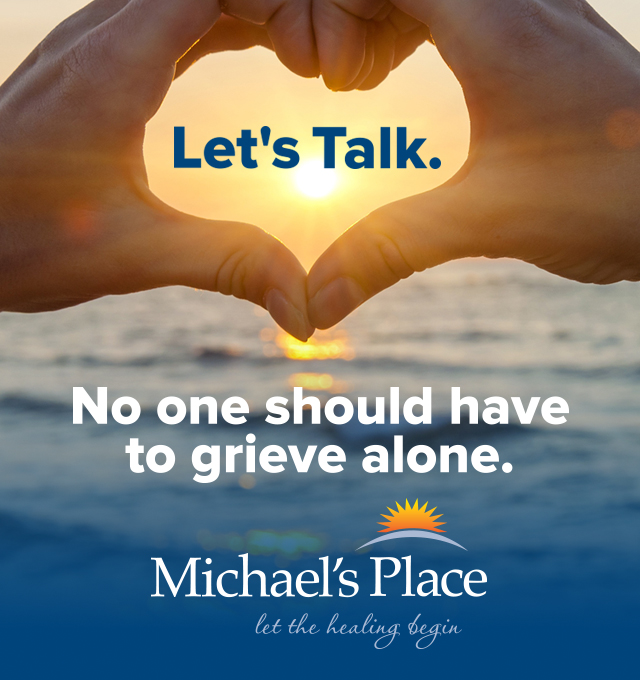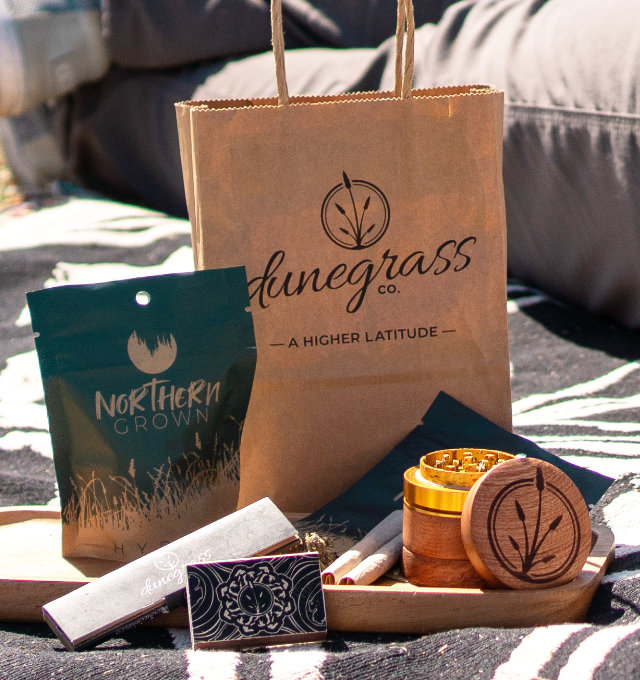 Man Arrested After Standoff in Central Neighborhood
Read More >>
Building Peninsula Shores
Read More >>
GT County Commissioners Approve Peninsula Parks Funding, Remote Work Policy
Read More >>
Join Us For Fall Recess Next Week at Seven Hills on Old Mission Peninsula!
Read More >>
Local NMC Students Traveled To Morocco Earthquake Epicenter Months Before Disaster Struck
Read More >>
TC Curling Center Sweeps Past Expectations
Read More >>
Commissioners to Offer City Manager Position to Vogel
Read More >>
From Frenzy to Focus: Northern Michigan's Fall Real Estate Update
Read More >>
Senior Services Take the Spotlight
Read More >>
Grand Traverse State Bank To Be Traverse City's Newest Bank
Read More >>