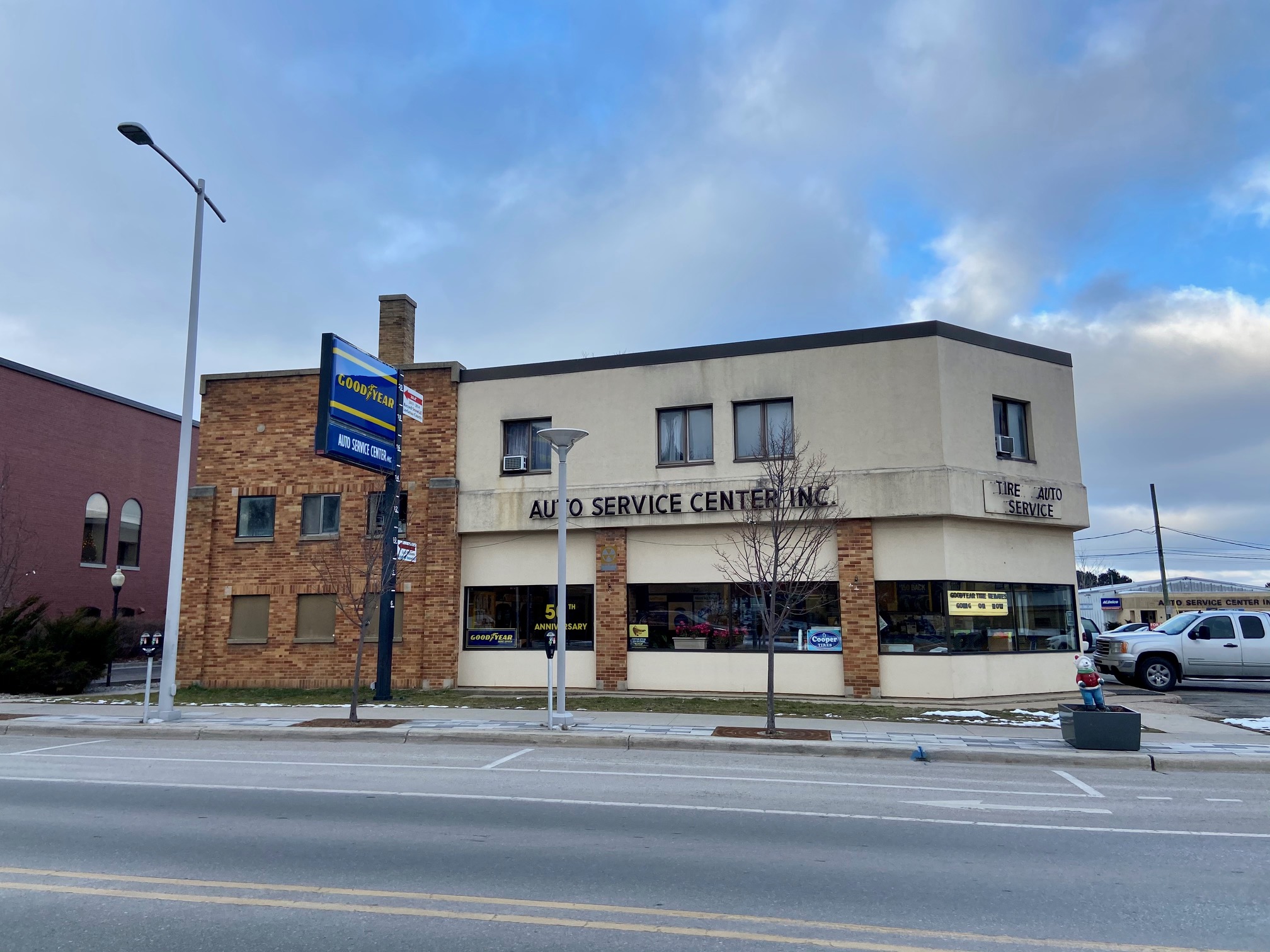 New Plans For Front St Building, Tasting Room Coming To Elk Rapids, More Retail/Restaurant News
By Beth Milligan | Jan. 11, 2021
A new owner and new plans are in store for the long-time Auto Service Center building on West Front Street in Traverse City, a new winery tasting room is opening in Elk Rapids, and numerous other openings and closings are underway in The Ticker's latest look at retail and restaurant news.
Auto Service Center
The Auto Service Center at 436 West Front Street – often called the Goodyear building by locals – has been sold to a new owner, with long-time owner Gary Gorton retiring.
Traverse City entrepreneur Troy Daily closed on the building purchase Friday, with plans to update and operate the site as a mixed-use, year-round facility with multiple tenants starting this spring. Daily says he plans to retain a scaled-down auto service center as one tenant, with another being his own Kayak, Bike & Brew tour business. That operation will relocate from its current headquarters in the Warehouse District to West Front Street. In addition to seeking a handful of other retail tenants for available space, Daily has secured as the primary street-facing tenant partners Peter Trucco and Dan Curnayn, who will open a new bike repair and retail shop called Wild Card Cycle Works.
Trucco says the duo is targeting a March 15 opening of the store, which will first launch as a service shop – Curnayn has built a local following as a mechanic – and eventually expand to including bike lines, accessories, and apparel. "We are predominantly going to focus on mountain bikes and gravel bikes (for retail)," says Trucco, adding that the service center will accept all bike types. "There is a lot of opportunity in this area...there has been consistent growth for biking, and now with the advent of gravel bikes, I see it's going to keep expanding," he says. Noting the recent relocation of City Bike Shop from Union Street to Eighth Street, Trucco says the timing and location is fortuitous to open the business. "It'll be nice to have a bike shop downtown again," he says.
Daily says the combination of businesses in the building will be a "good synergy of uses," including the potential for Wild Card Cycle Works to service the bikes used for Kayak, Bike & Brew tours. A separate rear building on the property has been purchased by another developer for a planned condominium development on Gillis Street, according to Daily.
Bos Farmhouse
After nixing plans to open a Traverse City winery tasting room in 2018, couple Dave and Jackie Bos have pivoted and are planning to open a tasting room in Elk Rapids in the former Planetary Coffee building at 135 Ames Street this spring.
Bos Farmhouse has already secured village approval and is in the process of obtaining its state license to operate the tasting room, which will feature a large backyard with gardens and outdoor seating. Dave Bos says the tasting room will be unique locally in that he produces both California and Michigan wines, having spent 13 years in Napa Valley before relocating to northern Michigan. Bos also specializes in organic and biodynamic wine-making, providing consulting services on that front for several local wineries in addition to his own business. Sparkling and white wines – including Riesling, Pinot Gris, and white blends – will feature prominently in the company's Michigan lineup, while California highlights will include Cabs and Syrah blends.
"One of the good things about the pandemic is that everyone has to get reservations at wineries now, and that was the system we wanted to use all along," Bos says. "We want people to come in, sit down, and really get an education while they taste great wines. It's a smaller tasting room, so it's just going to be managed by us until we get up and rolling."
The company has been working to build a local audience ahead of the tasting room opening. The California wines on the Bos label are already for sale locally at Burritt's Fresh Markets, Blue Goat, and Trattoria Stella. David and Jackie also host a recurring Wednesday night Zoom wine tasting event, which highlights different industry-related topics and local and national expert guests.
Other openings, closings, and moves…
New medical marijuana retail store Cloud Cannabis Co. will open its doors at 356 Munson Avenue in Traverse City Tuesday – the company's third Michigan location and one of a dozen new stores planned in the next 18 months across the state. The TC store, which plans to employ 14 staff members, will be open for curbside sales only to start. As part of a company commitment to partner with a nonprofit for each store opening, Cloud Cannabis Co. is donating a percentage of all opening month sales to TART Trails.
Several bakeries are opening or expanding across the region, including Water's Edge Sweet Tooth. Mark and Kim Norton will open the store January 19 in the former Benedict space at 405 South Union Street in downtown TC, offering custom cakes and cookies, chocolates, coffee, low-sugar items, bagels, scones, and catering for weddings and events. The Nortons say ice cream and floats will be on tap for warmer-weather months. (Benedict, meanwhile, is planning a mid-to-late January reopening at its new digs in the former Patisserie Amie building on Lake Avenue.) In Elk Rapids, Flour Pot Bakery has opened its doors at 108 River Street offering donuts, cookies, and other sweets; the store is open on Friday and Saturday from 7am to 2pm. Traverse City's Common Good Bakery is moving into the new year with expanded operations, including opening seven days a week, launching a new café menu featuring daily soups, sandwiches, grilled panini, and pizzas, and bringing on new business partner and executive chef Matt Durren. Durren previously oversaw the culinary team at Interlochen Center for the Arts and has worked in fine dining kitchens in Chicago, New York, and San Diego.
TC Mexican owner Eddie Caballero has launched a second eatery and is relocating from his former home in the Central City Kitchen building to the Cherryland Center. Caballero will open both TC Mexican and TC Italian – the latter of which offers lasagna and pasta dishes, pizza, and salads with from-scratch dressings – on February 1 at the mall site. Caballero is occupying the former Opa space in the Younkers court to start, though he hopes to eventually expand and also occupy neighboring GameStop, which is closing its doors. TC Mexican and TC Italian would have their own neighboring dining spaces in that arrangement, with a shared kitchen between them. The restaurants, which are closed now as Caballero transitions spaces, will be focused on delivery and curbside until dining restrictions are lifted, operating Monday-Saturday from 11am-9pm.
After months of pandemic-related delays, owner Brent Faber is targeting a February 1 opening for Stone Hound Brewing Company at 3593 Bunker Hill Road in Acme. "We are planning to open for carry-out, and will have some kind of outdoor space with fire pits or heaters, but we're still working out the details on that," Faber says. He adds he is "hoping that (coronavirus) cases will drop and we will be able to open our indoor space even at a reduced capacity at some point, but we're just going to follow the guidelines as they continue to evolve and make sure we do things as safely as possible." Faber says an "exciting announcement" will also be coming soon on kitchen plans for Stone Hound.
After 18 years in business, Bay Bread Co. owners Stacey and Steve Wilcox are looking for new owners to take over their business and building at 601 Randolph Street. The couple have listed the 3,464 square-foot building and the Bay Bread Co. business in a $2.2 million package with realtor Bart Ford and Coldwell Banker Schmidt. The listing includes two upstairs apartments that can be rented short-term or house an owner-operator, as well as the company's wholesale business (Bay Bread counts multiple restaurants and Meijer, Sam's Club, and Costco among its accounts). Stacey Wilcox emphasizes that Bay Bread will remain open as the couple looks for a buyer. "Business is good, just time for us to move on," she says, adding that strong retail sales make it a "good time for a new owner to continue its growth."
Finally, several local businesses are closing their doors. After 30 years in business, Impres Salon Spa will close at 901 West Front Street effective January 20, the company announced on Facebook. "We would like to thank our community and wonderful guests for the opportunity to prosper as a business and as a family," the post stated. "With that said, it has come time to end our journey and announce that Impres Salon Spa will be closing…we ask for your patience as we navigate the unfolding of our company." In a press release last week, Family Video announced it is closing all of its stores after 42 years in business, including the South Airport and US-31 stores in Traverse City (the Eighth Street location was already previously taken over by Silver Spruce Brewing Company). Rentals have already ceased at the stores, which are now focused on selling off inventory before closing their doors for good. Wood décor project store Board & Brush has also closed its doors in the Cherryland Center in Traverse City, holding its last workshop on January 2.
Comment
Lawsuit, Hotels, Graduation And More: Revisiting Recent Ticker News
Read More >>
Now Hiring: Jobs Available Across The Region
Read More >>
City Accepting Nominating Packets From Commission, Mayoral Candidates
Read More >>
Construction On Rose Street Sidewalk Starts Wednesday; Webster Street To Follow
Read More >>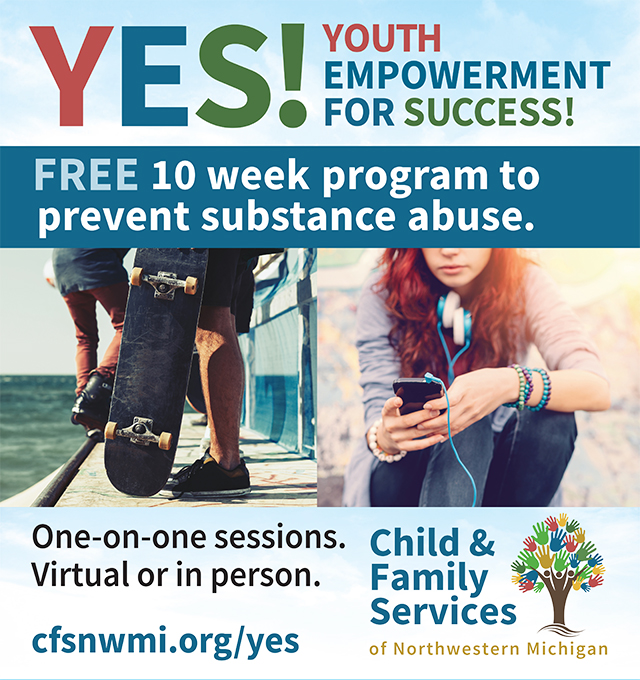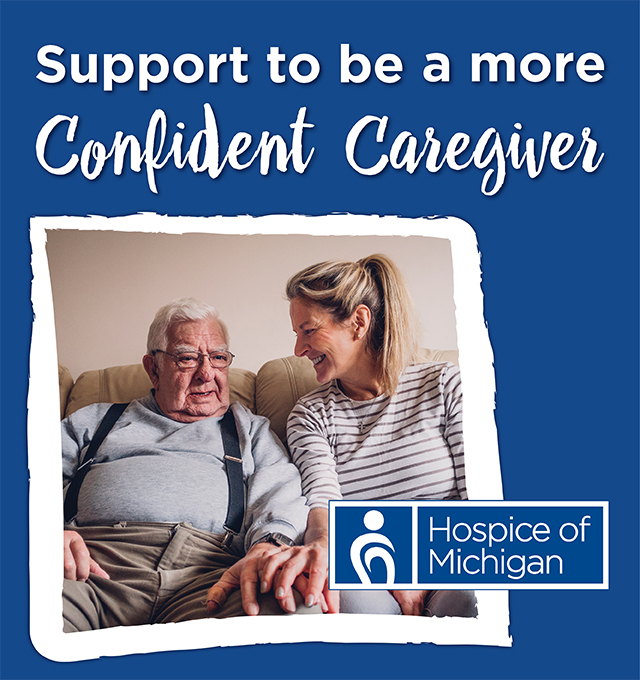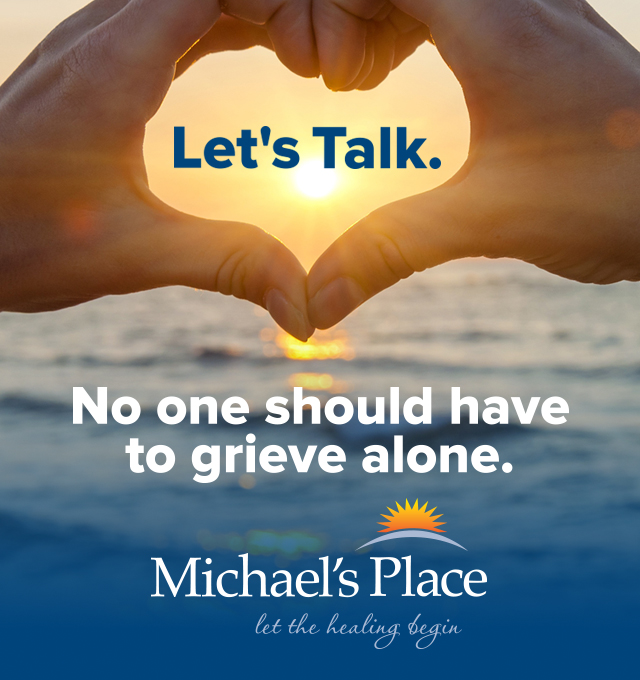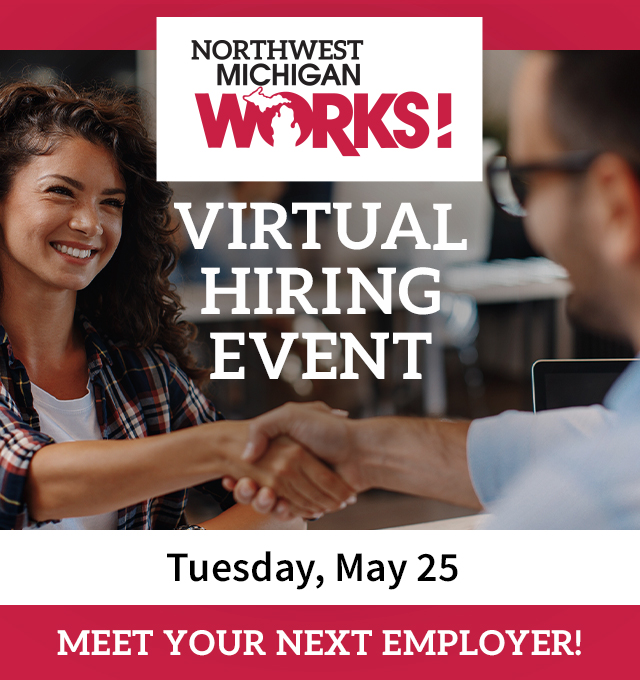 Roundabouts Are Here To Stay, With More On The Horizon
Read More >>
Fundraising, Planning Work Begins On Civic Center Projects
Read More >>
Michigan Relaxes Mask Requirements Following CDC Changes
Read More >>
2021 Scale Up North Awards Winners Announced
Read More >>
Nominate Now For 2021 40Under40
Read More >>
Organizers Eye Return Of Summer, Fall Events
Read More >>
Garfield Planning Commissioners Approve Chick-fil-A, Preliminary BATA/Housing Development Plans
Read More >>
Frankfort's Garden Theater Hires New Director
Read More >>
TCLP Set To Install 15 New EV Charging Stations In Traverse City
Read More >>
Kingsley Rocks Business Expo Planned For Saturday
Read More >>