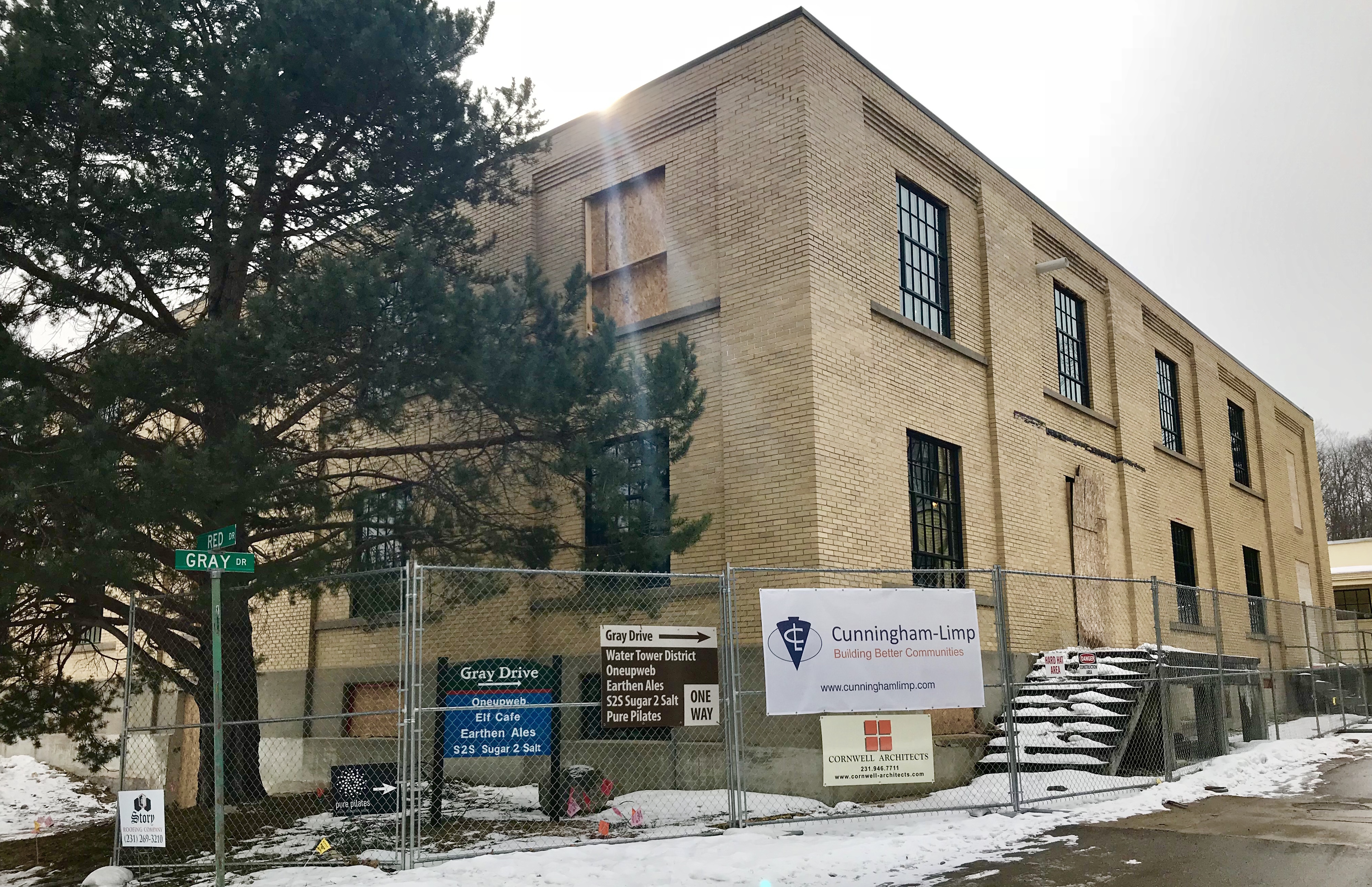 Village Breaks Ground On Major Expansion
By Beth Milligan | Feb. 19, 2018
The Village at Grand Traverse Commons is breaking ground on its next major phase of development – the $10 million renovation of a 72,000 square-foot building that will become a mixed-use development hosting new Munson Healthcare offices and residential condominiums.
Site work has begun on Building 58 (pictured) – also called the warehouse building – at the corner of Gray and Red Drives near the Village's water tower. The north part of the building was originally constructed in 1920 as a dry goods warehouse for the former Traverse City State Hospital. The south end was added in 1949 to provide kitchen and cold storage space. In anticipation of its complete redevelopment, the building has been stripped down to its bare walls, with all new mechanical, electrical and plumbing systems and modern windows set to be installed as part of the project.
Munson Healthcare plans to lease 17,400 square feet across two floors on the north end of the building for offices that will host an estimated 100-110 employees, according to Munson Vice President of Facilities and Support Services Steve Tongue.
"We have continued to have a need for more office space for some departments," says Tongue, noting that human resources, corporate communications, and legal services will likely relocate to the new site. "We were looking for an open office (floor plan) for flexibility…and this was the right size for what we needed. We've been trying to find ways to move traffic away from our main hospital to decompress the campus…most of these departments can work quite well off campus, but may still need to come occasionally to meetings at the hospital."
The south end of the building will host The Lofts at 58, a 25,000 square-foot residential wing featuring 24 market-rate condominiums across three floors; the top floor will be a new addition to the building. A combination of one, two and three-bedroom units are being constructed, including rooftop units with terraces featuring views of Building 50. Fourteen of the units are already reserved – including smaller units that began at $171,000 – with the remaining 10 available starting at $273,000.
A common lobby and elevator will serve both the commercial and residential wings, with shared underground parking. The parking garage will offer 36 private parking spaces and storage units, including one assigned to each condominium (Munson employees are expected to park in nearby hospital Lot K). Raymond Minervini Jr. of The Minervini Group, redevelopers of the Village, says the building will be the first at the Commons to offer self-contained parking.
"There are a lot of people in the neighborhood who are excited and have expressed interest in leasing or purchasing some of those spaces," he says. "The way the state historic preservation office governs (the Village), it's difficult to add parking, because you can't harm the historic character of the place. We can't just add carports. So this was a unique opportunity where we could add parking within an existing structure."
Also a first for the Village, Building 58 will feature a mid-century modern interior aesthetic and open floor plan featuring "big windows and clear features," says Minervini – a contrast to the rest of the Commons' Victorian-era Italianate architectural style. The building's brick exterior will be repaired and cleaned, preserving its historic façade, with metal exterior sheathing visible only on the new rooftop addition.
Straddling a geographic footprint that overlaps with both Garfield Township and the City of Traverse City boundaries, Building 58 posed a unique jurisdictional challenge during planning. Because a majority of the structure – 60 to 70 percent, estimates Minervini – is located within Garfield Township, officials ultimately determined the property would fall under township jurisdiction. Taxes generated by the development will go to Garfield Township, and condo owners will be considered township residents.
However, the overlap with Traverse City boundaries carries implications for the project's brownfield plan. The entire Village at Grand Traverse Commons property is covered by a $26.6 million brownfield plan approved by the state of Michigan. For the redevelopment of Building 58, the Grand Traverse County Brownfield Redevelopment Authority in January approved $2.4 million in reimbursement for environmental and non-environmental activities at the site, including underground parking. Only the section of the parking garage located within city limits is eligible for reimbursement, however, since state rules dictate parking expenses are only reimbursable "in cities, not in townships," Minervini explains. The brownfield plan shows $238,400 of the $2.4 million in reimbursement will go toward parking; a majority of the remaining reimbursement will cover demolition and remediating contaminated soil and lead-based paint.
Munson's side of the building, the common areas, and the underground parking garage are expected to be completed by August, according to Minervini. Some of the residential units will also be ready by that time, with the remaining condos built to owner specification in the following months. Building 58 should be entirely completed by early 2019, Minervini says.
With the completion of Building 58, 66 percent of the former Traverse City State Hospital structures (as measured by floor area) will have been renovated, Minervini says. "After a little bit of a lull in major projects, this gets us back in the game in a big way," he says. Other improvements set to take place this spring include redoing the outdoor parking area near Building 58, paving Yellow Drive between Left Foot Charley and Spanglish, and adding stormwater upgrades to the area. According to Minervini, the next major building projects on deck for the Commons include the eventual construction of a parking garage or structure and the redevelopment of the property's power plant, which he says is "calling out for a mix" of uses because of its massive size. "We're looking at some type of entertainment component or tech-focused uses," he says.
The Minervini Group is also still holding out hope to renovate and convert Cottage 40 next to Building 58 into a boutique hotel. "To have a historic-oriented hotel in a place that's off the beaten path, that's close to everything but not too close, and is surrounded by parkland could be a nice lodging option for people in Traverse City," Minervini says. "But we don't know that world, so we've got to get in touch with someone who does. We're making more of a concerted effort now to put it out there to a broader national audience of potential hotel operators."
Comment
TC Commission Approves Front Street Closure Plan
Read More >>
Whitmer Reopens More Local Businesses
Read More >>
New E-Bike Shop, Third Cuppa Joe Location Coming To TC; More Openings/Closings
Read More >>
Blair Township Man Arrested For Child Abuse
Read More >>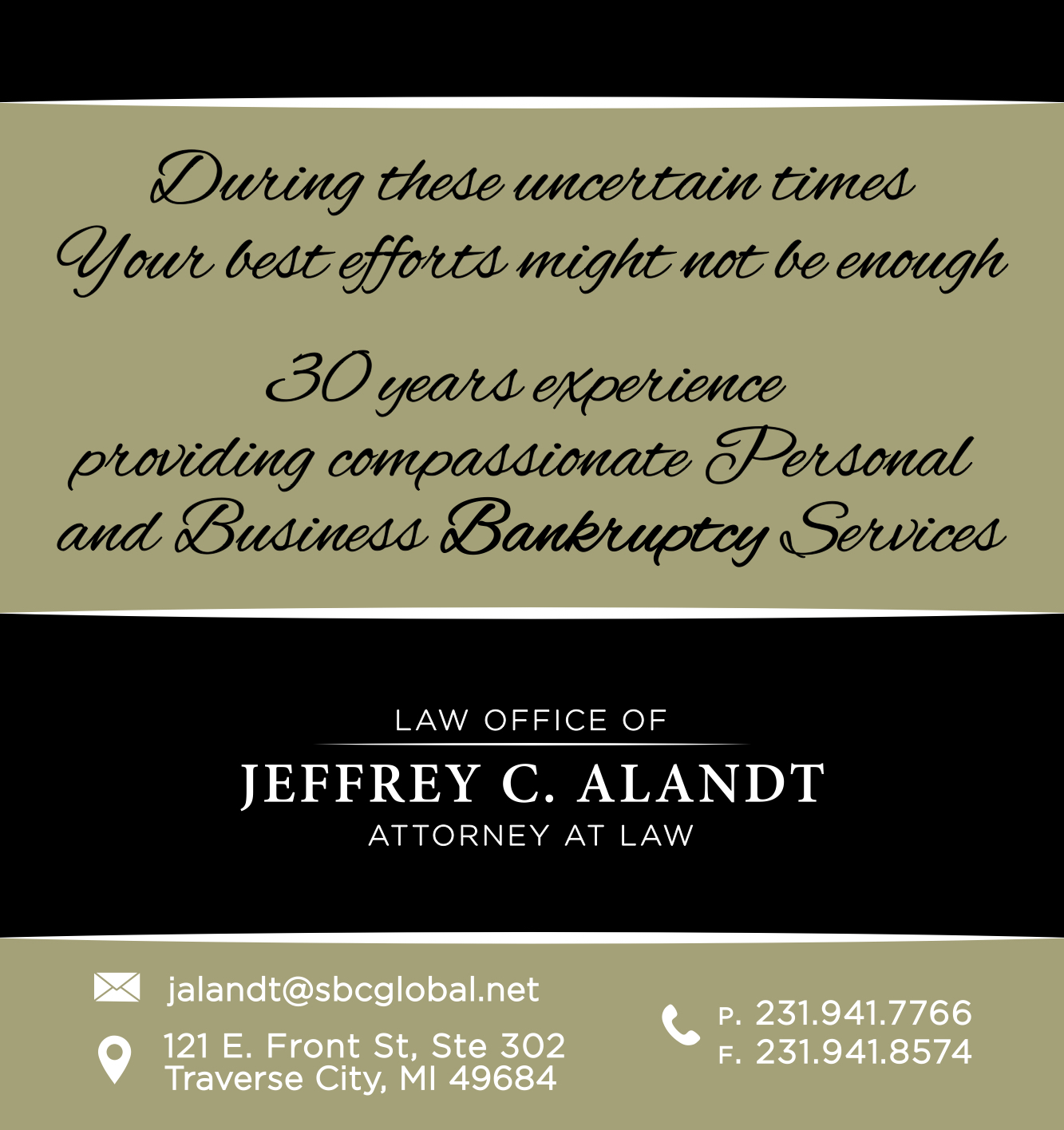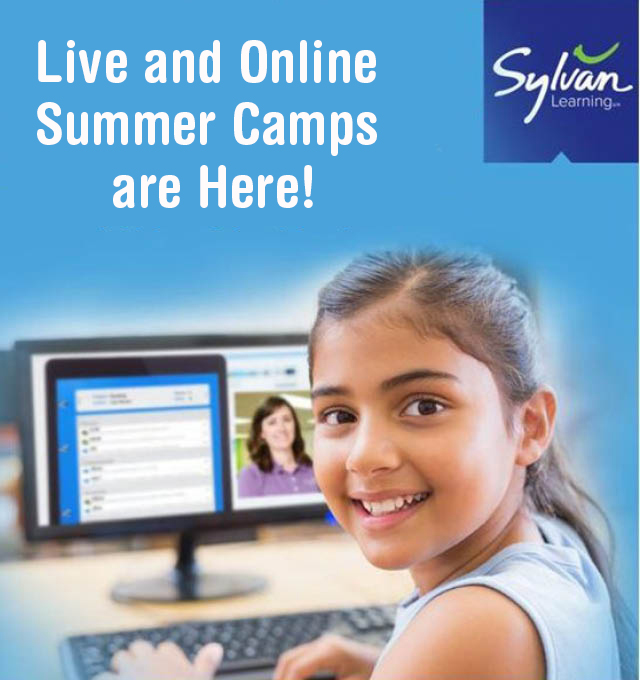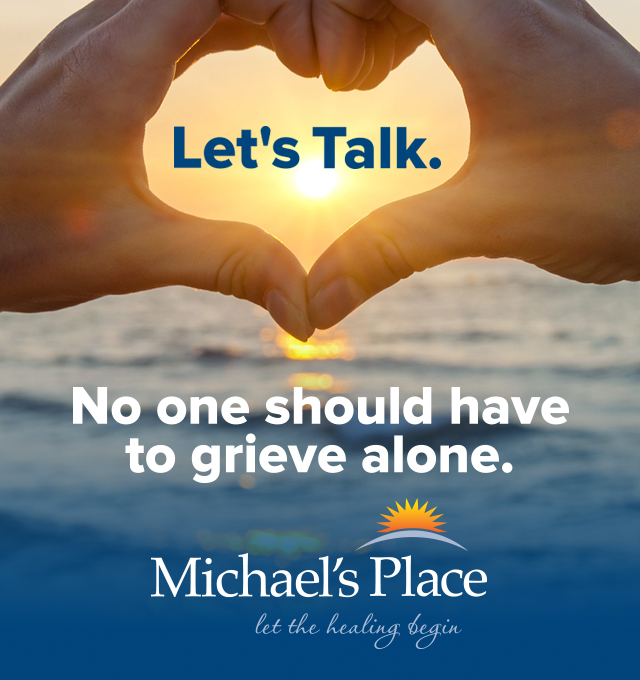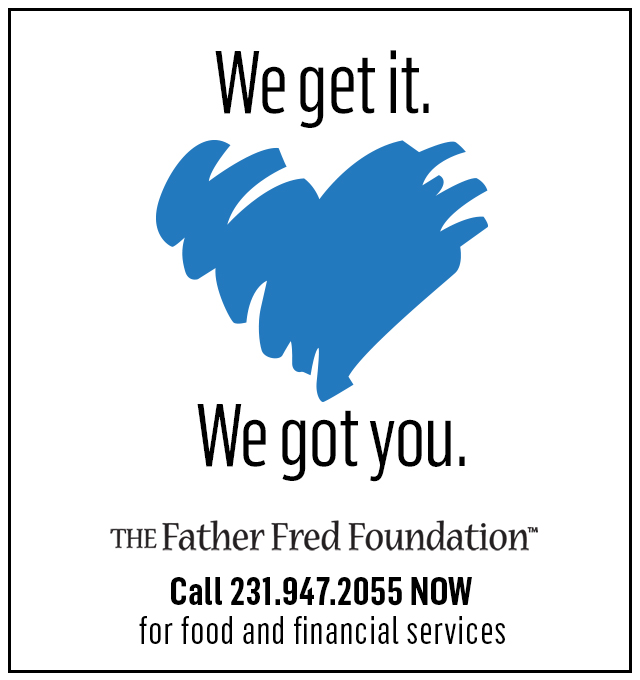 835 Coronavirus Tests Administered During Free Testing Weekend
Read More >>
Your 2020 Summer-Hike Hot List
Read More >>
Some Advisories Lifted For Downtown TC Beaches
Read More >>
A Revitalization Of "Restaurant Row" In East Bay Township?
Read More >>
Will Front Street Become Pedestrian Only? We'll Find Out Monday.
Read More >>
Free Drive-Thru COVID-19 Testing Offered This Weekend At Turtle Creek Stadium
Read More >>
After A 95 Percent Drop In Passengers, Cherry Capital Airport Inching Back To Normal
Read More >>
Four New Positive Cases Identified In GT County, Public Exposure Locations Shared
Read More >>
Two More Cases Identified In Grand Traverse County, Both From Community Spread
Read More >>
54,000 Gallons Of Sewage Spilled Into Boardman, According To Estimates
Read More >>