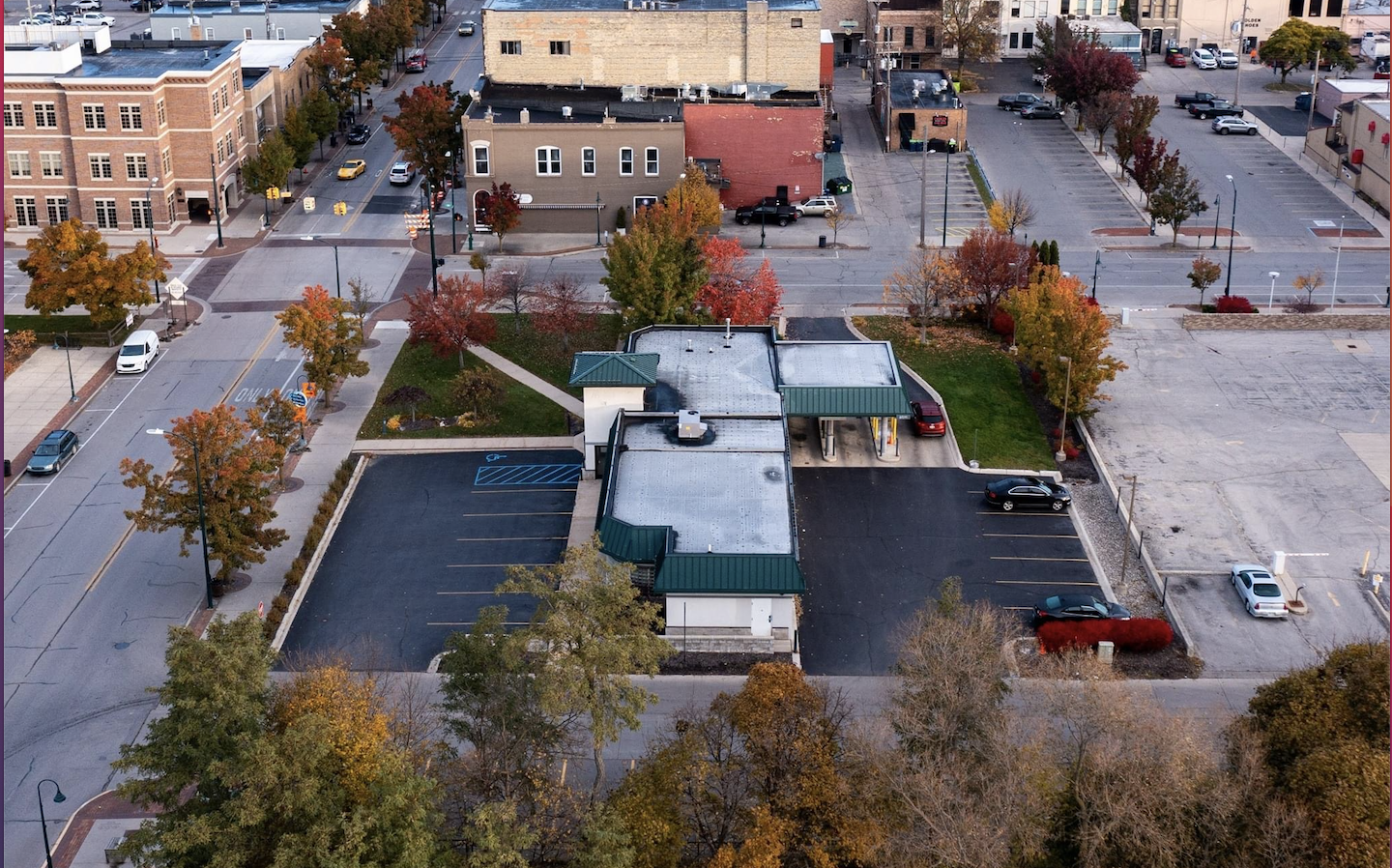 Demolition Work Planned For Rotary Square; More Downtown Project Updates
By Beth Milligan | Nov. 20, 2021
Demolition work is slated to begin this winter on the future site of Rotary Square on the corner of Union and State streets after the Traverse City Downtown Development Authority (DDA) finalized a purchase agreement with Huntington Bank for the property this week. Rotary Square is one of several projects moving ahead – from parking lot redevelopment to planning for a new riverfront plaza to a new luxury short-term rental complex – in the downtown area.
DDA CEO Jean Derenzy tells The Ticker her organization will put out a request-for-proposals (RFP) next week for the demolition of the bank building on the Rotary Square property (pictured). Another RFP is also planned to go out to find a consulting firm to lead the DDA through a community visioning process to determine the design and uses of the long-planned civic square. "I'm hoping demolition can start by February, and the visioning process can start in February or March," Derenzy says.
Uses proposed for the space have ranged from a winter ice skating rink and dedicated site for the downtown Christmas tree to a space for live music and public performances to park amenities like benches and fountains. The visioning team will help narrow the ideal design and amenities down ahead of a potential 2023 construction start date, Derenzy says. The DDA already has $3 million committed to the project, including a $1 million gift from Rotary and a $2 million allocation from the state of Michigan. Some initial estimates have put the total price tag at $5 million for Rotary Square, a cost that will be refined through the visioning process but will still likely require additional fundraising or allocations to realize.
An initial bank deal would've required the DDA to build a new mixed-use building on Lot G, the city-owned parking lot next to Mode's Bum Steer, to relocate the TCF headquarters across the street to make way for Rotary Square. However, the merger of TCF and Huntington Bank meant a new bank location was no longer needed. Instead, Huntington agreed to sell the Rotary Square property outright to the DDA. Without having to build a new bank headquarters first, the DDA can now move significantly faster on Rotary Square demolition and construction.
The move also means the DDA can explore other infill options for Lot G, with three proposals currently on the table from developers to partner with the city on a mixed-use project that would include commercial space and workforce housing. Derenzy says an ad hoc committee will be working with the three firms to narrow options down to one proposal to go to DDA board members and city commissioners for approval. The DDA is also targeting the redevelopment of parking Lot O next to The Omelette Shoppe, with HomeStretch and Goodwill Inn selected as a prospective development team to bring a five-story, 64-unit building to that site. The city is working through negotiations with developers on that project, with the ultimate goal of producing a contract that comes to downtown and city leaders for approval.
The DDA has long aimed to redevelop surface parking lots into more productive multi-story retail and housing uses. However, that goal has also been tied to the construction of a new third public parking deck downtown, planned to be built on West Front Street. Redeveloping Lots G and O would result in the loss of 81 parking spaces downtown. Derenzy acknowledges that the DDA "can't lose all of that parking without that plan for the west end parking deck." Numerous design and funding questions remain for the deck – which had a most recent cost estimate of $15-$20 million – but Derenzy says the DDA has been working with consultants on options and could bring a design and funding recommendation forward to city leaders in the first quarter of 2022.
Other projects are also moving ahead downtown. Derenzy told board members Friday that the DDA issued an RFP last week – with bids due December 3 – for consulting services to develop full design and engineering plans for a new riverwalk and pedestrian plaza in the alley along the 100 block of Front Street. The retaining wall along the Boardman River in that alley block is deteriorating, requiring a sewer main to be relocated away from the wall and closer to the buildings, as well as replacing the service lines connected to the main. That major project could allow the DDA to redesign the alley at the same time, taking out the wall completely and opening up public access to the Boardman with a green riverfront plaza.
As part of the RFP, consultants will also look at design options for the 200 block alley of Front Street, where the retaining wall also needs to be addressed but is in better shape than the 100 block. Derenzy notes the final draft of the Lower Boardman River Unified Plan – a master plan for the 1.6-mile urban river stretch between Boardman Lake and Grand Traverse Bay – will come to city leaders for approval during multiple meetings in December and January. That plan specifically supports projects like the alley redesign to better connect the community to the Boardman. "The number one priority (in the plan) is improving riverfront access," Derenzy says.
In addition to public projects, private developments are also underway in downtown Traverse City. On Thursday, Golden Swan Management and the Golden family – including Golden Shoes co-owner Bill Golden – announced plans to revitalize the space above the shoe store at 122 East Front Street into a new luxury rental complex called Golden Lofts. Four units – two two-bedroom and two one-bedroom units – with "high-end amenities and decorative interior finishes created from repurposed elements of the building's past incarnations" will occupy the upper building space. The historic building, built in 1883, has hosted numerous uses on its upper floors over the years, including Chamber of Commerce functions, the National Cherry Festival, and a draft during the Vietnam War.
Downtown visitors will see work underway on the building starting Monday, when the current façade is slated to be removed.
Photo credit: Mane Content, c/o TC DDA
Comment
Who Are The Region's Next Nonprofit Leaders?
Read More >>
Join Us For Recess Wednesday & Win Great Prizes!
Read More >>
Holiday Concerts And Events For The Whole Family
Read More >>
City To Tackle Ambulance, Volleyball Court, Collapsed Sewer Contracts
Read More >>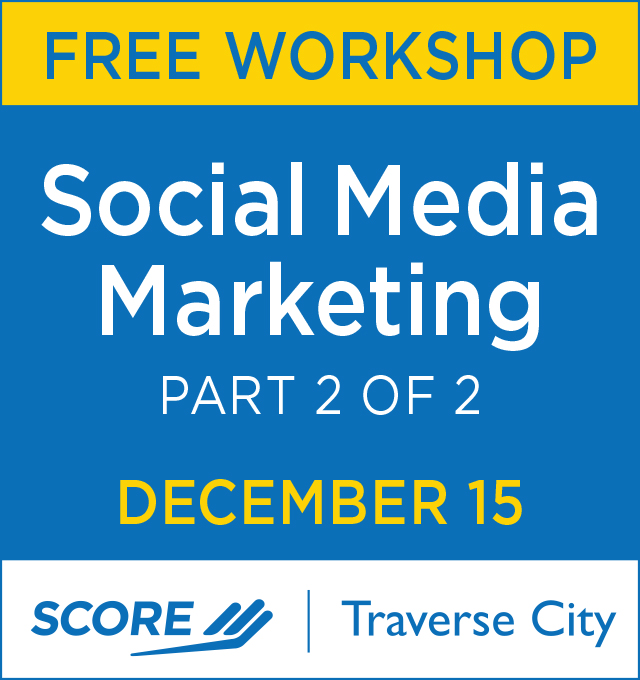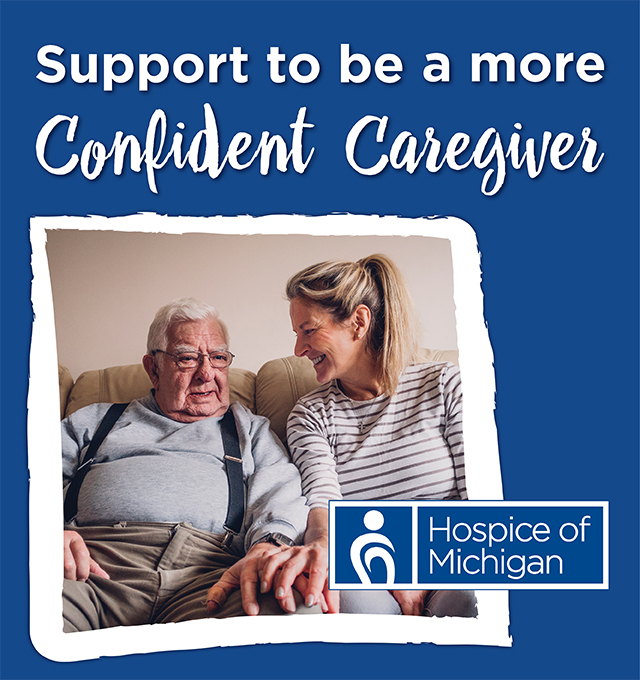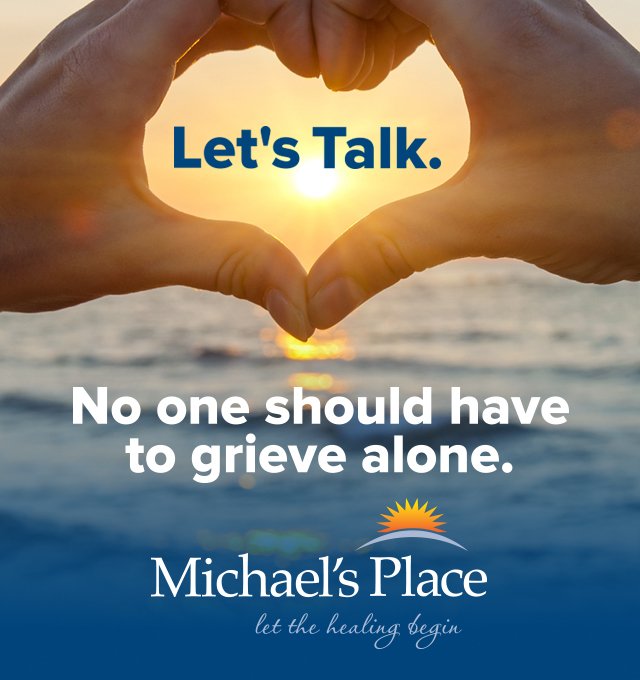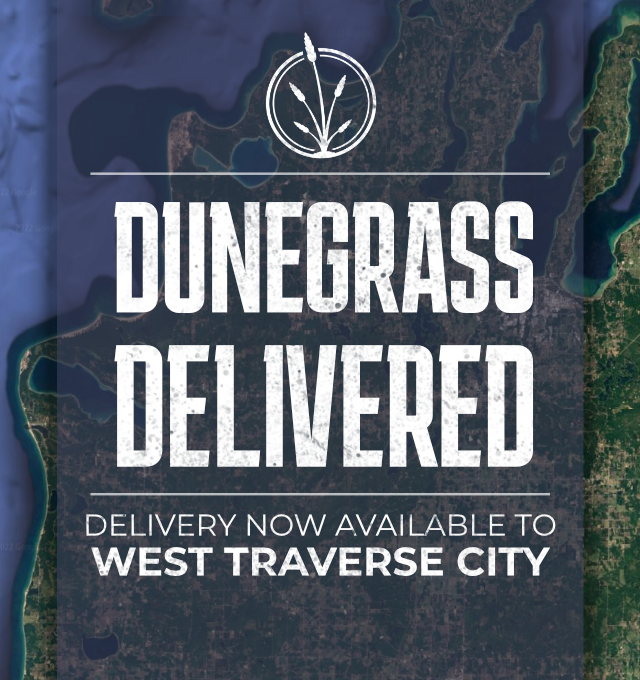 Here's Why Grand Traverse County's Online Court Records Database Was Down For A Month
Read More >>
Sears Building Sold, New Owner To Open K1 Speed Kart Racing Center
Read More >>
New Marriott Hotel, Senior Center Projects On Planning Commission Agenda
Read More >>
Hagerty Lays Off 6 Percent Of Global Workforce
Read More >>
Townships Use Moratoriums To Address Hot-Button Issues
Read More >>
Great Lakes Incubator Farm Receives Nearly $700K Grant
Read More >>
Eleven Candidates Vie For City Commission Seat
Read More >>
Michigan State Police To Reopen Traverse City Post
Read More >>
Last Call For City Commission Applicants
Read More >>
Save The Date: Recess of Giving December 7!
Read More >>