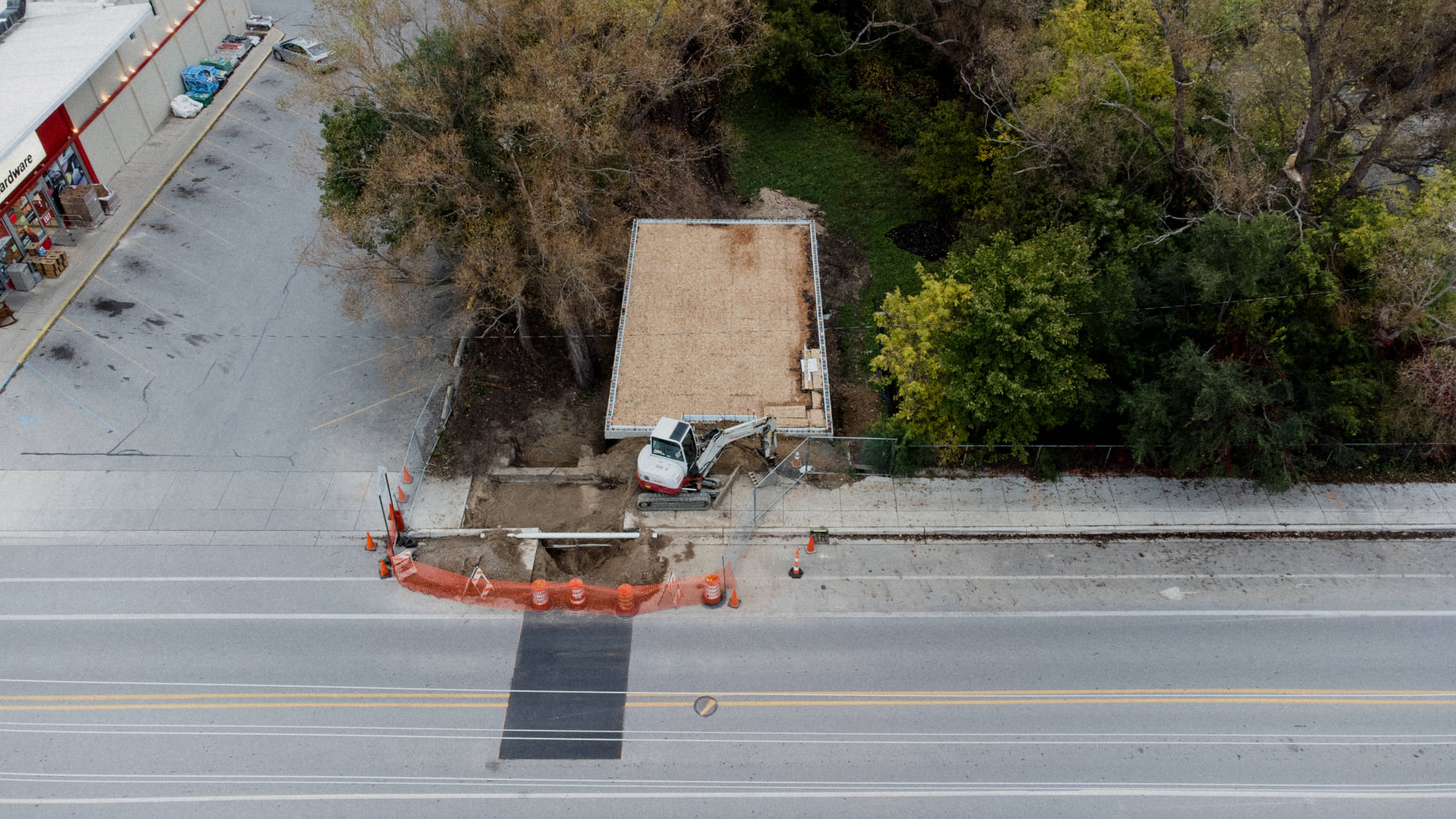 Mundos Opening West Front Coffee Shop; More Restaurant, Retail News
By Beth Milligan | Nov. 22, 2021
Mundos Roasting & Co. is opening a new coffee shop on West Front Street next spring – one of three new coffee businesses opening in Traverse City amid a slate of restaurant and retail openings, closings, and moves taking place across the region.
Dan Clark is targeting a May opening for Mundos West, his third Mundos location after the Boon Street location in Traverse City and North Saint Joseph Street location in Suttons Bay. The 1,300 square-foot coffee shop will be located in a new building being constructed next to Ace Hardware on West Front Street along Kids Creek (pictured). Clark says the shop will be smaller than the other two locations, but will feature an airy interior with 14-foot-tall ceilings and plentiful natural light, quick "in-and-out service," and additional outdoor seating.
"There will be some seating room inside, but a lot of standing bars and tables, like an Italian café," Clark says. "One of the coolest things about it is there will be several different patio levels down by Kids Creek to hang out there and in front of the building." Mundos West will have the same coffee offerings as the other two shops, but will have its own unique food menu, according to Clark. He says he's been scouting for a downtown location since the company's launch, but didn't want to be located on the main Front Street blocks.
"The outskirts are more our vibe," he says. "I love the creek, obviously, and the beauty of that area. It feels like you're out in nature at the same time as being in town. And I love the convenience of being close to Munson and the Slabtown neighborhood." Mundos West is one of several businesses bringing new energy to West Front Street: In addition to the recent reopening of Lil Bo under new ownership, new neighborhood restaurant and brewery Loco Boys Brewing Company is targeting an early spring 2022 opening in the former Impres Salon Spa building, while bakery and restaurant Modern Bird is slated to open in late January or early February next to Mary's Kitchen Port.
Two other coffee shop locations are also coming to Traverse City. MaryAnne MacIntosh is planning a December 7 grand opening of a new Biggby Coffee BCubed location near Menards at Chums Corner. MacIntosh says Traverse Connect and the Traverse City Pit Spitters will be on hand to commemorate the launch, with a 9am ribbon cutting planned. BCubed is a drive-thru and walk-up coffee shop without indoor seating; the shops are meant to fit on small parcels and encourage quick service. MacIntosh also received Garfield Township planning commission approval this month to open a second Biggby Coffee BCubed location at the Cherryland Center next to Burger King. An opening date for that location has not yet been set.
Other openings, closings, and moves…
Yoga is returning to East Front Street in downtown Traverse City as Dharamsala TC prepares to open a second studio (the first is located on Robinwood Court) at 317B & 319 East Front Street. One of those spaces previously housed Gitche Gumee Company, which has closed its doors. Cofounder Kay Epple says Dharamsala on Front, as the downtown location will be called, will have two connected studio spaces with floor-to-ceiling windows and balconies overlooking the Boardman River and Grand Traverse Bay. The women-owned and operated studio focuses on "mindfulness, and healthy living" through a variety of classes offered for all ages and abilities. The downtown location is currently undergoing renovations ahead of a targeted late January opening. "We love where we are (at Robinwood Court) and have an amazing community there, so we didn't want to lose that base, but we heard from so many people about how convenient it would be if we were downtown," Epple says of the decision to open a second studio.
After six years in business, Sweet Tartlette is closing its doors at the end of the year at 445 East Front Street. Owner Sarah Steele says the upcoming expiration of her lease and a desire to take a break and spend more time with family prompted her to close her doors. Steele says she is "going out with a bang," however, churning out chocolates, bonbons, and other treats for sale through the holidays. The last day customers can place advance orders is December 24; the store's last day open will be December 27. Steele says she plans to do occasional pop-ups in 2022, such as selling treats for Valentine's Day (pop-ups will be announced on social media).
Multiple other changes are underway in downtown Traverse City. My Secret Stash owner Karen Hilt has taken over the former Bookie Joint space at 124 South Union and is expanding My Secret Stash's plant selection over into the new store, called I'm Planty AF. The store, which is currently undergoing renovations, will feature hard-to-find exotics as well as every-day houseplants from the collections of Hilt and her business partner Garrett Weslock. "We will have a great selection of house plants both common and uncommon as well, featuring a fantastic grouping of aroids, anthuriums, tillandsias, cacti, succulents, and more," Hilt says, noting the duo has use of a private greenhouse downtown to grow and propagate plants. The partners are targeting a December 4 opening and plan to continue improving the space over the winter and spring to feature a soil and terrarium bar, potting services, a "plant hospital," and plant-related home accents and accessories, according to Hilt.
Around the corner in the Warehouse District, The Workshop Brewing Company has brought in Archie's Food Truck – previously stationed at The Coin Slot – to take over the brewery's kitchen. Archie's menu includes a variety of burgers and sides including spent grain pretzels, house-smoked chicken wings, and mac-and-cheese. Also downtown, several local watering holes are sprucing up their outdoor service areas. Brady's Bar has a new patio area out back, with owner Nolen Sleder sharing that the business cleaned up the parking lot "and made a nice space for winter events." She adds: "Hopefully we'll be consistently open certain days of the week during the summer." Traverse City Whiskey Company and Silver Spruce Brewing Company are also both in the process of renovating their outdoor patio areas.
A new mozzarella and specialty grocery shop has opened its doors in Oleson's Plaza East on Hammond Road. Buzzelli Foods specializes in making New York-style mozzarella in balls, marinated knots, and burrata, as well as grab-and-go sandwiches and salads, Italian grocery items, and specialty food and kitchen gifts. The store is open Tuesday-Friday (closed Saturday-Monday) from 7:30am to 3:30pm.
Finally, two area stores are under new ownership. After three decades of family ownership, Diane Eagle has retired and passed the reins of Ebb Tide Resale Shop in Logan's Landing to Beth Yoder. The consignment store itself will remain the same, featuring a wide variety of clothing, furniture, books, home goods, and other items. In Kingsley, Karla Blackmer and Stephanie Bugai closed Kingsley Floral & Gifts at 104 North Brownson Avenue and turned the space over to Kait Olds, who reopened as Olds Floral & Design. Olds was already growing and selling fresh-cut flowers in Kingsley and will continue to do so at her new shop, which also offers monthly workshops, floral subscriptions, and arrangements for weddings and events. Olds is leasing the space from Blackmer, who continues to own the building with her husband.
Photo credit: Mundos Roasting & Co.
Comment
Impact100 Traverse City Announces Latest Grant Recipients
Read More >>
Three Hundred Miles in 24 Hours
Read More >>
Munson to Ramp Up Outpatient Efforts, Regionalize Inpatient Care
Read More >>
Man Arrested After Concerns Over Blair Township Threat
Read More >>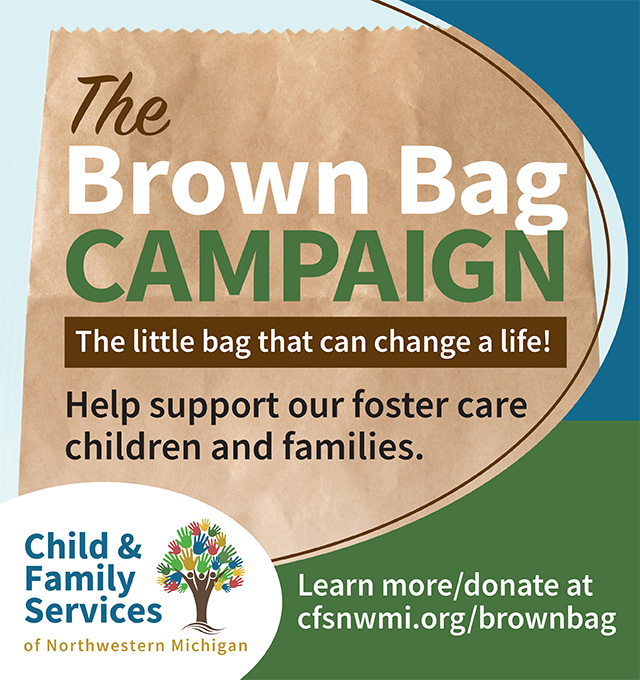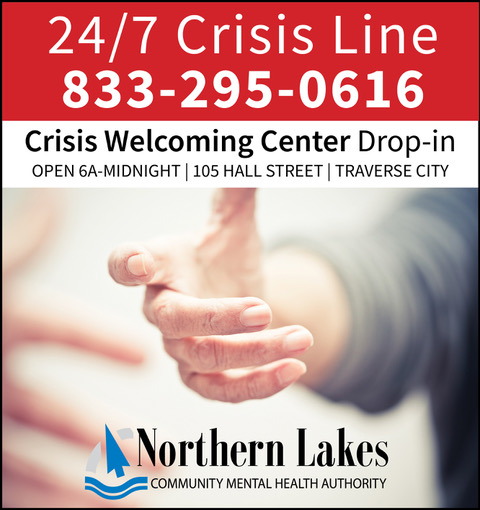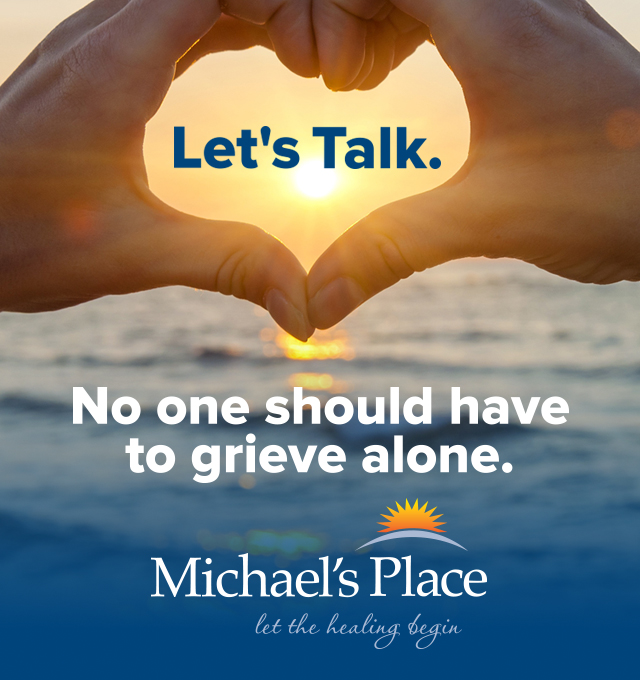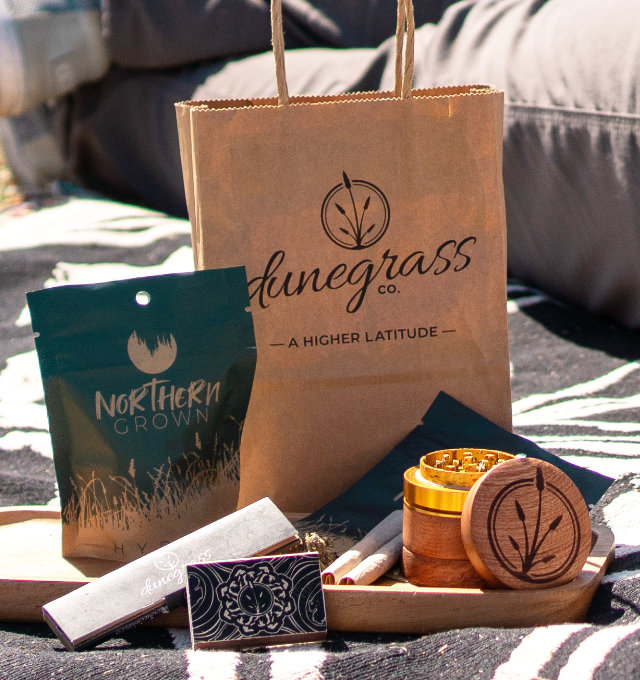 Man Arrested After Standoff in Central Neighborhood
Read More >>
Building Peninsula Shores
Read More >>
GT County Commissioners Approve Peninsula Parks Funding, Remote Work Policy
Read More >>
Join Us For Fall Recess Next Week at Seven Hills on Old Mission Peninsula!
Read More >>
Local NMC Students Traveled To Morocco Earthquake Epicenter Months Before Disaster Struck
Read More >>
TC Curling Center Sweeps Past Expectations
Read More >>
Commissioners to Offer City Manager Position to Vogel
Read More >>
From Frenzy to Focus: Northern Michigan's Fall Real Estate Update
Read More >>
Senior Services Take the Spotlight
Read More >>
Grand Traverse State Bank To Be Traverse City's Newest Bank
Read More >>