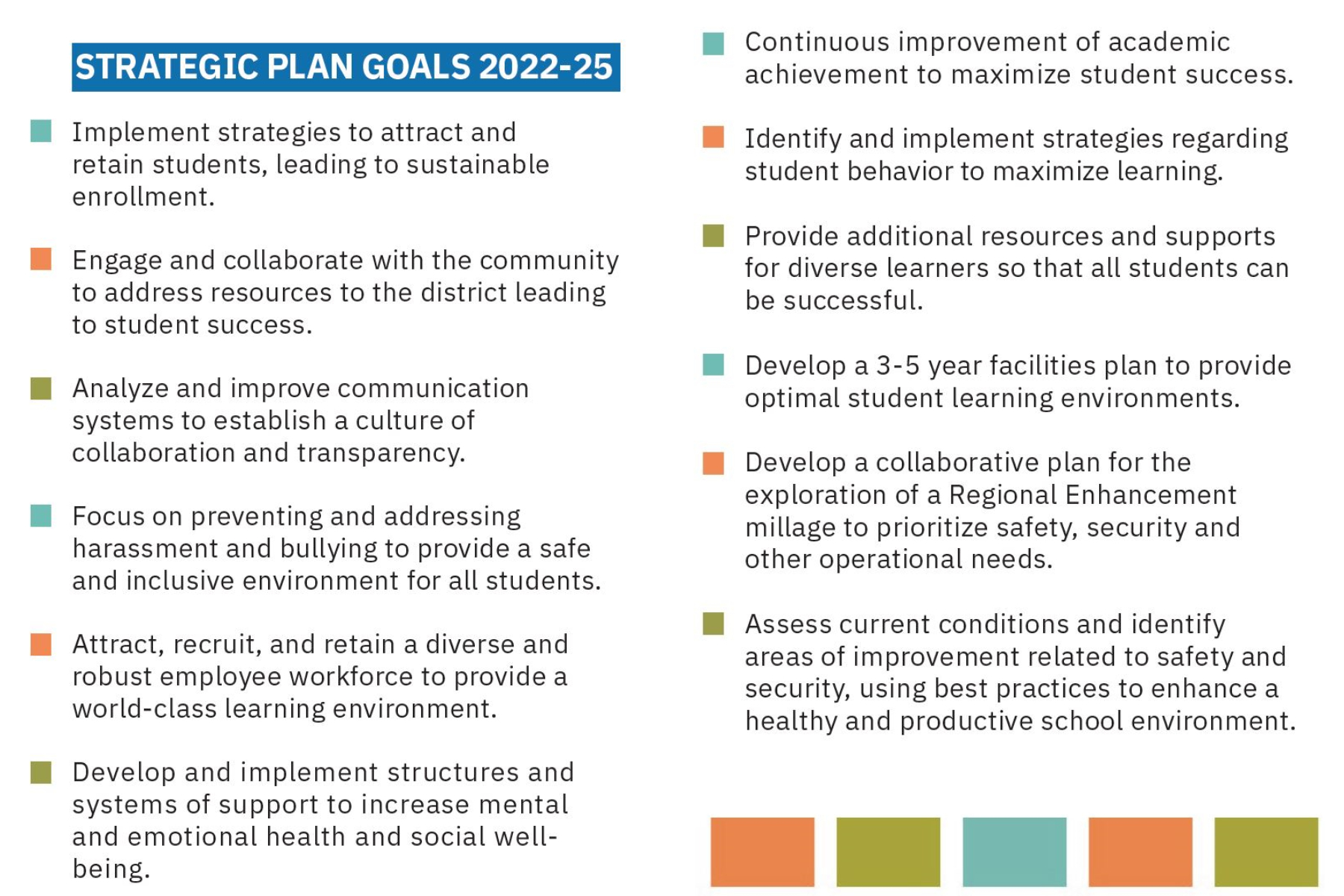 School Security, Staff Housing, and Mental Health: TCAPS Superintendent Talks New Strategic Plan
By Craig Manning | Aug. 5, 2022
It's the start of a new chapter for Traverse City Area Public Schools (TCAPS).
Last Wednesday, the TCAPS Board of Education formally approved a new three-year strategic plan that will guide the district through 2025. The plan, which Northwest Education Services (North Ed) put together on TCAPS' behalf over the past year, was built through a process that included "extensive focus groups with students, parents, staff, and community leaders," stakeholder surveys, and study sessions between North Ed, the TCAPS board, representatives from TCAPS employee groups, and the district's executive administration team. TCAPS and North Ed ultimately translated those conversations into a one-page plan that identifies a vision and mission for the district going forward, as well as seven key values and 12 actionable goals (pictured).
The strategic plan now goes to the desk of Superintendent Dr. John VanWagoner, who will have the responsibility of developing a more granular three-year timeline for the 12 goals and how they will be accomplished. Below, The Ticker chats with VanWagoner about the new plan and how it will be implemented.
On next steps: "I'm probably going to need around 60 days to really get everything identified," VanWagoner says, when asked about his process for building a specific timeline for strategic plan implementation. "So, what does the data say? What are the things that parents, community members, and students identified in the surveys and focus groups that fit under each of these goals? And then starting to operationalize what it's going to take to do those things, in terms of time, resources, HR, etc."
On school safety and security: "There's one particular goal that's at the forefront for us right now, and that's school safety," VanWagoner says. As The Ticker reported in July, TCAPS has already hired a security firm to complete a state-funded security assessment of all 16 school buildings this fall. That process will guide the district's future efforts and investments around safety and security. "We're recognizing the urgency to be doing everything we can with the resources that we have," VanWagoner adds. "And so, a lot of my time over the summer has been focused on that one goal, and then starting to unpack the others."
On attracting and retaining staff and students: Two of the 12 goals identified in the strategic plan – those aimed at attraction and retention of students and staff – pit TCAPS against northern Michigan's challenging housing market. VanWagoner acknowledges the hurdles, and says housing is an unspoken "sub-goal" that TCAPS needs to consider. "I will tell you, I'm having conversations with different entities throughout the region on housing," he tells The Ticker. "What would it take for us to get into partnerships in the housing market? When it comes to building more condos, duplexes, apartments, houses, we know we're going to have to be a part of those conversations to be able to fulfill what we need for our goals. We can't just sit by the side and wait for somebody to do something about it."
On navigating past controversies: Issues of transparency, racism, and diversity and inclusion have been at the root of some of TCAPS' biggest controversies in recent years; all come up somewhere in the strategic plan. As the district tries to navigate these thorny subjects, VanWagoner says he's hopeful all stakeholders can work together from a place of mutual interests. "I do believe that everybody has a goal of wanting our students to be safe, and to do well, and to feel like they belong. I think those are common things across the spectrum. We're just going to have to talk and work through what that means – and what the board feels we can agree on – as far as how to move that work forward. It's tough work, but we have an obligation to make sure every kid feels successful and is able to reach their dreams when they leave our school district."
On youth mental health: The pandemic, VanWagoner notes, has helped bring conversations around youth mental health and social-emotional wellbeing to the forefront. With those priorities now formalized in the strategic plan, the superintendent is optimistic that TCAPS will be able to start making big gains in this department – even while acknowledging barriers in the way. "It's been a stressful time for a lot of kids, especially our younger kids," he says. "There are kids now that started as kindergarteners [in 2019-2020] who will be going into third grade this fall, and they've never had a normal school year. We're still dealing with COVID, along with a lot of the societal ills that, oftentimes, fall squarely on a student. So, we absolutely can use more resources for mental health, and more professionals to help direct service that the kids. And we're prepared to do that, but I will tell you, it's really hard finding those people. We've had a posting open for a social worker for the past month, and we've had zero applicants for that job."
On facilities: TCAPS has taken sizable steps toward modernizing its facilities over the past 10-12 years, including the reconstruction of several aging elementary schools and renovations of front entrance/main office sections at most schools improve security. Still, in commenting on the section of the strategic plan that calls for developing a 3-5-year facilities plan, VanWagoner notes that "there's still a lot more to be done. While we've made great progress on almost all of our buildings, we do have some very aged buildings. Central Grade School is probably at the forefront of that conversation. Where we go with that? it's the last of the 100-year-old buildings, and it's being used for kids daily. We also have our Boardman administrative building, which is not being used for kids, but we're looking at that right now, too. Is there a better use for the community that can be developed there, for housing or something else? And then there are just common things like doors. I truly believe we could spend a couple million dollars just replacing doors that are weathered, and the salt has rusted the bottoms out, and they're all worn out from 25-30 years of use."
On the possibility of a Regional Enhancement Millage: TCAPS successfully campaigned for a bond in 2018, with estimates indicating it would raise $97 million for the district over a 10-year period. The "Regional Enhancement Millage" mentioned in the strategic plan would be a different type of ask. As VanWagoner explains it, individual school districts cannot legally go for millages. "School districts can only go for bonds, and bonds can essentially only go toward building and renovating physical brick-and-mortar structures," he says. There are exceptions – bond money can be used for buses, for instance – but most operational expenses must be paid for with other funding. A Regional Enhancement Millage can be used to supplement operational funds. The catch is that only an Intermediate School District (ISD) can bring a Regional Enhancement Millage before voters, which means the ask would have to come from North Ed. Moreover, North Ed could only seek a millage if more than half of its school districts voted in favor of it. "So that's something the board just wants to investigate," VanWagoner says. "The other districts in the ISD, is that an interest they have or not? And if there is interest, what would that look like and what would those discussions be?"
Comment
Impact100 Traverse City Announces Latest Grant Recipients
Read More >>
Three Hundred Miles in 24 Hours
Read More >>
Munson to Ramp Up Outpatient Efforts, Regionalize Inpatient Care
Read More >>
Man Arrested After Concerns Over Blair Township Threat
Read More >>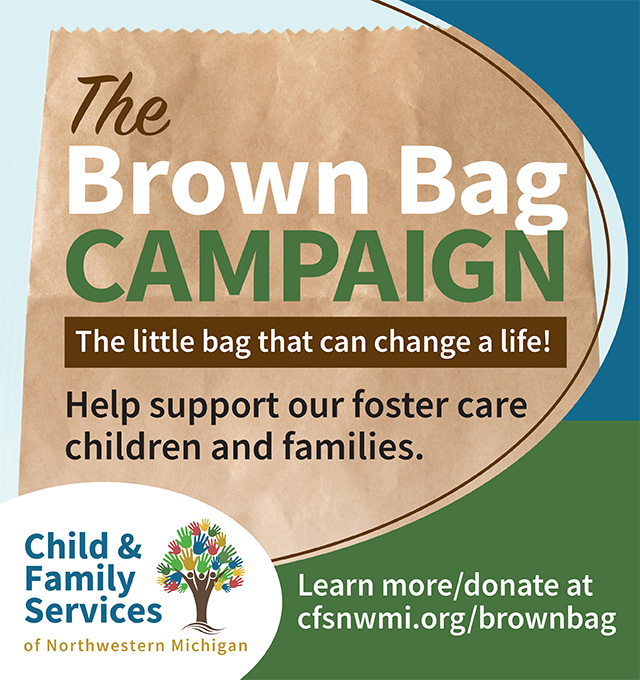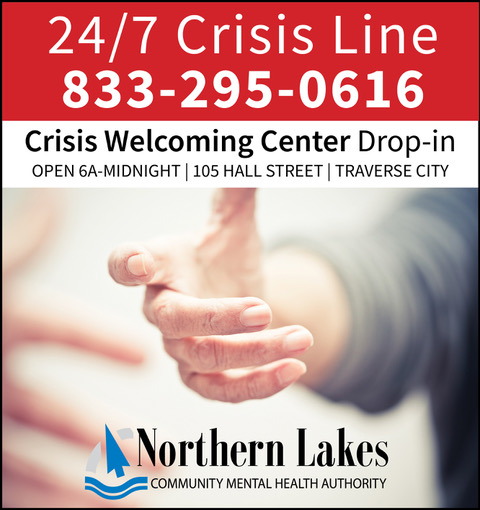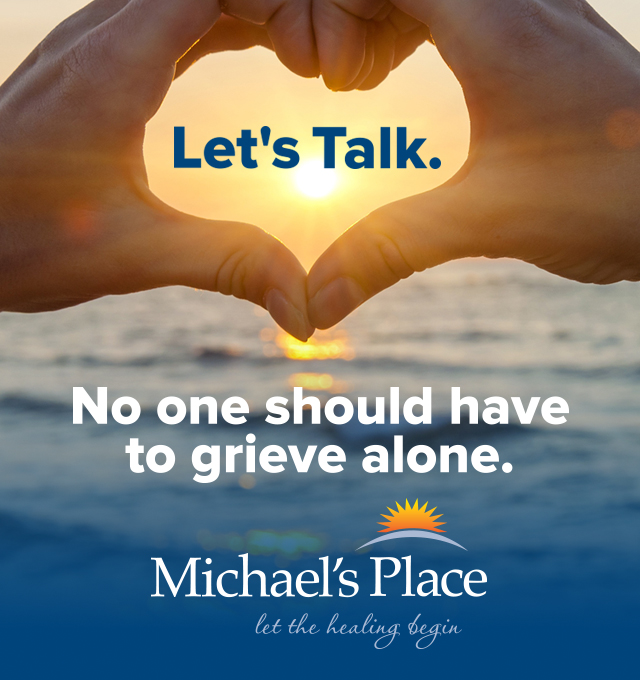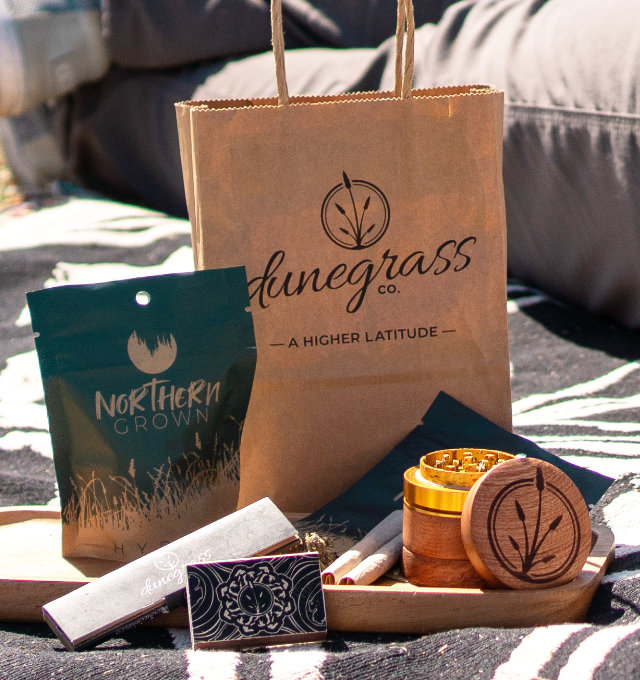 Man Arrested After Standoff in Central Neighborhood
Read More >>
Building Peninsula Shores
Read More >>
GT County Commissioners Approve Peninsula Parks Funding, Remote Work Policy
Read More >>
Join Us For Fall Recess Next Week at Seven Hills on Old Mission Peninsula!
Read More >>
Local NMC Students Traveled To Morocco Earthquake Epicenter Months Before Disaster Struck
Read More >>
TC Curling Center Sweeps Past Expectations
Read More >>
Commissioners to Offer City Manager Position to Vogel
Read More >>
From Frenzy to Focus: Northern Michigan's Fall Real Estate Update
Read More >>
Senior Services Take the Spotlight
Read More >>
Grand Traverse State Bank To Be Traverse City's Newest Bank
Read More >>